Was ist Healthie?
Healthie ist eine Web- und Mobile-Plattform für Diätassistenten, Ernährungsberater, Gesundheitstrainer und andere Wellness-Profis. Healthie ist ein umfassendes Tool für Praxismanagement und Telemedizin und umfasst die Kernfunktionen des Unternehmens: Terminplanung, Rechnungsstellung (aus eigener Tasche und Versicherung), Aufzeichnungen (Aufnahmeformulare, elektronische Unterschrift und Notizvorlagen), gemeinsame Nutzung von Dokumenten, sichere Nachrichtenübermittlung, Aufzeichnungen für Kundenessen und mehr. Healthie ist HIPAA-, PIPEDA-, DSGVO- und PCI-konform. Healthie hat eine unverbindliche, kostenlose Testversion.
Wer verwendet Healthie?
Healthie ist für Gesundheits- und Wellnessprofis: Diätassistenten, Ernährungsberater, Gesundheitstrainer, Ergotherapeuten, Krankenschwestern, Chiropraktiker und andere ähnliche Gesundheitsberufe.
Wo kann Healthie bereitgestellt werden?
Cloud, SaaS, webbasiert, Android (mobil), iPhone (mobil), iPad (mobil)
Über den Anbieter
Healthie
Ansässig in New York, USA
2016 gegründet
Telefon-Support
24/7 Live-Support
Chat
Über den Anbieter
Healthie
Ansässig in New York, USA
2016 gegründet
Telefon-Support
24/7 Live-Support
Chat
Healthie – Videos und Bilder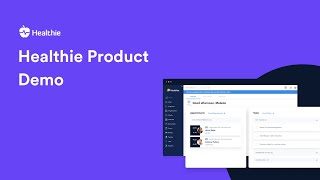 Kosten ähnlicher Produkte wie Healthie vergleichen
Healthie Funktionen
Abrechnung & Rechnungsstellung
Anpassbare Formulare
Erinnerungen
HIPAA konform
Kalender-Synchronisierung
Kalenderverwaltung
Kundenmanagement
Medizinische Abrechnung
Patientenportal
SOAP-Notizen
Self-Service Portal
Terminplanung
Terminverwaltung
Verfügbarkeit-Management
Videokonferenzen
Zahlungsabwicklung
Alternativen für Healthie
Bewertungen über Healthie
Verifizierter Rezensent
Principal Consultant in USA
Verifizierter Nutzer auf LinkedIn
Verwendete die Software für: 6-12 Monate
Fantastic! Made starting my own practice easy!
Kommentare: It was quick and easy to use.
Vorteile:
There are so many things that I like about this software. I'll start with the photo food logging as it's key to getting results with my clients. To be able to see what my clients are eating and drinking and provide feedback directly is awesome. I also really like all the practice management features like scheduling, charting and billing. Really makes managing my own practice possible. And lastly I'm very impressed with the support. Whenever I have a question, the support team is ready and available and you can tell that everyone is very dedicated to the software.
Nachteile:
The thing I like least about the software is the goals feature. Key to nutrition counseling and behavior modification is setting goals. I find this feature to not be very client friendly. I would like my clients to easily be able to see their goals on the phone app but it's difficult. I would also like to be able to archive goals and keep only current goals active. Because the software doesn't allow this, the goals build up with ongoing clients and it's confusing for the client to know which ones they're currently working on.
Angela
Physical Therapist, Pilates Teacher, Owner in USA
Gesundheit, Wellness & Fitness, Selbstständig
Verwendete die Software für: Mehr als 2 Jahre
In Betracht gezogene Alternativen:
Healthie for Physical Therapy and Pilates
Kommentare: I am streamlining the services I am paying for and the number of different software systems I have to learn and integrate (saving time). Overall I love it!
Vorteile:
I like the visual appeal - coming from traditional health care system it is a lot less clunky and boring. And it matters because I look at it every day! I am not very strong on technology, but Healthie is pretty user friendly. You've got to figure out each different thing you want to do and learn the process which takes a bit ... but I find thats true for any software. Support is very helpful and responsive. Healthie has lots of room for me to grow my practice in several different directions (I could add clinicians, programs, webinars, classes, telehealth or in person) and its one of the reasons I chose it. I don't even come close to using all the features to their full potential - in big part because my background as a physical therapist is a bit different but I love the options like the chat features, goals and tracking. Healthie also has a lot of features on one platform - HIPPA compliant for PT, some basic options for my Pilates classes (which i was able to transition from in person to to online in one simple step when everything shut down in March 2019!!) I don't have to deal with separtate billing and payment, schedulers, documentation systems, and telehealth platforms. they make it really easy! The team is very dedicated to improvements and are receptive to feedback too which is great!
Nachteile:
Right now the option for classes tied to packages is a bit limited .... but I'm kind of trying to do something that Healthie was not initially built for (fitness class - more like a Mind Body Online setup). but they are looking into options to make this work - which is awesome.
Medizinische Praxis, 2-10 Mitarbeiter
Verwendete die Software für: 6-12 Monate
Great idea but still a work in prigress
Vorteile:
Ease-of-use from the consumer end, good visuals, able to easily upload, and edit forms,. Intake flow is excellent. Assistance with building forms is also very good.
Nachteile:
Lots of quirks and bugs, seems to lose connection with my calendar frequently and then patients get scheduled at a time when I'm not available. Patient can't be in more than one group, or program at the same time, and when you're running multiple programs simultaneously the patient needs to be in more than one program. No ability to talk one on one or directly with any customer service representative. You have to send an email, and then they will get back to you, usually this is pretty quick lesson one day however sometimes it is longer even when there is a time pressing issue.
Stefanie
Dietitian in USA
Gesundheit, Wellness & Fitness, Selbstständig
Verwendete die Software für: Mehr als 2 Jahre
Comprehensive platform for client care
Kommentare: Now during COVID, I have never been so thankful to run my practice virtually through Healthie. I didn't lose a single client during the pandemic, and instead, have been able to reach more people who need care. I can't recommend the platform more - especially if you are a growing practice and group practice. The time saved and ease of communication with clients will transform your business.
Vorteile:
Prior to Healthie, I was using multiple tools to try and run my business. On top of that, I was connecting with clients using many different apps - it was a nightmare trying to provide tailored support to every client. With Healthie, I now have everything I need in one place - and I can access my account from anywhere, including my phone. The mobile app is a lifesaver. Plus, my clients love working together through Healthie. I've been able to provide professional, and secure, virtual care for my clients thanks to Healthie.
Nachteile:
There are even more features that I'd like to see, but the team releases new updates so regularly.
Rebecca
Nutritionist, Herbalist in USA
Gesundheit, Wellness & Fitness, 2-10 Mitarbeiter
Verwendete die Software für: Mehr als 2 Jahre
In Betracht gezogene Alternativen:
Improved my practice ten-fold
Kommentare: Overall I have had an excellent experience with Healthie.
Vorteile:
Healthie has great customer service. They are adaptable and responsive. They continue to improve the functionality. The organizational level of membership allows for high level activities. The charting notes, programs, billing, superbills and document sharing all streamline my time and energy in my practice.
Nachteile:
Some people find it less user friendly. It can glitch from time to time.