Was ist Heymarket?
Heymarket ist eine Lösung für Business-Textnachrichtenversand für dein Team. Kunden müssen keine eine App installieren und erhalten normale SMS- und Facebook-Nachrichten. Dein Team kann Nachrichten von Heymarket Web auf seinen Computern, der nativen iOS-App (von Apple) oder Android-App senden, lesen und beantworten.
Wer verwendet Heymarket?
Teams in großen Organisationen oder kleinen Betrieben. Heymarket wird häufig von Kundenservice-, Betriebs-, Vertriebs- und Marketingteams verwendet.
Wo kann Heymarket bereitgestellt werden?
Cloud, SaaS, webbasiert, Android (mobil), iPhone (mobil)
Über den Anbieter
Heymarket
Ansässig in San Francisco, USA
2015 gegründet
Chat
Erhältlich in diesen Ländern
Kanada, Vereinigte Staaten
Über den Anbieter
Heymarket
Ansässig in San Francisco, USA
2015 gegründet
Chat
Erhältlich in diesen Ländern
Kanada, Vereinigte Staaten
Heymarket – Videos und Bilder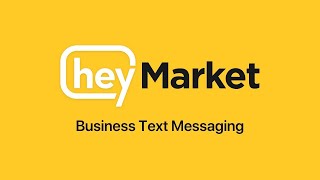 Kosten ähnlicher Produkte wie Heymarket vergleichen
Heymarket Funktionen
API
Alarmfunktion / Benachrichtigungen
Anpassbare Vorlagen
Automatische Antworten
Berichterstattung / Analyse
Chat / Messaging
Geplanter Nachrichtenversand
Kontaktmanagement
Kurzwahlnummern
Leistungskennzahlen
MMS
Massen-SMS
Mobile Coupons
Mobile Keywords
Multi-Channel-Kommunikation
Nachrichten-Personalisierung
Personalisierung
SMS Gewinnspiele
SMS-Marketing
SMS-Nachrichtenversand
Social-Media-Integration
Verfolgung von Interaktionen
Vorlagen-Management
Warnungen / Eskalation
Workflow-Management
Zwei-Wege-Messaging
Alternativen für Heymarket
Bewertungen über Heymarket
Holly
Independent Sales Director in USA
Verifizierter Nutzer auf LinkedIn
Kosmetik, Selbstständig
Verwendete die Software für: Mehr als 2 Jahre
All around excellent!
Kommentare: Heymarket allows me to provide personalized customer service in a fraction of the time! With customer groups, templates and personalization, I'm able to send personalized texts to 100+ customers in 2 minutes or less! This has allowed me to increase my customer service and, in turn, increase my sales. I've had an overall great experience with Heymarket from the beginning, which is why I continue to use the service.
Vorteile:
Before Heymarket, I was paying way more for something with less functionality and it wasn't user friendly. I love how easy Heymarket is to use - I love that it's an app so I can keep my business texts separate from my personal texts, yet it comes right to my cell phone. I love that I can create and save templates and send emails to groups that are sent individually and personalized with each customer's name. SO MANY things I love about this app! Plus the Customer Service is excellent! I always receive replies quickly and they are able to help troubleshoot any issues I'm having. Thank you!
Nachteile:
I'm not sure if there's anything I don't like. Just sometimes I don't receive a notification when someone texts me, or the messages are delayed. But that doesn't happen often.
Fotografie, 2-10 Mitarbeiter
Verwendete die Software für: 6-12 Monate
Former Heymarket User
Kommentare: Overall Heymarket does texting really well, but I wouldn't say its a one stop for marketing needs. It's pleasantly laid out and very easy to pick up for a less tech savvy person. Overall a good product, but lacking in some features like automatic campaigns. I had to pair it with Zapier in order to automate things and I wish it was just already there.
Vorteile:
It had a really clean interface. Templates were easy to create and use. It was really easy to toggle between multiple numbers if you had them. I had two phone numbers when I was using it. It seemed like normal texting to me and I could access it on my phone or on my laptop easily. It worked very well for texting customers.
Nachteile:
I wish it had had automatic texting features. I switched to Marketsurge because it had automated campaigns. I just feel like there are options at a similar price that offer more than Heymarket. I also had some issues with the app loading up early on, but they fixed those before I switched. Overall it was just a little expensive for the feature set.
Kelsey
Independent Senior Director in USA
Einzelhandel, 51-200 Mitarbeiter
Verwendete die Software für: Mehr als 2 Jahre
Great Product- High Price Tag
Kommentare: HeyMarket allows me to have my life back by easily setting up campaigns and knowing they are getting to my customers when they are supposed to. I cant live without it.
Vorteile:
I LOVE HeyMarket! It makes running my business very easy. The way that it tests individuals, makes batching messages easy. I'm able to do more in my personal life because I know that my campaigns are up and running and my customers are being contacted. I also love that I can answer on my computer.
Nachteile:
The software can be glitchy. It takes a while for the app to sinc with the server. I've also had many issues where it kept creating me a new number- who knows what that was. Other than the glitchy stuff, it's really easy to use and navigate which is great! (I will say however, there are more and more tools and apps of the same arena that are coming out at a lower price. I recommend HeyMarkey ALL the time, but the price always scares people away. Apps like Project Broadcast are leaving HeyMarket in the dust at 9.99/mo)
Robin
Indpendent Sales Director in USA
Kosmetik, Selbstständig
Verwendete die Software für: Mehr als 1 Jahr
Wouldn't Have a Business Without It
Kommentare: They have listened to my suggestions and are always quick to respond to my concerns or questions. The template feature saves me so much time! The app is simply amazing. I'm thankful for Heymarket! Without them, I wouldn't have a business with the follow-up that I do!
Vorteile:
-Easy to Use -Campaigns and lists make it easy to follow-up with customers and prospects -Templates save me TONS of time -Customer service is top notch! -The app is AMAZING! Runs smoothly and seamlessly.
Nachteile:
-App does not capture on the web version when I delete someone from a list. That's the only downside of the app (and that's tiny!), so I still love Heymarket! -No ability to state when you don't want a message from a campaign to be sent out. (Example: Sunday mornings 8am-1pm). There is a way to schedule exactly when you want a message to send out, but that doesn't help me when I have prospects in campaigns.
Ian
Marketing Coordinator in USA
Bau, 201-500 Mitarbeiter
Verwendete die Software für: 6-12 Monate
Unorthodox Use – But it works!
Kommentare: Rather than using HeyMarket to blast marketing promotions, updates, or new products like the app was originally intended for – we adapted it as a platform for account management. With this app, we were able to alleviate a sales person that was focusing entirely on one account. This allowed us to maintain this existing account and free up time for a salesperson to pursue new accounts.
Vorteile:
We were looking for a text messaging platform where we could communicate with a large client of ours who has multiple points of contact, ultimately retiring a sales person. We wanted a platform that would be simple for our clients to use while giving us the ability to have our entire team view and respond to request from a single inbox.
Nachteile:
The only issue we've really had has been an issue with the auto-responders, and daylight savings time. We had to manually adjust the time with the time change.
Antwort von Heymarket
vor 3 Jahren
Hi Ian - thanks for the feedback. We're glad to be helping G5 be more productive. A fix for daylight savings is in the works, so it won't be an issue in the future. Thanks!