Was ist Goodshuffle Pro?
Deine One-Stop-Shop-Software speziell für Event-Vermietung, Produktion, Design, A/V, Tenting und mehr. Spare Hunderte von Stunden (und Kopfschmerzen) mit automatischer Bestandsverfolgung und Konflikterkennung, fotogesteuerten Vorschlägen, Online-Signaturen und -Zahlungen, dynamischen Pull-Tabellen, CRM und Aufgabentools und schönen Berichten und Dashboards. Die Software unterstützt eine breite Palette von Anbieterunternehmen, von kleinen Partyvermietungen bis hin zu großen Event-Produktions- und Designfirmen. Zudem: Unbegrenzte Schulung und Support.
Wer verwendet Goodshuffle Pro?
Für alle Eventunternehmen, von großen Produktions- und Designfirmen bis hin zu Boutique- und Vintage-Decór-Geschäften. Wenn dein Unternehmen Angebote sendet und Inventar verwaltet, könnte diese Anwendung für dich interessant sein.
Goodshuffle Pro – Details
Goodshuffle
2014 gegründet
Goodshuffle Pro – Details
Goodshuffle
2014 gegründet
Goodshuffle Pro – Videos und Bilder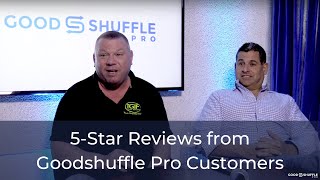 Kosten ähnlicher Produkte wie Goodshuffle Pro vergleichen
Startpreis
79,00 $/Monat
Nicht verfügbar
24,00 $/Monat
9,00 $/Monat
Goodshuffle Pro – Bereitstellung und Support
Kundenbetreuung
E-Mail/Helpdesk
FAQ/Forum
Wissensdatenbank
Telefon-Support
Chat
Einsatz
Cloud, SaaS, webbasiert
Mac (Desktop)
Windows (Desktop)
Training
Live Online
Webinare
Dokumentation
Videos
Funktionen von Goodshuffle Pro
API
Aktivitäts-Dashboard
Aktivitäts-Verfolgung
Alarmfunktion / Benachrichtigungen
Angebote / Schätzungen
Anpassbare Berichte
Arbeitsauftragsverwaltung
Auftragsmanagement
Auto-/Bootsverleih
Barcode / Tickets scannen
Berichterstattung und Statistik
Bestandsverfolgung
Bestell-Management
Buchhaltung
Daten-Import / -Export
Dokumentenmanagement
Drittanbieter-Integration
E-Mail-Vorlagen
Elektronische Zahlungen
Erinnerungen
Eventplanung
Geräteinstandhaltung
Gerätenachverfolgung
Geräteverleih
Immobilien-Vermietung
Inspektions-Management
Instandhaltungsmanagement
Integration in QuickBooks
Integration in die Buchhaltung
Inventarverwaltung
Kalenderverwaltung
Kreditkartenbearbeitung
Kundendatenbank
Kundenhistorie
Kurz- / Langzeit-Vermietung
Mehrere Standorte
Online-Buchung
Rabattmanagement
Raten-Management
Rechnungsmanagement
Reservierung-Management
Reservierungs-Management
Säumnisgebühren-Berechnung
Terminplanung
Transaktionshistorie
Verfügbarkeit-Management
Vermietung medizinischer Geräte
Vertrags-/Lizenz-Management
Wartungsplanung
Wiederkehrende Mieten
Brandon P.
Lead Project Manager in USA
Verifizierter Nutzer auf LinkedIn
Verwendete die Software für: Mehr als 1 Jahr
Best Event Management and Inventory Software Out there!!!
Kommentare: No more double booking stress, fast contract builds and automates most of my processes for me that i previously had to do separately like pack sheets and calendar updating. Plus I just share the calendar events with my crew and they can see all the information they need like schedule, pack sheet, locations, etc. Plus it keeps everyone accountable which helps when we need to back track to figure out why something was left at the venue or who talked the client last. The activity log has saved us more times then I like to admit. Since everything is digital and cloud based, files and papers don't get lost, and I only need to print things to file them away for safe keeping. The savings I have on paper and ink alone!!! Too many reasons to list here. Just try it out, you won't be sorry.
Vorteile:
Goodshuffle Pro was exactly what my company needed. We are a production company that also does Decor, furniture, photo booths, etc. Their inventory software is super easy to use and I was able to upload most of my inventory (around 4000 individual items) in just a weekend. Projects (what they like to call quotes, contracts, invoices) are pretty simple to setup and I like how they automatically create my pull sheets for me as well based off of the contracted items. It has solved my double booking problems and lets me know what items are available for an event and which ones have been promised somewhere else but still lets me decide which event to give it to. I could go on and on but basically they got it right. No other software I looked at actually did everything I needed except this one. Plus the guys who built it were in the event business before so they actually knew all the shortcomings of the other softwares they previously used. Couldn't recommend the software enough!
Nachteile:
I've been waiting to find some pitfalls but none so far. Took me a couple days to get my inventory in, just had to set aside some time to sit down and input it.
Antwort von Goodshuffle
vor 3 Jahren
Thanks, Brandon! We're thrilled to hear how happy you and your team have been with Goodshuffle Pro.
Kathryn K.
Operations Manager in USA
Eventservice, 2-10 Mitarbeiter
Verwendete die Software für: 1-5 Monate
In Betracht gezogene Alternativen:
A Powerful Tool for the Event Industry
Kommentare: Where other programs we have tried feel clunky, Goodshuffle Pro just works. For folks in the event industry, this program really does seem to have every detail thought through and then some! Absolutely thrilled that we decided to partner with Goodshuffle Pro and excited to run our business more easily and efficiently because of it!
Vorteile:
Intuitive software, top notch customer service, competitive pricing. Almost every question I have with the software is easily answered. If there are certain features that do not work exactly as I anticipated, the customer service reps work with us to find an alternate solution. It is so satisfying to build out our inventory in the program and organize everything digitally for the first time. Absolutely love the ability to add multiple images to each line item that a client can click through.
Nachteile:
We would love to build out packages to automate some things, but don't like the fact that the the pricing of the sub-items is not visible on the client side. For us, it's helpful to have this itemized pricing so that clients can see how we are getting to the lump sum of the package.
Antwort von Goodshuffle
vor 4 Monaten
Thanks for this awesome review, Kathryn! We are so thrilled that you mentioned loving our customer service in addition to our software. We're big on supporting your company and growth in every way possible! Thanks for being a part of the Goodshuffle Pro family and for taking the time to write us this stellar review.
Gastgewerbe, 11-50 Mitarbeiter
Verwendete die Software für: Mehr als 2 Jahre
For very small operations only.
Kommentare: They have nice people working for them albeit stuck inside the box unable to see what is truly needed in a rental software for any company larger than 2-5 people. We started with them not long after they came into existence and they were adding new features and functions pretty well; unfortunately they have gone down the wrong paths and completely ignored the more critical aspects of any good rental software. They find "work arounds" and not real solutions. They "outsource" many basic everyday functions to outside software solutions that are limited and not built for rental which takes a ton of time to "work around" and in the end is a terrible "solution" anyway. Like a lot of businesses wanting to be a player in their respective industries they just don't fundamentally understand what the industry and customer really needs. They will never achieve greatness because of these major issues.
Logistics—FAIL
Reports—FAIL
Comprehensive inventory management—FAIL
I wanted to believe in these guys. They seemed to be "up and coming" but alas they fizzled out. Sure they are making improvements to their system, but who cares about patching pot holes in the parking lot and a fresh coat of paint outside when the roof is collapsing inside the store, the shelves are bare, and trash everywhere. Currently suffering through until we can settle on a better solution.
Vorteile:
It has a decent interface, looks good, not difficult to use.
Nachteile:
Built for really small operations of 1-3 people. DJ's, small businesses that do not have more than one event or delivery operation per day. Logistics is a major failure. So in that regards it is good on the sales end but absolutely terrible on the implementation side of the work that needs to be done. Nearly zero ability to run reports or comparisons of financials. They have canned date ranges that you have to use…no custom date ranges.
Antwort von Goodshuffle
vor 5 Monaten
Hey Jeff, We're so sorry to hear you are feeling so frustrated right now. Sounds like your recent frustration got you down, and we're committed to turning you back into a Goodshuffle Pro fan. We'll be in touch directly to find out how we can grow the reporting and logistics to fit your standards. We're deeply dedicated to serving our customers of every size and hope to continue building features that help you grow.
Eventservice, 11-50 Mitarbeiter
Verwendete die Software für: Mehr als 2 Jahre
In Betracht gezogene Alternativen:
Excellent all in one rental management software.
Kommentare: Drastically cuts labor costs and improves efficiency by seamlessly tying together sales and operations in one program that is easy to use. Excellent customer service helps with any needs that come up
Vorteile:
Very easy to use. Integrates inventory into proposals. Easily integrates inventory into website ordering platform. multiple tiers of access for different levels of employees. Integrates with quickbooks and google to help with taxes and communication of schedules. Online contract signing and payment options by clicking on the proposals makes it easy for the clients to sign and pay on their own time.
Nachteile:
Excited to see labor scheduling integration when it comes out.
Antwort von Goodshuffle
vor 4 Monaten
WOW! Thanks, Paul, for this truly awesome review. It's clear you are really taking advantage of our robust feature set. It's especially awesome that you noted right away that it was "Very easy to use" and also easy to train your staff. Sometimes people assume that the ability to do so much (contracts, inventory, taxes, communication) means that it's going to be crazy confusing. Our mission is to make powerful software stay simple to use. Thank you for being a part of that mission! We hear you on the desire for more labor scheduling- it's 100% on the roadmap. Stay tuned for even more awesome features to come. Thanks again for taking the time to write this review and for being a part of the Goodshuffle Pro family.
Kara F.
Business Development in USA
Gastgewerbe, 2-10 Mitarbeiter
Verwendete die Software für: 6-12 Monate
Fantastic Product; Would switch again in a heartbeat!
Kommentare: Processes have been streamlined and team has more access to information now than ever before. Backoffice team can easily find client accounts, history of emails and payments without bothering the sales team (unless something wasnt added to the system, of course). Our communication with clients has also been streamlined resulting in a much smoother process both internally and externally for collecting payments and signatures on contracts
Vorteile:
User friendly, available on tablets and smartphones, clean contracts with seamless transition to clients for signing and payment, dashboard easily tracks monies owed and quick access to recording payments, customer service and the teams willingness to answer questions is impeccable, searchable articles addressing commonly asked questions
Nachteile:
Unable to customize the contractual terms such as deposit schedule and read only access fees for a small, start up are a bit high. The cost makes sense if you have more unlimited users, but a company under 10 people, it's a large fee when you add in the user and limited users already on the account. Would also love an integration option with outlook or a better option for sending emails to clients (with multiple template options or customizable template options per user)
Antwort von Goodshuffle
vor 5 Monaten
Thanks for the amazing review, Kara! We are thrilled to hear you are loving the wide array of benefits across your various teams. Ease of getting paid is key, of course, but also love to hear it's easier for your team to communicate and execute across the board. Send us a message in the chat bubble re: outlook, because we do integrate! Curious to hear if there's a miscommunication or if there's an opportunity for improvement there. Thanks again for the review and for being part of the Goodshuffle family!