Was ist IMCO-CIMAG MES?
IMCO Software transforms manufacturing companies by maximizing efficiency and profitability with our affordable modular Shop Floor Control Software. We provide customers with real-time visibility, accuracy, and control in today's competitive manufacturing market. IMCO -- CIMAG MES is the ideal manufacturing software due to its modular design. We specialize in MES software for small to midsize companies that want to optimize scheduling, traceability, and overall shop floor control.
Wer verwendet IMCO-CIMAG MES?
Industries we serve are Plastics, Metal, Aerospace, Chemicals, Medical Devices, Automotive, Food and Beverage and Electronics.
Wo kann IMCO-CIMAG MES bereitgestellt werden?
Cloud, SaaS, webbasiert, Windows (Desktop), Windows (On-Premise), Linux (On-Premise)
Über den Anbieter
IMCO Software
Ansässig in Jacksonville, USA
1999 gegründet
24/7 Live-Support
Chat
Erhältlich in diesen Ländern
Mexiko, Vereinigte Staaten
Über den Anbieter
IMCO Software
Ansässig in Jacksonville, USA
1999 gegründet
24/7 Live-Support
Chat
Erhältlich in diesen Ländern
Mexiko, Vereinigte Staaten
IMCO-CIMAG MES – Videos und Bilder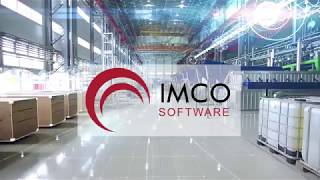 Kosten ähnlicher Produkte wie IMCO-CIMAG MES vergleichen
IMCO-CIMAG MES Funktionen
Automatisierte Terminplanung
Dokumentenmanagement
Inventarverwaltung
Kapazitätsplanung
Planung von Materialanforderungen
Qualitätsmanagement
Rückverfolgbarkeit
Terminplanung
Veränderungsmanagement
Was-wäre-wenn-Analyse
Alternativen für IMCO-CIMAG MES
Bewertungen über IMCO-CIMAG MES
Benjamin
Head of Information Systems in Schweiz
Geschäftsbedarf & -einrichtung, 51-200 Mitarbeiter
Verwendete die Software für: Mehr als 2 Jahre
IMCO-CIMAG has been deployed in our company in order to manage a big part of our production.
Kommentare: The skills of the Alpha-3i and IMCO teams allow us to move forward easily, even during very strategic projects.
Vorteile:
In order to monitor the efficiency of our machine and carry out manufacturing advancements, we have deployed IMCO-CIMAG Production. The IMCO-CIMAG solution is flexible and allows for simple interfacing with our ERP through various means, whether direct links between databases or file exchanges. Through an interface developed specifically for DIXI Polytool, we are able to know where our production orders are in real-time. Thanks to the declared production times, we are able to update our production times easily, which allows us to be as accurate as possible in our daily scheduling, and therefore give better deadlines to our customers. Through the operator interface, operators are able to declare waste quantities at the end of production, which is also able to be categorized accordingly. This data is then automatically restored and analyzed by the quality department. We have also integrated tool management, which shows operators the correct tools to use during production. Tool management also allows us to have a standard in our manufacturing process. This, therefore, reduces the variability of production. Finally, IMCO-CIMAG allowed us to set up performance monitoring indicators for our machines. With this and the IMCO-CIMAG software, we are able to instantly supervise all machines with a clear view of machine status(es) as well as the production rates per machine.
Nachteile:
The GUI is decent, but the IMCO-CIMAG team is constantly working on improvements.
CLATOT
CONTINUOUS IMPROVEMENT MANAGER in Frankreich
Schreiben & Editieren, 201-500 Mitarbeiter
Verwendete die Software für: Mehr als 2 Jahre
Develop visual management and productivity in our blister packs
Kommentare: Overall, we are very satisfied with IMCO-CIMAG MES. The field team took charge of the solution and quickly allowed for significant gains with the first project alone. This allowed us to extend the solution to other equipment, resulting in the same benefits. The ROI allows us to continue our deployment of the tool in other sectors, including quality (traceability and quality control) or the planning department (reliability planning).
Vorteile:
The solution is very easy to use, especially the operator panel. The handling of operators is fast and efficient. The supervision performance indicators are very visual and allow real-time quality control of productivity and team members. The possibility of developing specific widgets according to our needs is a real plus that helps us stick to our needs for piloting the workforce. Responsiveness of the support service in the event of bugs is fast and efficient. In terms of associated gains, we have great precision in our production costs due to the OEE monitoring functionality. The ability to make precise analyses of our performance within a specific range is great. The OEE analysis is also updated automatically on a regular basis. Overall, we have reduced downtime by 10%. Detailed data on machine downtime facilitates the management of our continuous improvement actions and helps justify our investment requests.
Nachteile:
The implementation of IMCO-CIMAG requires the availability of a project manager to support the transition (for operator and team manager support). Reshaping the OEE calculation method can be complicated to set up at first, because it changes the benchmarks of management, workshop managers, and team members. Implementing an MES is a bit costly, but worth the price. Finally, there is also a need to mobilize our resources to deal with the improvement actions identified via the MES.
Daniele
HS&EP, QA Manager in Italien
Chemikalien, 51-200 Mitarbeiter
Verwendete die Software für: Mehr als 1 Jahr
A nice customized solution for most of our needs.
Vorteile:
One of the best things is the traceability module that can allow you to keep a specific kind of traceability for your production. Good and stable interaction with the ERP.
Nachteile:
Scheduling module: for our specific way of manufacturing is difficult to use and it takes quite a lot of time to be updated.
Antwort von IMCO Software
vor 4 Jahren
In response to the issues brought up by Daniele we have changed the indexing of work orders and the loading speed of the technical module has been dramatically improved. We have also put together an economical package so that companies that do not need the full IMCO-CIMAG MES functionalities can still find that it provides a good ROI.
Guillaume
Technicien Amelioration Continu in Frankreich
Metallabbau, 51-200 Mitarbeiter
Verwendete die Software für: Mehr als 2 Jahre
From Scheduling to Delivery with the IMCO-CIMAG Solution
Kommentare: Alpha-3i and IMCO have been able to adapt to our constraints and needs despite very specific requests.
Vorteile:
From the management of work in progress through specific portable terminals, to the planning and scheduling of production orders, to the generation of barcode labels to the dispatch and the addition of a slip delivery, the IMCO-CIMAG solution has enabled us to automate our entire packaging process, which was previously managed in paper format. No more time is wasted on jotting down information on paper, re-entering it in Excel or taking it from one workshop to another. Interfacing with the ERP and PLCs allow us to exchange real-time production and maintenance data with the various departments and increase our responsiveness and productivity. Barcode management has enabled us to improve the traceability of our products and make our shipments more reliable, thanks to the portable terminals that were developed specifically for (and communicate with) the IMCO-CIMAG solution. We now have production and maintenance indicators that allow us to instantly monitor our packaging productivity.
Nachteile:
Nothing. Everything it's okay
Grégory
Special Processes Sector Manager (CIMAG project manager) in Frankreich
Verifizierter Nutzer auf LinkedIn
Luft- & Raumfahrt, 501-1.000 Mitarbeiter
Verwendete die Software für: Mehr als 1 Jahr
Cimag Production has transformed our workshop leaders into real team builders
Kommentare: The MES was implemented in packages. The tool installed at Mecafi required specific developments. The elements of development by Alpha-3i and IMCO were tested offline, then integrated into an operation. Once the first operating loop was developed, deployment to all machining operations took place in one or two weeks. Alpha-3i and IMCO were proactive in their approach.
Vorteile:
With IMCO - Cimag Production, traceability of the WO (Work Order) is maximized with computerization. The operator scans a paper document which will be transmitted directly to his control screen. We remove all risks of manual entry. All production records and all machine processes are made available to employees and are archived. We went from a WO of about twenty sheets to a simple A4 sheet. This represents a savings of a 500 foot high ream of paper! The MES solution has made it possible to optimize the work of our employees. Information is captured in real time and immediately transferred. The workshop managers have visibility, at all times, of the entire shop floor.
Nachteile:
our demand was a little bit specific, so we used long time between development and testing and the very starting in production. it was frustrating not to be able to go on after first tests. otherwise nothing more !