Was ist Regroup Mass Notification?
Regroup Mass Notification empowers better mass communication that keeps people safe and informed at all times. The company's award-winning, cloud-based mass communication platform is what clients around the globe rely on to send both critical and routine communications to millions of people. By enabling one-tap messaging to multiple channels, Regroup helps organizations keep people safe, strengthen operational resilience, mitigate risk, and thrive in an increasingly unpredictable world.
Wer verwendet Regroup Mass Notification?
Regroup is used by organizations from a variety of industries including healthcare, education, corporate, nonprofits, government, tribes, manufacturing, security, hospitality, casinos, and more.
Wo kann Regroup Mass Notification bereitgestellt werden?
Cloud, SaaS, webbasiert, Mac (Desktop), Windows (Desktop), Windows (On-Premise), Chromebook (Desktop), Android (mobil), iPhone (mobil), iPad (mobil)
Über den Anbieter
Regroup Mass Notification
Ansässig in San Francisco, USA
2006 gegründet
Telefon-Support
24/7 Live-Support
Chat
Erhältlich in diesen Ländern
Kanada, Vereinigte Staaten
Über den Anbieter
Regroup Mass Notification
Ansässig in San Francisco, USA
2006 gegründet
Telefon-Support
24/7 Live-Support
Chat
Erhältlich in diesen Ländern
Kanada, Vereinigte Staaten
Regroup Mass Notification – Videos und Bilder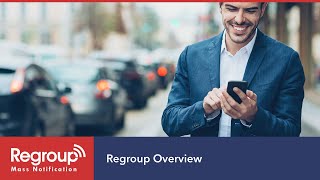 Kosten ähnlicher Produkte wie Regroup Mass Notification vergleichen
Regroup Mass Notification Funktionen
Alarmfunktion / Benachrichtigungen
Audit Trail
Berichterstattung / Analyse
Betriebliches Gesundheitsmanagement
Dashboard
Disaster Recovery
Geotargeting
Inspektions-Management
Kommunikationsmanagement
Kontaktmanagement
Massenbenachrichtigungen
Multi-Channel-Kommunikation
On-Call-Pläne
Risikoberichte
Risikobewertung
Risikomanagement
Störfallmanagement
Trainingsmanagement
Vorfall-Berichterstattung
Vorlagen
Alternativen für Regroup Mass Notification
Bewertungen über Regroup Mass Notification
Melodie
Data and Content Manager in USA
Verifizierter Nutzer auf LinkedIn
Non-Profit-Organisation Management, 51-200 Mitarbeiter
Verwendete die Software für: Mehr als 1 Jahr
Regroup helps keep our staff safe
Kommentare: In addition to using Regroup to alert staff when there is an incident requiring the use of safety protocols, we use Regroup as a way for our staff to alert their teams when they are going out and returning from the field. This is a very helpful, especially when staff are not returning to the office after being in the field.
Vorteile:
Regroup is easy to access, and a quick and easy way to alert staff when an incident is happening and to use safety protocols to enter or leave the building.
Nachteile:
The fact that new users have to create an account on the computer before being able to log into the mobile app, it would be more convenient to be able to do it all from the mobile app.
Kyne
Functional Analyst in USA
Hochschulbildung, 501-1.000 Mitarbeiter
Verwendete die Software für: Mehr als 1 Jahr
In Betracht gezogene Alternativen:
Regroup -- Useful for mass communication
Kommentare: Check if your institution needs mail merge right away. From my recollection- the mail merge (importing custom fields within a csv) did not exist when we were using it.
Vorteile:
The ability to manually upload groups that you can pull from datasets. Prepopulating groups allows for quick emergency notification generation. The texting and opt out ability for students is pretty painless. Configuring users for admin level access easy and quick. Training is easy and quick. Support is there. The texting add on /texting carrier is pretty painless to use. There doesn't seem to be an issue using them as a texting aggregate. Best cost from others at the moment, both in text and user count.
Nachteile:
Groups can be overwritten by anyone with admin level access. Count of members in the group reflect existing contact information/contact information doesn't always accurately reflect the manual load. Shared opt out-- if individuals belong to multiple bodies using regroup, opting out of one opts out of the entire regroup platform. Support is not very effective -- long response times. Inability to understand higher level technical questions (importing custom fields). The largest drawback is the inability to mail merge, which cripples the software for customization. There supposedly an update that was scheduled to include this feature, but we had to migrate to a different mass communication system for mail merge.
Barb
Administrative Assistant II in USA
Hochschulbildung, 501-1.000 Mitarbeiter
Verwendete die Software für: Mehr als 2 Jahre
Regroup Review - Great Product
Kommentare: Our Customer Success Manager - [SENSITIVE CONTENT] was great! I am an administrative assistant with the duty of helping set up version 2.0. I couldn't have done it without him. He put up with all of my calls and questions (and I had a lot of them) :)
We are probably not using Regroup to it's full potential.
Vorteile:
The ability to assign different roles to different Admins so they can manage the messages that are important to them. I really like the upgrades were made in 2.0 to make sending messages quick and effortless. Being able to have a group of groups in channels makes setting up the admin authority over multiple groups and sending messages to multiple groups. I have to admit, after working with groups, it took awhile to adjust to channels, but once you "get it" you will be happy.
Nachteile:
We have a few unique situations; we upload a few different files with different data in each. Our IT department is working with Regroup on a solution so that multiple files can be uploaded without updating or changing data in other groups.
Matthew
Director of Networking & Systems Administration in USA
Bildungsmanagement, 1.001-5.000 Mitarbeiter
Verwendete die Software für: 6-12 Monate
In Betracht gezogene Alternativen:
Reveiw of Regroup Online Mass Notification
Vorteile:
Somewhat easy to use. Managed in the cloud.
Nachteile:
We explicitly found cross data contamination. We are a community college and our local K-12 school system already was using Regroup for mass notification. When we uploaded our data and ran reports, we found incorrect data with our dual enrolled students (these are seniors taking a college class before graduating High School.) Regroup explained that because we had a record that had the same name as a record for the local school system, we were getting the wrong data. Apparently, Regroup did not have the proper digital security boundaries between our data and the K-12 data, meaning all records were being kept in the same database. Regroup then claimed they would work to correct that within the year. Unacceptable in this day and age of high Cyber Security threats.
Antwort von Regroup Mass Notification
vor 2 Jahren
Hello Matthew, We remember your particular issue and would like to provide some clarification. The issue you experienced was not due to any lack of digital security or boundaries, but it was due to how the K-12 account was linked with yours in the backend of our system and the expected resulting behavior for similar contact records. We have many Regroup clients with similar relationships and our system was designed to accommodate their requests for records to translate from one network to another as students graduate. In your case, a unique error occurred when your organization used the exact same identifiers as the K-12 school, but the issue was corrected quickly. Our team worked with your organization to diagnose and resolve the issue in full. If you are still experiencing any problems, our Customer Success team will be glad to help you further.
Brooke
Imaging Manager in USA
Krankenhausversorgung & Gesundheitswesen, 501-1.000 Mitarbeiter
Verwendete die Software für: Mehr als 1 Jahr
Great Communication Tool
Vorteile:
This product is super easy to use! You can use it via app on your smart devices or via computer. You can schedule messages to go out to your groups at certain times. Everyone gets added to the system during orientation and then as managers, we can make smaller groups for our departments. Need a shift covered fast? Send out a Regroup message to reach everyone in your department. You can select phone call, text, or email or any combination of the 3.
Nachteile:
Message size is limited to 160 characters per text. If it is longer that that, the group will get a link to the post. Sometimes I need just a couple more letters!