Was ist Coacha?
Coacha ist ein Onlineprogramm für das Clubmanagement, das es Trainern des Amateursports und der Clubverwaltung leicht macht, Clubs und Mitglieder zu verwalten. Die Software hilft bei der Überwachung von Anwesenheiten und der Finanzen des Clubs, während sichergestellt wird, dass Mitgliederinformationen sicher bleiben. Coacha ist unkompliziert, einfach zu bedienen und in vielerlei Hinsicht hilfreich.
Wer verwendet Coacha?
Trainer des Amateursports und Clubverwalter.
Wo kann Coacha bereitgestellt werden?
Cloud, SaaS, webbasiert, Android (mobil), iPhone (mobil), iPad (mobil)
Über den Anbieter
von MA Design Solutions
2015 gegründet
Telefon-Support
Über den Anbieter
von MA Design Solutions
2015 gegründet
Telefon-Support
Coacha – Videos und Bilder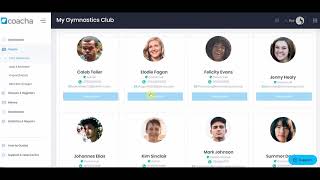 Kosten ähnlicher Produkte wie Coacha vergleichen
Startpreis
25,00 £/Monat
Nicht verfügbar
25,00 $/Monat
59,00 $/Monat
Funktionen von Coacha
API
Aktivitäts-Dashboard
Aktivitäts-Verfolgung
Anmeldung / Onboarding
Anpassbare Berichte
Anpassbare Felder
Anpassbare Formulare
Anpassbare Vorlagen
Anwendungsmanagement
Anwesenheitsmanagement
Ausschuss-Management
Berichterstattung und Statistik
Daten-Import / -Export
Drittanbieter-Integration
E-Commerce-Management
E-Mail Erinnerungen
E-Mail Marketing
E-Mail-Vorlagen
Elektronische Zahlungen
Erinnerungen
Eventplanung
Filesharing
Gebühren-Management
Kalenderverwaltung
Klassenterminplanung
Kommunikationsmanagement
Kontakt-Datenbank
Kreditkartenbearbeitung
Kundendatenbank
Kundenportal
Kundenspezifisches Branding
Mitglieder-Buchhaltung
Mitglieder-Datenbank
Mitglieder-Portal
Mitgliederkommunikation
Mitgliederverzeichnis
Mitgliedschaftsarten
Mitgliedschaftsverlängerung
Rechnungsmanagement
Registrierungs-Management
Self-Service Portal
Social-Media-Integration
Veranstaltungskalender
Veranstaltungsmanagement
Verfolgen der Teilnahme
Webseitenintegration
Website-Management
Wiederkehrende- / Abonnement-Abrechnung
Zahlungsabwicklung
Zugriffskontrollen / Berechtigungen
Verifizierter Rezensent
CEO in UK
Verifizierter Nutzer auf LinkedIn
Sport, 2-10 Mitarbeiter
Verwendete die Software für: Mehr als 1 Jahr
Time saving and safeguarding dream
Kommentare: It solves record keeping and staying GDPR compliant. The record keeping and 'Broadcasting' system work brilliantly, saving precious admin time for the things I want to be doing.
Vorteile:
Coacha is so easy to use, it cuts down so much admin' and it keeps my mind at rest that there are many layers of safeguarding. The website is so intuitive and well constructed that it really cuts the guess work out of recording attendance, payment requests and reporting. It's all there, there is space for comments and safe gaurding records too a track and trace system! Everything is accessible on the app as well, secure but accessible is a balance Coacha has struck just right.
Nachteile:
I genuinely struggle to think of negatives, the only thing I can think of is the sign in page on the app is a little 'clunky'.
Antwort von MA Design Solutions
vor 10 Monaten
Thanks for your kind words. Safeguarding is massive for us as well as security. We are constantly working on and updating our Apps as we add more functionality to Coacha. We had know speed issues and have now changed tech to makes things run more smoothly. If ever you experience any app related issues, please in the first instance visit you App Store and download the most recent version of the Coacha App. If niggles still persist, then drop us a line on support@coacha.co.uk Thanks again!
Raj P.
Coaching Officer in UK
Sport, 201-500 Mitarbeiter
Verwendete die Software für: 6-12 Monate
Amazing membership management software
Kommentare: CoachA is an amazing product and we would be struggling without it. All our member records are now updated and we are now able to email certain membership groups within the club. We have over 40 juniors on our coaching program who are now setup on a monthly direct debit scheme. The amount of time we are saving on administration is huge. The app on the phone is brilliant as the Coaches now use this for the register and we are able to check membership status on mobile devices/ipad at any time. There is no need to chase for payments as CoachA does it all. Its one of the easiest products to use. Without CoachA our club would not be able to run smoothly.
Vorteile:
This is a very hard question but to keep it simple all the features are brilliant. We managed to import all our membership database within a few hours. The hardest part was actually figuring out what information we did not want to migrate to CoachA. Our members simply logged in and then reviewed/updated their records. We had also uploaded our Rules and Constitution documents. When users logged in for the first time they were asked to confirm they have read these documents. Other key documents can also be stored. Stripe and GoCardless (2 payment methods) were setup very easily followed by subscriptions plans. Within a few hours we had invoiced all our members. The email functionality and the member groups feature was very easy to use. A history of all emails sent and any bounced email errors are also logged. The Club Sign Up Form was very easy to implement and we have now got rid of our paper membership forms as new prospective members only have to click on a link and then spend a few minutes completing the Sign Up Form. Our membership secretary is extremely happy as he no longer needs to manually enter details into a spreadsheet. Our members have not complained about the new system and new members have said the process to become a member is very easy. The APP is a key feature and very easy to use. Our coaches are using the App as there is a Register feature so that we know who has attended a session.
Nachteile:
CoachA allows the administrator to add customised fields however at moment unable to set these to to be Read Only (currently user can edit the info stored in these fields), however this is under review. CoachA team are always happy to hear our views and in most cases have already thought about my requests.
Antwort von MA Design Solutions
vor 11 Monaten
Thanks for your review Raj. The team are rally glad that you are able to run your club easier now that you're making full use of the software and App. We designed it specifically to help people out like yourself. As always, user feedback is welcomed and always discussed and considered.
Yan gui S.
Martial Arts coach in UK
Sport, 2-10 Mitarbeiter
Verwendete die Software für: 1-5 Monate
Shaolin Temple Martial Arts and Cultural Centre
Kommentare: Loving it, and using it to the fullest
Vorteile:
Easy access and user friendly, makes the life of coaches and members much easier, complete members management all in one!
Nachteile:
I have not experienced anything that I don't like yet!
Antwort von MA Design Solutions
letzten Monat
We're really glad that Coacha has helped you with managing your students and coaches. Thanks for your very kind words.
Sport, Selbstständig
Verwendete die Software für: 1-5 Monate
Coacha for small clubs
Kommentare: Coacha has improved so much. I used it before when it was quite new but stopped it after a while as I didn't feel it was saving me admin time but the improvement between then and now is enormous!
Vorteile:
The coacha software makes it easy to manage members details and payments. I haven't used all of the available features yet but it is already making life easier
Nachteile:
The android app is harder to navigate than just using the usual app through the browser
Antwort von MA Design Solutions
vor 4 Monaten
Thanks Vicki. We have completely overhauled the Apps now and they're just going through final stages of testing. Nearly all of the additional functionality we've added to the system will now be available through the iOS & Android Apps including the new booking system. They've also had a visual refresh making them really easy for you, your staff and your remembers to use. And, don't forget they are completely free to download and usefor everyone!
Kem H.
Coach/Admin Assistant in UK
Sport, 2-10 Mitarbeiter
Verwendete die Software für: 1-5 Monate
RAW Tennis Coacha review
Kommentare: Great software, solving many of our logistical and organizational problems as a business, and we would highly recommend it to others.
Vorteile:
The best thing about Coacha is having all your needs for running a sports-based business in one place. The membership database is easy to use and easy for clients to sign up, and it's very easy to organize clients into appropriate groups and set up registers. Coaches can then use the app on their phone to fill in registers, removing any need for printing as everything updates in real-time. This makes it simple to track trials, moves, and attendance for all our members. Before, things could easily descend into chaos when managing a membership group of almost 500 people a week, whereas now everything is much more structured and organized. It's also worth noting how helpful [SENSITIVE CONTENT] is to contact if we have any issues or suggestions for how to improve Coacha.
Nachteile:
Since we are new to Coacha, there are some things we felt would add to the software, such as customizable reports to export members and additional columns to sort groups. We only had to contact [SENSITIVE CONTENT] and within weeks customizable reports are now part of the software and additional columns are coming soon! I can't underestimate how useful it is to have someone to contact who takes on board feedback.
Antwort von MA Design Solutions
vor 3 Monaten
Many thanks for the review Kem. We're so pleased that many of you admin boxes are ticked. We pride ourselves on being responsive to our subscribers needs and once we decide to do something, we do it as quick as we can!