Was ist DiscoverLink Talent LMS?
Learning-Management-System (LMS) für Restaurants und Hotels, die eine Mitarbeiterentwicklungslösung für Arbeitskräfte auf Stundenbasis mit hoher Fluktuation im Gastgewerbe bietet. Dieses nutzerfreundliche System vereint ein funktionsreiches LMS, Leistungsverwaltung, aufschlussreiche Metriken zur Talentqualität und laut Hersteller exzellente Schulungsinhalte in einer einzigen, integrierten, mobilfreundlichen Plattform.
Wer verwendet DiscoverLink Talent LMS?
Im Gegensatz zu anderen E-Learning-Anbietern konzentriert sich DiscoverLink Talent Hospitality LMS speziell auf das Gastgewerbe. Das LMS wird von Restaurant- und Hotelketten mit einer oder bis hin zu Tausenden von Einheiten genutzt.
Wo kann DiscoverLink Talent LMS bereitgestellt werden?
Cloud, SaaS, webbasiert, Mac (Desktop), Windows (Desktop), Chromebook (Desktop), Android (mobil), iPhone (mobil), iPad (mobil)
Über den Anbieter
DiscoverLink
Ansässig in WEST CHICAGO, USA
2002 gegründet
Telefon-Support
Chat
Sprachen
Englisch, Spanisch, Thailändisch
Über den Anbieter
DiscoverLink
Ansässig in WEST CHICAGO, USA
2002 gegründet
Telefon-Support
Chat
Sprachen
Englisch, Spanisch, Thailändisch
DiscoverLink Talent LMS – Videos und Bilder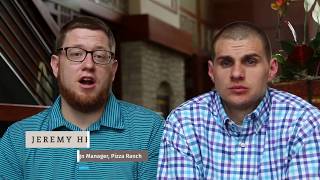 Kosten ähnlicher Produkte wie DiscoverLink Talent LMS vergleichen
DiscoverLink Talent LMS Funktionen
Abrechnung & Rechnungsstellung
Aktivitäts-Dashboard
Aufgabenmanagement
Berichterstattung / Analyse
Compliance-Verfolgung
E-Commerce-Management
Fortschrittsverfolgung
Gamification
Gemischtes Lernen
Inhalt-Bibliothek
Klassenbücher
Kurs-Tracking
Kursverwaltung
Lernmanagement
Lernpfade/-verläufe
Mobiles Lernen
Portal für Lernende
SCORM-Compliance
Soziales Lernen
Tests/Bewertungen
Trainingsverwaltung
Zertifizierung und Lizenzierung
interaktive Inhalte
Alternativen für DiscoverLink Talent LMS
Bewertungen über DiscoverLink Talent LMS
Jessicah
Senior Director of Training in USA
Verifizierter Nutzer auf LinkedIn
Restaurants, 51-200 Mitarbeiter
Verwendete die Software für: Mehr als 2 Jahre
User Friendly, Adaptable, Support out of this world, Everything a restaurant brand needs
Vorteile:
What I like most is the simplicity for the end users. From the management team having to assign a new profile, assign content, review history or make a transfer to our hourly employees logging in and completing the content, the process is simple to understand and to teach. Next would be the content library. It is not always possible to bring in an instructional designer to build content from scratch or budget to have content built from a third party and with this software, there is no immediate need. You can dive right in and provide your teams, all levels, learning and development content immediately. This takes out the "O.K. I have purchased the software, now let's start building content to get the buy in from our operators and/or Franchisees". Next would be the functionality to make things your own for your Brand. From how you design checklists, quizzes, tests to how you assign permissions within levels of hierarchy to give the management teams and owners the accountability over their restaurants dashboard and assignments. There is so much more I want to brag about with Discover Link but they only give me so many words within this review and I have to be sure to let you know about the support team. It is like no other I have dealt with in my 25+ years in restaurants. They are caring, helpful, bring suggestions and ideas to the table as well as make you feel like a part of the family vs. being a client. I am so appreciative of each and everyone on the team!
Nachteile:
I have no least favorite thing about this software because of the hard work and dedication of their team listening to the all their client family. We requested to have them build an app and our wish has come true. in 2018, we will be able to have an app available for the system. For us, this will open doors, windows and magic portals because we will be able to fulfill the "offline" resource content our Franchisees have requested, build a library with "Search" functionality so our operators can find things quickly and easily as things arise and so much more that just makes me smile inside and out. I know it is hard to believe that this software could be so great, but I encourage you to give it a chance.
Essen & Trinken, 1.001-5.000 Mitarbeiter
Verwendete die Software für: Mehr als 1 Jahr
HR Manager
Kommentare: Our overall experience has been wonderful. Aside from the software itself, it has been wonderful working with a dedicated team that is engaged and committed to helping us meet our training goals and objectives.
Vorteile:
Discoverlink is easy to use as an administrator. The reporting is awesome and the support is phenomenal when you need assistance.
Nachteile:
Some of the feature's functionality seems archaic, for example, the mobile version of the site from the learners' perspective requires horizontal scrolling to see additional courses. This concept is somewhat foreign to our younger workers. Also, the process for managers to actually sign off on a learner's course progress is very clunky. The sign-off feature could benefit from some enhancements. We have found the built-in quiz and testing functionality to have occasional glitches. Overall the tool is solid there are just some nit-picky things that could be improved upon.
Antwort von DiscoverLink
vor 3 Monaten
Hi Sarah, Thank you for providing this valuable feedback. We are so happy to hear you find the software easy to use and we really appreciate your high praise for our support team. However, we would like to get more insight about the areas for improvement you mentioned. We work hard to provide the best experience possible and always listen closely to customer feedback. Would you be open to a call with our team to discuss your concerns in more detail? Please let me know and I'll be happy to set that up for you.
Molly
Director, Training and Development in USA
Verwendete die Software für: Mehr als 2 Jahre
Product is okay
Vorteile:
Our customer support is amazing. The support staff is the best asset you have to support questions and help trouble shoot issues. We have appreciated his contribution to our efforts.
Nachteile:
Reporting is lacking and Discoverlink is behind the industry based on our research and networking with others in the industry
Antwort von DiscoverLink
vor 5 Jahren
Hi Molly, thank you for taking the time to complete this review and for providing feedback on reporting. I wanted to let you know that we will begin rolling out a new user interface this quarter which includes some nice reporting enhancements, including graphical charts. In addition, we can create custom reports and add dashboard statistics to meet specific requirements. If you'd like to explore either of those options, please contact your Account Manager. We'd love to hear your ideas on other features you'd like to see us add to our development roadmap as well. Feel free to send me any comments and I'll be happy to forward them on to our development team as enhancement requests for future consideration. Thanks again!
Angi
Instructional Design Manager in USA
Restaurants, 51-200 Mitarbeiter
Verwendete die Software für: Mehr als 1 Jahr
In Betracht gezogene Alternativen:
Best Customer and Technical Support EVER Bar!
Kommentare: Everyone, and I do mean EVERYONE, at Discover Link has given us the platinum package for customer and technical support. I can't say the same for other LMS's, including the BIG name ones, where you get the runaround when trying to get an issue fixed. The Discover Link folks call, email, even text, back within 24-hours. They are fantastic with communication and following-up. Yes, there are flashier (and dare I say sexier) LMS's out there that push "social learning" and promises of "mobile learning", but honestly... the competition isn't worth the headache, esp. if your organization doesn't use "social learning" or have users take courses on their cell phone (which are a pain to design effective courses for such small screens). Word of advise... Don't get caught up with the "shiny object" LMS's out there. Go for the LMS with will provide the BEST support, because THAT is what is going to matter if you have any issues and/or need Admin support. THAT is what we have with Discover Link!
Vorteile:
The fairly new "cross-hairs" feature when looking at users within their campus is FANTASTIC! I like how you can preview content without actually needing to assign it and then take the course. Resources has a nice search option. All in all, it is fairly easy to use as an Admin and good for what our users need.
Nachteile:
Not the most intuitive UI (especially when trying to set-up external permissions) and a bit tedious with having to collapse sections all the time. I wish the content had a "search" feature, esp. since we can't get the "filter" feature to work. The UI needs a facelift to look more "clean" and modern.
Jeremy
Instructional Design Manager in USA
Verifizierter Nutzer auf LinkedIn
Restaurants, 1.001-5.000 Mitarbeiter
Verwendete die Software für: Mehr als 2 Jahre
Training at the next level
Kommentare: We went from a homegrown LMS to using DiscoverLink, and haven't looked back. It allows us to train team members, managers, and even our corporate support center staff. It is easy to see who has and hasn't completed training. The team is wonderful to work with as well. I'm more of a hands-on admin, and I'm able to do most things myself, but the support team is there for any assistance I need. I know some of their other clients are more hands-off, and they work well to keep all things moving smoothly for both ends of the spectrum.
Vorteile:
The LMS is very easy to use, administer, and train with. The support and service is amazing from the team at DiscoverLink
Nachteile:
Updates can take a while to be made, but are amazing when they come out.