Was ist Frugal Testing?
FrugalTest is an easy and cost effective solution to determine scalability of your web/ mobile application.
Features:
1. Can load test any HTTP/s based application or service
2. Running tests using recorded JMeter script with CSV
3. Analyses various performance metrics like average response time,bandwidth,throughput, error rate during the test run and on completion.
4. Email notification on test completion
5. Generate thousands of users load from different locations.
Wer verwendet Frugal Testing?
Target market is America and India, later it will be for any part of world as it is for any online business which has good user load.
Frugal Testing – Details
Frugal Product Services
Frugal Testing – Details
Frugal Product Services
Frugal Testing – Videos und Bilder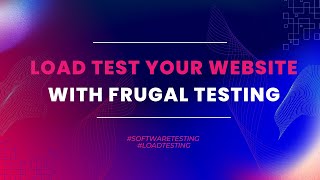 Frugal Testing – Bereitstellung und Support