Was ist PikMyKid?
Laut Hersteller erste und einzige umfassende Lösung für Schulabbruch und Verkehr – vollständig cloudbasiert und erschwinglich. Zu den Hauptmerkmalen von PikMyKid gehören Entlassungsautomation, Carline-Management, Schulbusverfolgung, Eltern-Nachrichtenübermittlung, Notfall-Panikknopf für Schulpersonal. PikMyKid reduziert die Haftung und erhöht die Sicherheit der Lernenden und mindert den Verkehr in der Umgebung der Schule. Einbindungen >80 % Eltern. Das einzige Produkt in Partnerschaft mit dem Verkehrsministerium. Über 500.000 Nutzer in 32 Staaten und 7 Ländern.
Wer verwendet PikMyKid?
Einzelne Privat-, Charter- und öffentliche Schulen und auch große Schulbezirke mit Hunderten von Schulen.
PikMyKid – Details
PikMyKid
2013 gegründet
PikMyKid – Details
PikMyKid
2013 gegründet
PikMyKid – Videos und Bilder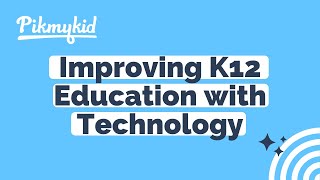 Kosten ähnlicher Produkte wie PikMyKid vergleichen
Startpreis
Nicht verfügbar
49,00 $/Monat
12,00 $/Jahr
Nicht verfügbar
PikMyKid – Bereitstellung und Support
Kundenbetreuung
E-Mail/Helpdesk
Telefon-Support
Chat
Einsatz
Cloud, SaaS, webbasiert
Android (mobil)
iPhone (mobil)
Training
Live Online
Webinare
Dokumentation
Funktionen von PikMyKid
API
Aktivitäts-Dashboard
Aktivitäts-Verfolgung
Alarmfunktion / Benachrichtigungen
Anmeldung / Onboarding
Anpassbare Berichte
Anpassbare Formulare
Anwesenheitsmanagement
Aufgabenmanagement
Berichterstattung / Analyse
Berichterstattung und Statistik
Beurteilung-Management
Bibliotheks-Management
Buchhandlungs-Management
Cafeteria-Management
Daten-Import / -Export
Dokumentenmanagement
Dokumentenmanagement
Dokumentenspeicher
Drittanbieter-Integration
Echtzeit-Benachrichtigungen
Elektronische Zahlungen
Eltern-/Schüler-Portal
Facility-Management
Finanzmanagement
Fortschrittsbericht
Höhere Bildung
Kalenderverwaltung
Klassenterminplanung
Kundenportal
Lernmanagement
Mitarbeitermanagement
Online-Kalender
Online-Zahlungen
Personalverwaltung
Registrierungs-Management
Rollen-basierte Genehmigung
Schulbezirk
Self-Service Portal
Software für Schulen
Sonderpädagogik
Studenten-Management
Studenteninformationen/-dokumente
Studentenportal
Stundenplan-Management
Transportmanagement
Unabhängig/Privat
Verfolgen der Teilnahme
Wohnungsmanagement
Zulassungsmanagement
Kathleen S.
Data Manager in USA
Bildungsmanagement, 51-200 Mitarbeiter
Verwendete die Software für: Mehr als 2 Jahre
Great program that is up-to-date for the changing environment.
Vorteile:
We have been using PikMyKid for many years now and find that it has really helped with our dismissal process. PMK made some very exciting upgrades to help schools during the COVID-19 crisis. We were able to make our own questions that parents needed to answer before they dropped of their child for the day. After using this for a while, we realized our questions were too general for the situation. It was very easy for us to go back in and change those questions, both English and Spanish. Dismissal is a breeze and quiet! We would recommend PMK to any school who has a need for an easy, organized dismissal system.
Nachteile:
It is hard to find a "con" with this program.
Kacie H.
Administrative Assistant in USA
Bildungsmanagement, 501-1.000 Mitarbeiter
Verwendete die Software für: 6-12 Monate
PMK Review
Kommentare: Our overall experience has been good with PikMyKid. It took a bit to get into the swing of it, but once we did it has helped a lot. The feature that allows the parents to change their child's mode of transportation has been a favorite for the front office staff. Being able to keep the students in the classroom until it's time for them to be dismissed has been a tremendous help for social distancing. One major improvement that we would like to see would be to easily identify a transportation change in the dismissal progress page. Some suggestions would be to highlight the student's name, or have an icon showing the change (example: car -> walker). Having the transportation changes EASILY identifiable on the dismissal progress page would be the biggest help that PikMyKid could offer.
Vorteile:
We have only used this program for car riders, as the other transportation modes haven't been implemented. We love how fast it makes our car rider dismissal go. PikMyKid has helped a lot with phone management in the front office because the parents can make the transportation changes on their end. This system is also very helpful in social distancing since the teachers hold the students in their classroom until their parents are at the school to pick them up. Once we were able to get past the learning curve the system worked very well. However, the learning curve took a bit longer than expected though.
Nachteile:
We have struggled with EASILY identifying transportation changes on the classroom/teacher side of this program. We eventually were told of a report that could be set up and sent to the teachers so they could see transportation changes. Before we were told about this, the one screen the teachers worked off of was not clear as to who had a transportation change for that particular day. We continue to struggle with getting accurate transportation change updates. The app and/or website doesn't always work during dismissal time.
Rebecca S.
Administrative Assistant in USA
Grundschul- & Sekundarbildung, 51-200 Mitarbeiter
Verwendete die Software für: Mehr als 2 Jahre
Easy To Use Dismissal Program
Kommentare: We love PikMyKid! It makes our lives so much easier and gives us that little bit of extra structure to have a successful pick up process at the end of the day.
Vorteile:
We needed a better system to manage our childcare center's dismissal system to accommodate our 600 child capacity. It is also a great system to help manage alternate pick ups if someone other than a parent is picking up the children.
Nachteile:
Minor issue, but I feel a better table of contents would assist with deciding which report to pull for my needs.
Katie S.
Assistant Principal in USA
Bildungsmanagement, 51-200 Mitarbeiter
Verwendete die Software für: 6-12 Monate
Pikmykid
Vorteile:
Pikmykid app has streamlined our parent pick up system during a pandemic. We needed a safe and reliable way to get students to their parents/guardians quickly because of the large number of students being picked up in the short time. I am thankful we have this program in place.
Nachteile:
The software doesn't constantly link with our opperating system and so we have to manually enter new students. I think it would also be easier for the system to already have the next student number in place so that we don't have keep track of the next students number.
Angie R.
Building Secretary in USA
Bildungsmanagement, 51-200 Mitarbeiter
Verwendete die Software für: Mehr als 2 Jahre
Great experience with PikMyKid
Kommentare: We enjoy using PikMyKid and have heard great things from our school's parent base as well. We have and will continue to recommend it to other districts.
Vorteile:
It is very user friendly for all of our staff to use in various situations.
Nachteile:
To update at the beginning of the year is a lot - many steps and procedures.