Was ist Demio?
Mit Demio können Marketing- und Kundenschulungsteams ihre Schulungen durch
Live-Videos schneller denn je zuvor skalieren. Demio ist die perfekte Plattform für dich, unabhängig davon, ob du Leads/Kund*innen qualifizieren, Nutzer*innen aktivieren, Test-Conversions steigern oder deine Kund*innen schulen und die Kundenabwanderungsrate senken möchtest. Erfahre, warum Demio von einigen der weltweit führenden SaaS-Unternehmen als vertrauenswürdig eingestuft wird.
Wer verwendet Demio?
SaaS-Unternehmen, die ihre Marketing- und Kundenschulungen mithilfe von Live-Videos effektiv skalieren möchten.
Demio – Details
Banzai
2014 gegründet
Demio Kosten
Startpreis:
34,00 $/Monat
Ja, kostenloser Test verfügbar
Keine Gratisversion
Demio bietet keine Gratisversion, aber eine kostenlose Testversion. Die kostenpflichtige Version von Demio ist ab 34,00 $/Monat verfügbar.
Preismodelle
Kostenlose Testversion
Demio – Details
Banzai
2014 gegründet
Demio – Videos und Bilder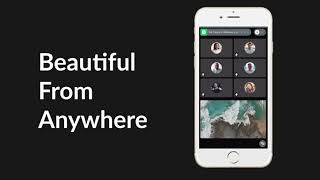 Demio – Bereitstellung und Support
Kundenbetreuung
E-Mail/Helpdesk
FAQ/Forum
Wissensdatenbank
Telefon-Support
24/7 Live-Support
Chat
Einsatz
Cloud, SaaS, webbasiert
Android (mobil)
iPhone (mobil)
iPad (mobil)
Training
Live Online
Webinare
Dokumentation
Videos
Funktionen von Demio
API
Aktivitäts-Dashboard
Alarmfunktion / Benachrichtigungen
Angebot in sozialen Medien
Anpassbare Vorlagen
Anrufaufzeichnung
Aufzeichnung bei Bedarf
Befragungs-/Umfragemanagement
Benutzer-Management
Berichterstattung / Analyse
Berichterstattung und Statistik
Bildschirm teilen
CRM
Chat / Messaging
Content-Management
Dateitransfer
Dokumentenspeicher
Drittanbieter-Integration
E-Mail Erinnerungen
Echtzeit-Daten
Elektronische Abstimmung
Engagement-Tracking
Erinnerungen
Eventplanung
Filesharing
Kalenderverwaltung
Konferenzschaltungen
Kontaktmanagement
Kundenspezifisches Branding
Live-Chat
Meeting-Management
Mobiler Zugriff
Multi-Hosts
Präsentations-Streaming
Q&A Management
Registrierungs-Management
Social-Media-Integration
Terminplanung
Umfragen & Feedback
Umfragen/Abstimmungen
Veranstaltungsmanagement
Video-Management
Video-Streaming
Video-Unterstützung
Videoanruf-Aufzeichnung
Videokonferenzen
Vorlagen-Management
Webinars bei Bedarf
Wechselseitige Audio & Video
Whiteboard
Mischa Z.
Online Marketeer in Niederlande
Verifizierter Nutzer auf LinkedIn
Erneuerbare Energien & Umwelt, 201-500 Mitarbeiter
Verwendete die Software für: 6-12 Monate
Webinars, events and internal comms
Kommentare: Still able to host events in a digital, work from home world.
Vorteile:
The ease of use. Every new user i show this to, or invite to work with demio can host awebinar or presentation within minutes. Since the lockdown prevented us from hosting events internally and for events to get to know our customers we have used demio as a digital alternative. Im certain we will keep using it even after the pandemic.
Nachteile:
More flexibility and interaction with the public. Would like to create a longer event and schedule it on the calender instead of the standard 1hr block thats is available now.
In Betracht gezogene Alternativen: GoToWebinar, Microsoft Teams und Zoom Video Webinars
Warum Demio gewählt wurde: Teams live event didnt work out for us. There were a lot of struggles with setting up a live event.
Zuvor genutzte Software: Microsoft Teams
Gründe für den Wechsel zu Demio: Ease of use and ease to set up. The fact that we could record our session automatically was a big plus.
Antwort von Demio
vor 10 Monaten
Hi Mischa! Ashley here, from Demio. I'm really glad to see you're enjoying Demio's ease of use and ease of set up! I have passed your feedback onto our team and am really grateful for your review! Thank you!
Professionelles Training & Coaching, 2-10 Mitarbeiter
Verwendete die Software für: 6-12 Monate
Love it! Excited about the new marketing features coming out
Kommentare: Demio has been a great addition to our toolkit throughout this pandemic and allowed us to offer automated and on demand sessions as well as in-person sessions. Using Demio has increased our mailing list. It's been a great solution for a socially anxious community as the tech is really each and they are confident they won't be on camera/audio.
Vorteile:
Demio has been great. Love that you can easily create a landing page that looks great; send out automated reminders with a customised message; link with Mailchimp (should the person signing up approve that, which is probably 50/50); it's lovely that our socially anxious community cannot accidentally turn on their camera, as has happened via Zoom. Replays can be automatically sent out. A great feature is the ability to share handouts for download within the webinar chatbox. Love that Demio are regularly updating their product and sharing their roadmap.
Nachteile:
On some video playbacks, the sound seems to have been glitchy. Some people have found it hard to access or hear at times, though I believe this seems to have resolved. Presenters cannot access via a mobile phone. It's more suited to using from a laptop. Would be nice to have the option to have everyone on screen - as we have had to go back to using Zoom for some calls because of this.
In Betracht gezogene Alternativen: WebinarJam
Warum Demio gewählt wurde: Because people felt confused by the tech and and also worried about being put on camera or accidentally turning the camera on.
Zuvor genutzte Software: Zoom Meetings
Antwort von Demio
vor 9 Monaten
Hi Hayley! Ashley here, from Demio. Thanks a lot for your honest feedback and thoughtful review! I have sent along your comments to our product team. We really appreciate your review!
Aashima Y.
Marketing Coordinator in Neuseeland
Bildungsmanagement, 51-200 Mitarbeiter
Verwendete die Software für: 1-5 Monate
100% recommend Demio to anyone new to executing and promoting webinars
Kommentare: Exceptional. Couldn't be more pleased with how my first ever webinar went. :)
I recommend this product to anyone unreservedly.
Vorteile:
Ease of use, user-friendly set-up for marketers, presenters, as well as the audience. The best part about the service is their customer service team as they are always there with 100% helpful responses. I tested many other services because I wanted my first webinar to be perfect and I realized that Demio had the best turn-around time -often a few minutes!
Nachteile:
I think I was nervous about how I had to conduct practice runs by duplicating the main event itself. Hopefully, the team develops a way you can test your main event because it is a hassle correcting stuff from the duplicate event to the main event when you're testing stuff. I think improving this feature will make it more effective for the host to test and make sure everything is perfect.
In Betracht gezogene Alternativen: Livestorm, GoToWebinar und Microsoft Teams
Warum Demio gewählt wurde: I found Microsoft teams' webinar feature a bit tedious. I wanted a product that was efficient in terms of user experience. MS Teams has limited features for user registration and automation within the application - I preferred something which wouldn't have required IT support to set-up for a small scale event.
Zuvor genutzte Software: Microsoft Teams
Gründe für den Wechsel zu Demio: Ease of use; quick, helpful and trustable customer service team.
Antwort von Banzai
letzten Monat
Hi Aashima, Jody here from Demio! So happy to hear that you are enjoying Demio, and finding the platform easy to use both for yourself as well as your audience! Thank you for your feedback on how test events are done, and I can see how making this process a simpler one could make a world of difference for all our users. I will certainly pass this feedback to our Product Team! I want to thank you so much for taking the time to leave this review, and should you have any further questions, please do not hesitate to reach out to our Customer Support team! :)
Soumendra S.
Marketer in Indien
E-Learning, 2-10 Mitarbeiter
Verwendete die Software für: Mehr als 2 Jahre
It is Shady
Kommentare: not so good.
Vorteile:
The third-party integrations are good. I have seen many tools gicing such integrations.
Nachteile:
This tool doesnt have several features. Like in some computers it shows up that you can share specific window screens. But in some computers again it doesnt let you do that. You only got to share the entire screen. Thats so painful in a webinar. You cant turn off the chat. They dont have an app for windows like Zoom. Zoom is way handy. Most importantly, it consumes hell lotta internet bandwidth. Note, I am not talking about the internet storage, I am talking about bandwidth. Where Zoom is way better and a way light weight tool. Like, while testing the connectivity, it will show you the connectivity is excellent. But while being in real time it will show up it is poor. That is painful. Also you cannot pause your screen like you do in ZOOM. you got to disconnect it completely. Again painful. I continuously connect and disconnect, do you think that is something a trainer or host would prefer. Like ZOOM would even load when the network is slightly slower. But demio doesnt give a damn, the webpage will not load itself, it would keep loading forever. Although it is ok in most of the cases, but ZOOM is way better in this coding aspect as well. Overall I feel they are yet to come up with a better compatibility with network, computers and more.
In Betracht gezogene Alternativen: Zoom Video Webinars
Warum Demio gewählt wurde: Cons
Zuvor genutzte Software: Zoom Meetings und Zoom Video Webinars
Gründe für den Wechsel zu Demio: Thought it would be great.
Marketing & Werbung, 2-10 Mitarbeiter
Verwendete die Software für: Mehr als 2 Jahre
Best of class software for live webinars. On-demand functionality lacking a little.
Kommentare: Fantastic. Some issues to iron out but 100% committed to the platform, the team and the vision.
Vorteile:
Demio was the new kid on the block when we made the switch and we wanted to support the vision for a platform specific to marketers. Demio have delivered on that better than most. At that time WebinarJam had serious Google integration problems so it felt safer to go with a solution that did not rely on external streaming.
Nachteile:
On-demand functionality and email scheduling/customising. Video quality on recordings remains highly questionable; regardless of strength of connection (we are on a Gigabit connection and quality is still poor).
In Betracht gezogene Alternativen: WebinarJam
Warum Demio gewählt wurde: Have been running webinars on Go2W since 2012 and they just didn't innovate, at all!!
Zuvor genutzte Software: GoToWebinar
Gründe für den Wechsel zu Demio: Love [SENSITIVE CONTENT] vision! WebinarJam had serious issues and we cancelled our annual plan.
Antwort von Banzai
vor 4 Monaten
Hey Dillon, Samara here from Demio! Thanks so much for sharing your experience with us! We're so happy to hear that you love supporting Demio's vision, we appreciate you! When you get the chance, it would be great if you could share more information with our Support team on what you'd like to see more of for the On-demand functionality and Email Scheduling. Email customising is coming soon and you can check this out on our roadmap here (https://portal.productboard.com/demio/1-demio-roadmap/tabs/3-planned). Thanks you again for sharing your experience and supporting our product, team, and vision. Please don't hesitate to reach out to our support team if you have any questions.