Was ist Exago Smart?
Das Software Ideenmanagement wird von Fortune 500 und anderen großen Unternehmen weltweit genutzt. EXago Smart wurde für die Zusammenarbeit entwickelt und passt sich an deine Prozesse an, damit du dein Innovationsprogramm optimieren kannst. Unsere in den USA patentierte Lösung aktivierte die kollektive Intelligenz deines Unternehmens, um wichtigen Herausforderungen zu begegnen und um im Laufe der Zeit wertvolle und zielgerichtetere Ergebnisse zu erzielen. Wir sind stolz darauf, Unternehmen wie Barclays, Liberty, Ageas, Enel, Roche, Unilever und Carrefour zu betreuen.
Wer verwendet Exago Smart?
Alle Mitarbeiter und / oder andere Interessenvertreter unserer Kunden. Wir betreuen typischerweise mittlere bis große Organisationen (mehr als 500 Angestellte) aus unterschiedlichsten Branchen und Erdteilen.
Exago Smart – Details
Exago
2007 gegründet
Exago Smart – Details
Exago
2007 gegründet
Exago Smart – Videos und Bilder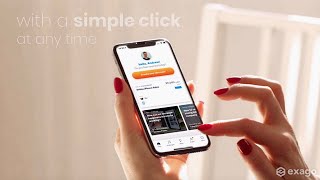 Kosten ähnlicher Produkte wie Exago Smart vergleichen
Startpreis
3,00 €/Monat
Nicht verfügbar
5,00 $/Monat
2,00 $/Monat
Exago Smart – Bereitstellung und Support
Kundenbetreuung
E-Mail/Helpdesk
FAQ/Forum
Telefon-Support
Chat
Einsatz
Cloud, SaaS, webbasiert
Mac (Desktop)
Windows (Desktop)
Windows (On-Premise)
Linux (On-Premise)
Android (mobil)
iPhone (mobil)
iPad (mobil)
Training
Persönlich
Live Online
Dokumentation
Funktionen von Exago Smart
API
Aktivitäts-/Newsfeeds
Aktivitäts-Dashboard
Aktivitäts-Verfolgung
Alarmfunktion / Benachrichtigungen
Anpassbare Vorlagen
Archivierung & Aufbewahrung
Aufgaben-Fortschrittsverfolgung
Aufgabenmanagement
Berichterstattung und Statistik
Bewertungen
Brainstorming
Content-Management
Crowdsourcing
Datensicherheit
Datenvisualisierung
Dokumentenmanagement
Dokumentenspeicher
Drag-and-Drop
Drittanbieter-Integration
E-Mail-Management
Echtzeit-Aktualisierungen
Echtzeit-Analytik
Echtzeit-Benachrichtigungen
Echtzeit-Daten
Einmalige Anmeldung
Etikettierung
Feedback-Management
Forum / Diskussionsforum
Gamification
Genehmigungs-Workflow
Ideen-Rangliste
Ideenfindung
Innovationsmanagement
Kommentare / Notizen
Kommunikationsmanagement
Kundenspezifisches Branding
Mind-Maps
Priorisierung
Prognosen
Projekt-Nachverfolgung
Projektplanung
Statusverfolgung
Suchen / filtern
Trend-Analysen
Umfragen & Feedback
Umfragen/Abstimmungen
Vorlagen-Management
Werkzeuge zur Zusammenarbeit
Whiteboard
Workflow-Management
API
Aktivitäts-Dashboard
Aktivitäts-Verfolgung
Alarmfunktion / Benachrichtigungen
Anpassbare Kategorien
Archivierung & Aufbewahrung
Aufgabenmanagement
Befragungs-/Umfragemanagement
Berichterstattung und Statistik
Bewertungen
Brainstorming
Chat / Messaging
Daten-Import / -Export
Datenvisualisierung
Diskussionen / Foren
Drag-and-Drop
Drittanbieter-Integration
Echtzeit-Analytik
Echtzeit-Benachrichtigungen
Echtzeitüberwachung
Einmalige Anmeldung
Engagement-Tracking
Evaluationmanagement
Feedback-Management
Fortschrittsbericht
Fortschrittsverfolgung
Forum / Diskussionsforum
Gamification
Ideen-Rangliste
Ideenfindung
Kommentare / Notizen
Kommunikationsmanagement
Konfigurierbarer Workflow
Kundenspezifisches Branding
Mobiler Zugriff
Portfoliomanagement
Priorisierung
Prognosen
Projekt-Nachverfolgung
Projekt-Workflow
Projektplanung
Rollen-basierte Genehmigung
SSL-Sicherheit
Social-Media-Integration
Strategische Planung
Trend-Analysen
Umfragen/Abstimmungen
Visuelle Analytik
Werkzeuge zur Zusammenarbeit
Workflow-Management
Diana B.
INNOVATION SPECIALIST no Grupo Ageas Portugal in Portugal
Verifizierter Nutzer auf LinkedIn
Versicherung, 1.001-5.000 Mitarbeiter
Verwendete die Software für: Mehr als 1 Jahr
Ding makes the difference
Kommentare: The experience has been quite good, highlighting the professionalism and spirit of sharing and building the EXAGO team. Always available to improve each step, always in active listening with customers, is indeed remarkable and we could not fail to highlight this point.
Vorteile:
It is quite complete and able to build the entire route and include all stakeholders. It enables results online, giving the management team the freedom of full access and personalized management. We call it DING and within our company it has become a reference.
Nachteile:
We feel the need to use a more communication layer, to have a news roll on the front page and to use the initial banner in a more active way.
Antwort von Exago
vor 3 Jahren
Thank you very much for your feedback, Diana. It¿s truly a pleasure to be part of DING¿s success. We would also like to congratulate the Ageas team for the focus and efforts to select 34 ideas to implement in the first six months! Let me add that we will be working on increased flexibility and improvements on the homepage visuals as part of the Exago 2019 roadmap, among other developments. The recent 3.8 release already introduces relevant improvements in the news page ¿ with a new menu, also in the mobile version ¿ and a revamped text editor. Coming soon, the 4.0 release will also offer a new back-office to manage news. Hope you and your team can make the most of it! Best regards Diana Carvalho, Exago CEO
Jeremy C.
Director of Innovation Services in USA
Forschung, 201-500 Mitarbeiter
Verwendete die Software für: Mehr als 1 Jahr
Ideal solution for ongoing strategic innovation support - rich feature set, great support from Exago
Kommentare: We used Exago to support an innovation initiative involving a very spread out population. The Exago services team led us very effectively through the design of our program and the configuration of the platform, from phases to challenges to incentives. Recruitment was a challenge because our participants work for many different organizations, but the Exago team was very creative and persistent in supporting our efforts. Management of the platform aspects of the program was very smooth, and the Exago team were very responsive to any questions or requests.
Vorteile:
1) A community-centric front-end. The platform supports emergent discussions around insights, challenges, and strategic issues by enabling easy tag creation, community labels, and user-defined content filters. These functions support the emergence of Communities of Practice around broad interesting problems or capabilities; 2) A self-directed discovery model for ideation. "Posting and voting" are commodity functions for Innovation Management Systems; Exago's model encourages users to curate their own collections of ideas, challenge themes, or content tags, beginning to build coalitions of support around ideas. In other words, contributing new ideas to the pool is great, but discovering your interests and lending your insights and support to existing themes is better; 3) Social and gamified elements encourage more participation.
Nachteile:
1) It's so feature-rich that navigation can be a little confusing. While it's easy to access the most common actions from almost any page, there is a lot going on that needs to be learned by new users, requiring a bit of investment in time before participants can become really productive. I am sure much of this is resolved by the changes in the latest 3.5 release; 2) Set up process was a little cumbersome (despite thoughtful guidance by Exago's services team). There were many decisions to take to customize the workflow and tune the platform for our initiative. This was clearly time well spent when we got into the campaign, but we were a little surprised by the upfront decision effort.
Antwort von Exago
vor 5 Jahren
Dear Jeremy, we are glad to get such great feedback from you! Idea Market does seek to bring everyone together in a company¿s innovation strategy, thus offering a flexible workflow and a set of options to fit each organisation's reality. Yet, the solution is also evolving to deliver the best possible standard configurations to clients who prefer to integrate them and accelerate the decision making process. Our new 3.5 release has also made navigation more intuitive and comprehensive; it offers, as well, new and revamped pages for managers and facilitates configuration adjustments. I am very excited to show it to you soon! Best regards, Diana Neves de Carvalho, Exago¿s CEO
Florência C.
Internal Communication manager in Portugal
Telekommunikation, 10.000+ Mitarbeiter
Verwendete die Software für: Mehr als 2 Jahre
Fostering innovation since 2009
Vorteile:
It's a software that truly enhance innovation throughout all the company. With this software everyone can share their ideas, discuss them with the peers, invest on other ideas. It really democratize the innovation process.
Nachteile:
I would like to be autonomous on the customization of the look and feel of the software.
Antwort von Exago
vor 3 Jahren
We thank you very much for your review, Florência. It¿s very rewarding to hear that Exago is helping you enhance your culture of collaborative innovation, and we are especially glad to have such amazing feedback on our Customer Support team. The most recent Exago Eagle Release introduces new functionalities and updates in management tasks, while the product roadmap will continue to focus on improving ease of use for both managers and users to make sure you enjoy Exago fully ¿ and reap its benefits! Wishing you a great day, Diana Carvalho, Exago CEO
Nicholas K.
VP Collective Wisdom in UK
Verwendete die Software für: 6-12 Monate
Very impressed with the overall service and functionality
Vorteile:
The ability to have multiple idea selection criteria is what really sets this software apart. It allows you to tailor the experience inn a way other platforms do not. It's also very intuitive and does a great job of organizing the artifacts so that they all get a fair viewing.
Nachteile:
I think some improvements could be made in terms of the pace at which UAT changes are put into production. Also, in some instances, it would be better if someone internally was able to make changes as long as they had the right level of training.
Antwort von Exago
vor 4 Jahren
Dear Nick, Thank you for your great review and kind words. Exago Smart was built for managers who need a more adaptable solution to fit every company and different innovation processes, so we are glad you feel our product is fulfilling your need. Regarding software upgrades, we follow a predefined workflow which is continuously reviewed and updated to make the process smoother and more efficient. We will ask our team to get in touch with you to better understand what can be improved here and how the process can evolve. Our most recent release brings a rebuilt platform administration panel, which gives customer administrators more independence in managing the back-office and makes it more intuitive to use. Even so, all the necessary training will be given, depending on client teams¿ needs, to make sure you are prepared to make the most of Exago software. Kind regards, Andreia Agostinho Dias Sales Executive at Exago
Adriano B.
Senior consultant in Brasilien
Verifizierter Nutzer auf LinkedIn
Unternehmensberatung, 2-10 Mitarbeiter
Verwendete die Software für: 6-12 Monate
Exago plataform for innovation
Kommentare: I am quite confident being a selling and consulting partner. Although the medium-high price it has a good first impression to potential customers and allow a good conversation about how to structure a corporate innovation initiative.
Vorteile:
The platform is easy to understand ans navigate and presents a high level of flexibility for adjusting their parameters. This is a differential in the market since the main competitors are somehow static and less flexible. Other amazing feature is the gamification tool: users can cooperate in innovative projects and compete among theirselves for real live prizes.
Nachteile:
Despite to be very well developed for idea generation and management, the software does not include a robust feature for managing the projects that can arise from the selected ideas.
Antwort von Exago
letztes Jahr
Hi Adriano! Thank you for your kind words and feedback. Your input about a missing project management feature is on our mind and we are developing external APIs to allow clients to integrate Exago with internal systems such as their project management solutions, ERP or collaboration solutions. In fact, Exago is now ready to integrate with the productivity and collaboration platform Fluig. In terms of pricing, we are very confident that our software upgrades in early 2021 will translate into a better value for money, since our focus is to continuously improve our software value and the effective results delivered. Hope all this comes in line with your expectations for us to strengthen a partnership that makes us proud! Andreia Dias, Partnerships Manager at Exago