Was ist Noterro?
Schließe dich Tausenden von Massagetherapeuten, Chiropraktikern und anderen an, die täglich Patientenbehandlungen mit SOAP Vault aufzeichnen, buchen und verfolgen. SOAP Vault verwendet maschinelles Lernen, mit dem du in Sekundenschnelle vollständige und umfassende SOAP-Notizen ordnungsgemäß dokumentieren kannst. Online-Buchung und -Abrechnung sind optional und in allen Konten enthalten.
SOAP Vault kostet nur 19 $/Monat und ist eine kostengünstigste, voll ausgestattete Praxismanagementlösung. Probiere es 30 Tage kostenlos!
Wer verwendet Noterro?
Kostengünstige, qualitativ hochwertige SOAP-Notizen, Aufnahmeformulare, Online-Terminplanung und vieles mehr.
Wo kann Noterro bereitgestellt werden?
Cloud, SaaS, webbasiert
Über den Anbieter
Noterro
Ansässig in Stoney Creek, Kanada
2010 gegründet
Telefon-Support
Chat
Erhältlich in diesen Ländern
Australien, Kanada, Neuseeland, Vereinigte Staaten, Vereinigtes Königreich
Über den Anbieter
Noterro
Ansässig in Stoney Creek, Kanada
2010 gegründet
Telefon-Support
Chat
Erhältlich in diesen Ländern
Australien, Kanada, Neuseeland, Vereinigte Staaten, Vereinigtes Königreich
Noterro – Videos und Bilder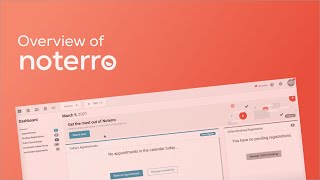 Kosten ähnlicher Produkte wie Noterro vergleichen
Noterro Funktionen
Abrechnung & Rechnungsstellung
Aktivitäts-Dashboard
Alarmfunktion / Benachrichtigungen
Anfangsbeurteilung
Anpassbare Berichte
Anpassbare Formulare
Arzt-Management
Automatisierte Terminplanung
Behandlungsplanung
Berichterstattung / Analyse
Berichterstattung und Statistik
Bestätigung / Erinnerungen
Debit-/Kreditkartenverarbeitung
Diagramm-Erstellung
Drittanbieter-Integration
E-Mail Marketing
Ergebnisbewertungstools
Erinnerungen
Für Chiropraktiker
Für Physiotherapie
HIPAA konform
Kalender-Synchronisierung
Kalenderverwaltung
Klassen-Management
Kundendatenbank
Kundenmanagement
Kundenportal
Kundenspezifisches Branding
Mitarbeiter-Management
Online-Buchung
Patientenportal
Reklamationsabwicklung
SMS-Nachrichtenversand
SOAP-Notizen
Self-Service Portal
Social-Media-Integration
Terminplanung
Terminverwaltung
Verfügbarkeit-Management
Verkaufspunkt POS
Versicherungsmanagement
Verwaltung von Patientenakten
Webseitenintegration
Wiederkehrende Termine
Zahlungsabwicklung
Übungs-Management
Theressa M.
Owner in Kanada
Verifizierter Nutzer auf LinkedIn
Gesundheit, Wellness & Fitness, 2-10 Mitarbeiter
Verwendete die Software für: Mehr als 2 Jahre
Noterro
Kommentare: Overall great and professional program
Vorteile:
Accessibility to client notes anytime and anywhere, security compliant.
Nachteile:
- would like to see Add-ons for clients to select while booking treatment - Quickbooks integration so you don't have to export invoices - weekly or customized email campaigns sent out to client list showing availability - discount codes for clients to use at booking
Antwort von Noterro
vor 3 Wochen
Thanks for the feedback Theressa. Much of what you mentioned in your cons are on our roadmap. We'll be just as excited as you when they're released!
Jessica M.
Registered Massage Therapist in Kanada
Verifizierter Nutzer auf LinkedIn
Krankenhausversorgung & Gesundheitswesen, Selbstständig
Verwendete die Software für: Mehr als 2 Jahre
In Betracht gezogene Alternativen:
Noterro Review!
Kommentare: I'm really enjoying using it primarily again. It's come from a place to store soap notes and client information, and now is a place where I can do online bookings, sell products, send receipts and emails/texts. It's a great all-in-one package for a very reasonable price.
Vorteile:
I have been using Soap Vault (now Noterro) since 2015. It has come a LONG way since then. And almost monthly I get new emails with new features and functionality that they have added to their software, while the price remains the same! I had a question and I asked in a forum on a weekend, and I got an answer back in about 6 hours from one of the Customer Service Reps, so that's pretty impressive.
Nachteile:
It's a bit hard to figure out how to do everything at first, not quite as intuitive as other appointment managers I've used in the past, but in return for that you have more control and customization over your appointments.
Gesundheit, Wellness & Fitness, Selbstständig
Verwendete die Software für: 6-12 Monate
In Betracht gezogene Alternativen:
Best I've Used
Kommentare: Amazing. I love this software. I've used the other leading software, and there's not even a close second.
Vorteile:
I love this software, and I've tried most of them. I spent close to 20 hours deciding before choosing Noterro. It's easy to use for scheduling, SOAP notes, client self-booking, and billing. Even better is that the developer always responds fast. I once reported a bug and they fixed it within hours. I've never known a dev to fix something that fast.
Nachteile:
I use it for my personal training business as well; having subscriptions and tracking for remaining sessions/classes of clients would be nice. I wish I could collect credit card information using Square, but they've said it's in the works.
Antwort von Noterro
vor 2 Wochen
Thanks Dustin for the feedback!
Barry A.
Director in Neuseeland
Gesundheit, Wellness & Fitness, 2-10 Mitarbeiter
Verwendete die Software für: Mehr als 2 Jahre
NZ review..
Kommentare: Generally speaking it started off as a great product.
As it has developed it has become a little clunky in its feature operations which then impacts usability just when you do not need it to be clunky.
Development programme of works appears to make little sense. Aug 2019 it was promised to have resource scheduling to allow classes to be booked, that moved to Sept 2020 and we are still waiting, yet there is a constant update to functions which worked perfectly fine i.e. page tabs for client information.. Rather than worry about aesthetic alterations to "ease" of usability, focusing on features which will help their customers business develop would be better direction.
Vorteile:
Entry Point in cost Ease of installation Ease of cross platform usage
Nachteile:
With new "updates" or "improvements" site speed slows massively Updates to the software does not always handle users timezones sensitively - being in NZ you can bet your bottom dollar an update is done overnight North American time, hitting NZ in the middle of the operating day and just as you are trying to book clients in for new appointments. Calendar / Booking system adhoc leaves off the session "wrap up time" resulting in clients being booked back to back or it adds on more "wrap up time" resulting in too much time available between each client, despite all appointment types having their own "Wrap up time" being set at admin level. Lack of delivery on features promised 12mths ago which is now impacting delivery of service to our business..
Antwort von Noterro
vor 2 Jahren
Thanks for your feedback Barry. Sorry for the trouble you've had with releases, you definitely should not experience disruptions during that process. We're always improving our release process to reduce outages or just general slow downs, sounds like we need to do better. Regarding the "wrap up time" or "Recovery time" as it's referred to in Noterro, you definitely should not be experiencing it randomly disappearing. If you book an appointment, we'd be happy to hop on a screen-share to see what you're experiencing. Just book a call with the link below, if timezones are an issue, just let us know and we'd be happy to schedule outside your regular hours. Book a call: https://calendly.com/noterro-support/phone-support-15-min Contact us to book a call outside hour regular hours: https://noterro.com/contact Thanks again for your feedback! -Ryan
Kimiyo M.
Business owner in USA
Gesundheit, Wellness & Fitness, Selbstständig
Verwendete die Software für: Kostenlose Testversion
Great intake form & soap note
Kommentare: It was great. I only used partial feature but they are great and customer service via email is always prompt within a day.
Vorteile:
I only use intake form and soap note, and I love it. Great feature is, whatever the conditions the clients have - injuries, surgeries, medication, you can see it every time. Otherwise how can you keep track of their issues without going through all the notes in the past? Intake form is thorough and well organized and if you want to make sure for them to fill out certain things like dob or address, you can do that.
Nachteile:
Sometimes, the clients don't fill out the form online and I have them fill out the paper form. It's awkward to have them type because you have to have them use your computer, and sometimes, they are not good at typing. I wishyou can have the feature that I can fill up the online form after I get their paper form, email them to check and sign.
Antwort von Noterro
vor 3 Monaten
Thanks Kimiyo for the feedback. For patients who forget to fill in their intake form, you can generate a print version of the intake from right from their profile. This way they can fill it in, on paper, then you can input it into their profile. From the patient's profile, click "Forms" then click the dropdown menu in the "Add Form" button. There is an option to "Print Blank"! :)