Das könnte dich auch interessieren:
Was ist SimpleTax?
GoSimpLetax ist eine HMRC-anerkannte, einfache und genaue Möglichkeit, deine Selbstveranlagunssteuererklärungen zu berechnen und einzureichen.
Entwickelt für dich, nicht für Buchhaltungsprofis. GoSimpleTax ist einfach zu verstehen und führt Hunderte von Doppelprüfungen aus. Du kannst feststellen, welche Einsparungen möglich sind.
Gib beliebige relevante Einkommen und Ausgaben in GoSimpleTax ein und die Software hebt Probleme oder Fehler hervor, um sicherzustellen, dass die Steuererklärung zu 100 % richtig ist.
Klicke nach Abschluss auf Absenden und deine Steuererklärung wird direkt an das HMRC gesendet.
Wer verwendet SimpleTax?
Einfache und kostengünstige Lösung für alle steuerzahlenden Personen, die eine Selbsteinschätzungserklärung beim HMRC einreichen müssen.
SimpleTax – Details
GoSimple Software
2016 gegründet
SimpleTax – Videos und Bilder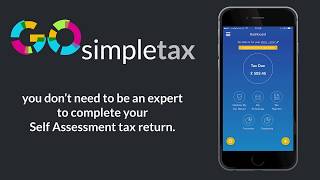 ▶︎
SimpleTax – Details
GoSimple Software
2016 gegründet
Kosten ähnlicher Produkte wie SimpleTax vergleichen
Startpreis
30,00 £/Jahr
N/A
Nicht verfügbar
10,00 $/Monat
SimpleTax – Bereitstellung und Support
Kundenbetreuung
E-Mail/Helpdesk
Telefon-Support
Chat
Einsatz
Cloud, SaaS, webbasiert
Android (mobil)
iPhone (mobil)
iPad (mobil)
Funktionen von SimpleTax
ACH Zahlungsabwicklung
Abrechnung & Rechnungsstellung
Ad-hoc-Berichterstattung
Aktivitäts-Dashboard
Alarmfunktion / Benachrichtigungen
Anpassbare Vorlagen
Aufgabenmanagement
Automatische Sicherung
Belegmanagement
Berichterstattung und Statistik
Buchhaltung
Cash Management
Cash-Flow-Management
Compliance Management
Daten-Import / -Export
Dokumentenmanagement
Dokumentenspeicher
Dokumentvorlagen
Drittanbieter-Integration
E-Mail Erinnerungen
Echtzeit-Aktualisierungen
Einkauf & Empfang
Erinnerungen
Fälligkeits-Tracking
Integration in QuickBooks
Konfigurierbarer Workflow
Kontenabgleich
Kontrolle des Genehmigungsprozesses
Kreditkartenbearbeitung
Kundenmanagement
Kundenportal
Kundenspezifisches Branding
Lohn- und Gehaltslisten-Management
Mitarbeitermanagement
Mobiler Zugriff
Projektmanagement
Rechnungsmanagement
SSL-Sicherheit
Spesenabrechnungen
Statusverfolgung
Steuererklärungen
Steuererklärungs-Formular
Szenarioplanung
Timesheet Management
Transaktionshistorie
Umsatzsteuer-Management
Wirtschaftsprüfung-Management
Workflow-Management
Zeitplanmanagement
Zugriffskontrollen / Berechtigungen
Nuno G.
Healing and Massage Practitioner in UK
Verifizierter Nutzer auf LinkedIn
Gesundheit, Wellness & Fitness, Selbstständig
Verwendete die Software für: Kostenlose Testversion
Easy Peasy
Kommentare: Cant praise this tool enough.
It says what it does and whereas I was trying to.use quickbooks and after all the hard work of inputting information I couldn't submit my tax return.
I loved the simplicity and direct approach to the whole process with Gosimpletax.
Thank you
Vorteile:
How easy it was to use, the simple approach to submitting infornation
Nachteile:
Doesnt have many choices for expenses, such as uniforms, shoes, needs to have dedicated features for professional business stock
Antwort von GoSimple Software
vor 2 Jahren
Hi Nuno, Thanks for taking the time to leave us a great review! Thanks, GoSimpleTax Team.
Juliet H.
Copy Editor in USA
Schreiben & Editieren, Selbstständig
Verwendete die Software für: Mehr als 2 Jahre
SimpleTax Review
Kommentare: The best thing about Go Simple Tax is the customer service. I generally receive replies to my enquiries within the hour, and it's a great comfort. One thing I'd be interested in is a more personalised level of service, whereby I could have access to a dedicated agent who could check over the form prior to filing and advise whether any additional information might be required, or whether there are further benefits I could take advantage of. A sort of remote tax advisor.
Vorteile:
Attractive, uncluttered design with drop down boxes offering suggestions and ideas for what to include on the form. Also occasional suggestions of how to make savings, eg. automatically applying a 'work from home' allowance
Nachteile:
As a UK tax-payer living overseas, I find completing my return very stressful. Perhaps there could be a little more info in some of the pop-up boxes that gives good, clear instructions and examples of what information is required. I'd also like to be able to compare the return I'm working on with those from previous years without having to go in and out of the different returns
Ricardo E.
Translator in UK
Schreiben & Editieren, Selbstständig
Verwendete die Software für: Mehr als 2 Jahre
Easy to use, but bad connection to HMRC
Vorteile:
It´s easy to use and the step-by-step process helps a lot
Nachteile:
- I haven´t received a confirmation from HRMC that the tax return was sent (although it was) + I haven´t received an email from GoSimpleTax. Last year HMRC told me they hadn´t received anything, so it is not a trusworthy software - The Customer Service did not reply to my question (sent 12 hours ago) - The password reset tool doesn´t function, which also happened last year - There are a lot of hidden features in the tax return, pages I didn´t know about and the software didn´t mention it to me - My name was not correct in the tax return (although it was correct in my profile)....
Antwort von GoSimple Software
vor 3 Jahren
Dear Ricardo Thank you for your feedback, On reviewing your support request I see that this was received very late evening, we responded at 7:15am the following morning, outside of our published support hours When a tax return is submitted to HMRC we display the appropriate success message and HMRC confirmation on screen and also email the same information for your records. When asked for confirmation of this by yourself our support team responded in under 30 minutes. Unfortunately it can take HMRC 36 hours for your online HMRC account to show tax return submissions, especially during peak periods leading to the tax return deadline. We pride ourselves on the level of customer support we provide especially during the peak filing season. For January 2019 we achieved a satisfaction rating of 94%. Kind regards GoSimpleTax
Andy C.
Business Owner in UK
Fotografie, Selbstständig
Verwendete die Software für: Mehr als 2 Jahre
GoSimpleTax: unravelling the complexities of personal taxation
Kommentare: Arguably the best feature of this software is not the ease of use or comprehensive nature of the software itself, but the almost immediate feedback I've received from the support team every time I've contacted them. Their professionalism has helped me to understand my finances and taxation better as each year passes.
Vorteile:
I love the manner in which this software calculates my tax liability as each element is entered, which makes it simple to see how things are progressing and when I've made a mistake in entering data.
Nachteile:
Some elements only force a recalculation at the end of the process, such as amalgamated tax codes. Whilst I'm sure there must be good reason for the software to be written in this manner, it doesn't seem to be intuitive to me as a user. If possible I'd like to see these elements moved into the initial setup routine.
Antwort von GoSimple Software
vor 3 Jahren
Thanks for leaving us a great review, Andy! We appreciate you taking the time out to share your experience with us. We're glad you're satisfied with the support you have received from the team! - AG
Verwendete die Software für: Mehr als 2 Jahre
Simple by name, simple by nature
Vorteile:
Each year gets clearer and easier, for a user who only completes one tax return. However complex the software gets me to the right place and the help desk has always been prompt and solved the problem in one exchange. I also like the vale for money, but now I am moved into a simpler regime and may not even need to complete the return, this could be my last year. But I'll continue to encourage my wife to use the software - money well spent for ease of use and peace of mind.
Nachteile:
Sometimes the location of information appearing on the visualisation forms at the end is not input until later in the process - as if you are ready to submit. But again, readily explained by the help desk