Was ist BarnManager?
BarnManager ist eine cloudbasierte Softwarelösung, die Pferdebesitzern und -managern die Werkzeuge zur Verfügung stellt, die sie zur Rationalisierung und Vereinfachung ihrer täglichen Verwaltungsaufgaben benötigen. Das Programm bietet digitalisierte Aufzeichnungen für die vielen Facetten der Pferdepflege sowie einfache Geschäftswerkzeuge, um die Verwaltung kleiner Unternehmen zugänglich und einfach zu machen. Der Zugriff über einen Computer, ein Smartphone oder ein Tablet, um detaillierte Pferdeprofile zu erstellen, medizinische Aufzeichnungen zu verfolgen, Termine zu planen und vieles mehr.
Wer verwendet BarnManager?
BarnManager ist ideal für jeden, ob Besitzer oder Manager, der versucht, den Überblick über mehr als ein Pferd zu behalten. Mobile App und Desktop-Funktionalität macht das Unternehmen zur perfekten Lösung für eine Vielzahl von Pferdeleuten.
Wo kann BarnManager bereitgestellt werden?
Cloud, SaaS, webbasiert, Android (mobil), iPhone (mobil), iPad (mobil)
Über den Anbieter
BarnManager
Ansässig in New York, USA
2012 gegründet
Telefon-Support
Chat
Erhältlich in diesen Ländern
Kanada, Vereinigte Staaten
Über den Anbieter
BarnManager
Ansässig in New York, USA
2012 gegründet
Telefon-Support
Chat
Erhältlich in diesen Ländern
Kanada, Vereinigte Staaten
BarnManager – Videos und Bilder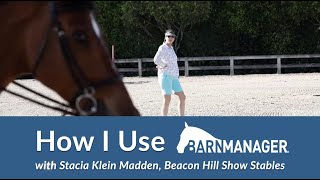 Kosten ähnlicher Produkte wie BarnManager vergleichen
BarnManager Funktionen
Kontaktmanagement
Pferde-Datenbank
Versorgungs-Management
Alternativen für BarnManager
Bewertungen über BarnManager
Verifizierter Rezensent
CEO & Horse Trainer in USA
Verifizierter Nutzer auf LinkedIn
Verwendete die Software für: 1-5 Monate
Súper app for business owners
Vorteile:
I think it;s the start of an ultimate tool for the horse Business. It has a great base platform to ease your daily record keeping
Nachteile:
It still has a lot of work in order to become what it can be, but for now it does the job. The app version needs improvement
Antwort von BarnManager
vor 4 Jahren
Thanks for the glowing review! We are constantly working on improvements to our product, and I would love to hear more specific input from you. If you want to shoot me an email at kfoy@barnmanager.com I would love to talk about your ideas!
Elizabeth
previously a groom in USA
Verwendete die Software für: Mehr als 1 Jahr
I love that Barn Manager is bringing tech into the barn.
Kommentare: I love that Barn Manager was created and is run by a rider. That said, they are accessible and open to constructive suggestions on how to constantly improve their product. They are not just a company trying to make money, but are fully invested in providing a product to improve the efficacy of the people that create the horse world that Barn Manager knows and loves on a personal level. I one hundred percent support them.
Vorteile:
Provided that you have employees who are consistent in using the software, it's so helpful to have all the information in one place. With employee turnover, and simply all the different persons who are required to keep the barn running, its key to have a reference. If you can reference horse history for your farrier/vet/owners etc, this is not only saving time but increasing knowledge and overall awareness for the wellbeing of your animals as well as your organization.
Nachteile:
I have heard often that people, and myself included, weren't taking the time to update information and files, given the chaotic and physical demands of the job. Few barns have a designated office person sitting at a desk all day. The new mobile app is making this more accessible!!
Antwort von BarnManager
vor 5 Jahren
Thanks for your review Elizabeth! We especially love to hear that you found our team accessible and positive to work with. This is one of our main goals as a company, and our customers are like partners to us. We are heavily invested in the mobile app and trying to make BarnManager integration into our customer's routine as seamless as possible and we love to hear feedback!
Tim
Manager (past)/Scientist (present) in Kanada
Sport, 11-50 Mitarbeiter
Verwendete die Software für: 1-5 Monate
I used Barn Manager when I worked for a show jumping stable (approximatley 25 horses).
Vorteile:
The biggest benefit to this software is the cloud-based storage of information. I think one of the major limitations of stable management to date is the lack of organization and communication between different members of the staff and stable partners (veterinarians, therapists, etc). A cloud-based management system fills this significant management gap by keeping the entire stable team connected with real-time information regarding each horse. I think the possibility of `data-mining this information in the future has exciting implications for optimizing revenue, removing cumbersome practices within the stable, and better understanding healthcare practices.
Nachteile:
The major limitation is the unintuitive nature of some features. In the equestrian community, individuals who have very limited time perform much of the day-to-day management. Thus, anything they perform must be very user-friendly and efficient. I know some stables have tablets for staff, but ideally, most staff would prefer to work off smartphones, so an easy to use smartphone app is needed. Further, a better way to sort through horses is needed. For example, one groom may only need data on a few horses, instead of having to scroll through data on many horses. Also, I find the program can be cumbersome. It is unclear what information is vital to have versus nice to have. A way for individual stables to highlight key information may make the staff's job either. Another nice feature to have would be to work with some big feed company to include information about their diets, such that for the feed tab staff can simply select feeds from a drop-down menu.
Antwort von BarnManager
vor 5 Jahren
Hi, Tim. Thank you so much for your feedback. We are working hard to address all of the concerns that you mentioned. Some of them, such as easier sorting through horses, have been resolved with recent updates. But we know that we can always get better. Thank you for taking the time to share your insights with us. We are constantly making updates and improvements thanks to feedback from our users, and we look forward to sharing those updates and improvements with you soon.
Landwirtschaft, 2-10 Mitarbeiter
Verwendete die Software für: Mehr als 2 Jahre
I have had a great experience with this software
Kommentare: It helps me be organized in a barn of 40+ horses
Vorteile:
I love being able to keep track of all the horses. The archives are great for horses that go out on lease. I still have all their information but don't have to have them in the day to day records.
Nachteile:
The new software still has some kinks and I am still learning how it works. As of now horses are not in alphabetical order. I would like to be able to click and pick which vet, farrier ect as you could in the original. Also the owner section seems to have a glitch. You can not scroll through and pick an owner.
Antwort von BarnManager
vor 4 Jahren
Update - 10/4/2018: Thanks again Molly! I just wanted to let you know that in addition to being able to sort horses in alphabetical order you can also now choose your owners, vets, and farriers. Additionally, we now have a completely new Contacts section for owner information storage. Orginal: Thanks for your review Molly! The update allowing horses to be sorted in alphabetical order is out now, so that is all fixed up. More updates are coming out continuously that should address the other shortcomings that you noted. We appreciate your feedback!
Landwirtschaft, 2-10 Mitarbeiter
Verwendete die Software für: Mehr als 1 Jahr
Nice to have info wherever we are just by using app on our phones
Kommentare: Having it on everyone's phone so that if they are at a show or a horse is at the clinic you can access all of their information right away.
Vorteile:
Being able to put all the information in and having different sections for everything. Having the program on everyone's phone so no matter where someone is they can access horse information.
Nachteile:
Not being able to make notes on each horses profile. Would like to be able to print out lists when horses are due to be shod or when they had vet work done and what type.
Antwort von BarnManager
vor 5 Jahren
Hi Cyndi, thank you for your review! We are constantly working on product improvement and pushing out updates that our customers are looking for. We are currently working on making the "lists" more multi-functional and creating new ways for you to keep your data organized in the fields. We appreciate your feedback, every bit helps us make something great!