Was ist Sweet Home 3D?
Eine Innenarchitektur-Anwendung, die Designern und Architekten hilft, Hauspläne zu erstellen und Möbel zu arrangieren. Merkmale: Wände und Räume auf einer oder mehreren Ebenen zeichnen – Türen, Fenster und Möbel aus einem Katalog auf den Plan ziehen und ablegen – Farben, Textur, Größe und Ausrichtung von Möbeln und Räumen aktualisieren – Alle Änderungen gleichzeitig in der 3D-Ansicht anzeigen – Erstellung fotorealistischer Bilder und Videos mit verschiedenen Lichtquellen
– Importiere zusätzliche 3D-Modelle und exportiere den Plan in verschiedenen Formaten.
Sweet Home 3D – Details
eTeks
2006 gegründet
Sweet Home 3D – Details
eTeks
2006 gegründet
Sweet Home 3D – Videos und Bilder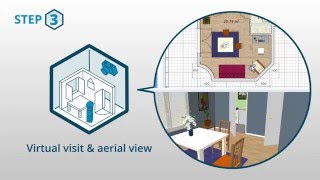 Kosten ähnlicher Produkte wie Sweet Home 3D vergleichen
Startpreis
N/A
250,00 $/Monat
N/A
Nicht verfügbar
Sweet Home 3D – Bereitstellung und Support
Kundenbetreuung
E-Mail/Helpdesk
FAQ/Forum
Wissensdatenbank
Telefon-Support
Chat
Einsatz
Cloud, SaaS, webbasiert
Mac (Desktop)
Windows (Desktop)
Linux (Desktop)
Funktionen von Sweet Home 3D
2D-Zeichnung
3D-Imaging
API
Abfassung
Abrechnung & Rechnungsstellung
Aktivitäts-Dashboard
Angebote / Schätzungen
Anpassbare Berichte
Anpassbare Vorlagen
Aufgaben-Fortschrittsverfolgung
Aufgabenmanagement
Aufgabenplanung
Auftragskostenrechnung
BMI-Modellierung
Berichterstattung und Statistik
Daten-Import / -Export
Datenvisualisierung
Design-Management
Dokumentenmanagement
Dokumentenspeicher
Drag-and-Drop
Drittanbieter-Integration
Echtzeit-Benachrichtigungen
Echtzeit-Daten
Für die AEC-Branche
Kommentare / Notizen
Kommunikationsmanagement
Kontaktmanagement
Kontrolle des Genehmigungsprozesses
Kundenspezifisches Branding
Material-Rechnung
Mehrere Projekte
Mobiler Zugriff
Planungs-Tools
Prognosen
Projekt-Nachverfolgung
Projekt-Workflow
Projektmanagement
Projektplanung
Projektzeiterfassung
Präsentations-Tools
Rechnungsmanagement
Rollen-basierte Genehmigung
Sichere Datenspeicherung
Statusverfolgung
Suchen / filtern
Timesheet Management
Vertrags-/Lizenz-Management
Vorlagen-Management
Zusammenfassende Berichte
Denise G.
Security Guard in USA
Verifizierter Nutzer auf LinkedIn
Verwendete die Software für: 1-5 Monate
Sweet Home 3D is an excellent program to use in my spare time and easy to use
Vorteile:
I love the split screen feature, the ease of use, and the variety of objects available. Sweet Home 3D allows me to be creative in my sample plans without stressing about figuring out how to use it.
Gastgewerbe, Selbstständig
Verwendete die Software für: 1-5 Monate
Brilliant and its free !
Kommentare: As an ex pro software developer I am a hard critic to impress but really I love this product, it is absolutely ideal for my project. I would encourage serious users to also upload the furniture library software which enables you to create your own custom furniture library to share across projects very easily. Furniture in this context does not just mean chairs, it can mean shelves, mirrors, toilets, freezers, kitchens and outdoor plants and even windows and doors. Following online tutorials you can custom build windows which was important for my project, I am using some very large windows - simply scaling a small window creates a disproportionately large frame -better to design your own and this software offers that. You can even specify that your newly created window will auto-cut its profile when inserted into a wall. The software is free but happy users can donate. I donated $15 within a few days and decided to follow it up with perhaps ten times that amount once my project lifts off the launch pad. I really hope other users do likewise - free software as good as this does not grow on trees and the author really deserves every inch of gratitude.
Vorteile:
I am designing three buildings, modern Scandanavian design before asking architect to shape it up, one main house and two lodges for tourist guests. I am using linux - Sweethome works great on linux. I am an ex CADCAM software engineer and I am blown away how one developer has grown such a reliable sophisticated product yet kept it simple, it does exactly what I need, its reliable, well written and intuitive - someone has put a lot of care and attention into this. My construction will be steel frame with insulated panels but I do not want to handle that level of detail in my design - I just want to say - thats a wall and its X thick etc. This is exactly the level this software is pitched at - I will leave the architect and structural engineer to the detail of the inner construction of the walls I intend throughout the build to keep my local model on Sweethome in step with the models that my architect will create on his/her own software. Whenever they propose a change I will wish to update my model so that I can spend the countless hours reviewing changes on my time not my architects time - it costs me to stand in the architects office!!! Every additional feature I found myself wanting in the first couple of weeks of very intensive use ( ten hours a day ) turned out to be already there. Its wonderful when you think "I need something to do XYZ" and you dig around a little and find out that its already there. And to top it all its free - seriously 11 out of 10 !!
Nachteile:
Absolutely nothing. I can think of some enhancements but its really not fair to list those here because they are not CONS - all software evolves and by definition there are always items on the wish list.
Kumar S.
Student in Indien
Schreiben & Editieren, Selbstständig
Verwendete die Software für: Mehr als 2 Jahre
Sweet home 3d is easy for new user
Kommentare: It is good for common people but for the experts it has to develop it's features.
Vorteile:
It is easy to use. No more objection in using it. New users can also work on this software. It's help options are also very good or it also supports all type Windows. It's menus are very helpful to use this software.
Nachteile:
It's home tool's option are not much well. It has to make it more good.
Einzel- & Familiendienstleistungen, Selbstständig
Verwendete die Software für: 1-5 Monate
Decent program if you can afford it!
Kommentare: I've been able to solve all of my business needs with remodeling my home for it to be transitional from a in home day care to my actual home! This software has made it extremely possible to see what I want and make changes before actually completing the project so that way I can add or remove any item before actually doing it! This makes it so much easier to imagine your finished product and know exactly what you are wanting done and how you would like the finished product to be, before actually doing it physically!
Vorteile:
I absolutely love being able to have all of my 2D drawings and my 3D rooms in one app, it makes things so much easier to see the plan before actually building or moving things!
Nachteile:
My least favorite feature would have to be the pricing. I don't think just anyone can use this software and would take a professional to be able to do everything needed the proper way!
Verwendete die Software für: Mehr als 1 Jahr
A simple program that will allow you to make the layout of the future house or apartment.
Kommentare: A lot of interesting things in this program, it is easy and easy to learn and work.
The program will be useful, first of all, to all people who are planning repairs. The program is a good tool in the self-design of the future look of your apartment, your home or room , without resorting to the help of professional designers, you can own.
The program will also be interesting to furniture designers.
Vorteile:
Sweet Home 3D is one of the best free and easy programs for creating interior design, with the ability to view in 3D. With the application, you can easily create detailed plans for both a separate room and the whole house, and then place furniture and various objects (doors, Windows, stairs, fences, etc.) at your discretion. With each change in the 2D plan, the 3D view is also updated . Creates nice photo visualizations and even videos of your interior, the ability to print your project and 3D viewing. Easy program development and ease of use are achieved thanks to the modern, intuitive interface, excellent language localization interface and the presence of detailed interactive prompts during the work on the project. The program contains a catalog of furniture samples, ordered by category. Interior models are constantly updated and can be downloaded for free from the official website of the developer. The value of this application lies in the fact that the program has a simple interface, which will be able to understand even a person who does not know 3D-modeling and room design. Depending on your needs on the website of the program you can also download a library of textures and furniture, as well as installation recommendations. There is a portable version for using Sweet home 3D on another computer, without losing software configuration. On the developer's website there are detailed user manual, video tutorials, tips, links to Sweet Home 3D channel on YouTube.
Nachteile:
Some suggestions to software developers: 1. Make the function of scrolling the mouse roller-zoom in and out (as it is on the 3D view), and when you click on it-move the plan. 2. Make the function of group change of objects of the same name in the selection, not each separately. 3. Possibility of a separate selection on the plan below the objects located-under the above (because when you click the mouse, only the upper object is selected). 4. Increase the selection of objects in the catalog (paintings, dressing rooms, different models and types of wardrobes, as well as - kitchen furniture). 5. Make a separate tool - "roulette". 6. Make it possible to install walls at any angle (such as furniture - scroll icon in the corner) and the ability to install objects in addition to the vertical - in the horizontal plane. 7. Make the function "sticking" of objects when their installation does not need to manually connect to each other with angles and straight planes, and the ability to disable this function. 8. Add many more basic shapes, such as: cylinder, cone, sphere, rectangle, parallelepiped, etc., as well as variations of these geometric bodies/shapes and the ability to change their parameters. And finally, create a more advanced paid version of the program, including the best solutions used in similar programs of other developers.
Antwort von eTeks
vor 4 Jahren
Thanks for your review. About the cons you reported: 1. You can zoom in and out with mouse wheel while pressing Ctrl key (or cmd key under macOS). 2. You can change a group of objects by selecting them, and choosing the appropriate "Modify" menu item. 3. The "Select object" menu (or "Toggle selection" when you press Shift key) in the contextual menu let you select the object under the mouse pointer. 4 & 8. As you noticed you may download many more free models if needed, and they can be resized as you wish 5. Give more details about the "roulette" tool, I have no idea what it could be. 6. I think walls will always be vertical, see sweethome3d.com for workarounds. 7. Objects are magnetized on their border with a few pixels margin. Check you didn't disable magnetism in preferences.