Was ist BrowserStack?
Ein browserübergreifendes Testwerkzeug zum Testen des reaktiven Designs.
BrowserStack – Details
BrowserStack
2011 gegründet
BrowserStack – Details
BrowserStack
2011 gegründet
BrowserStack – Videos und Bilder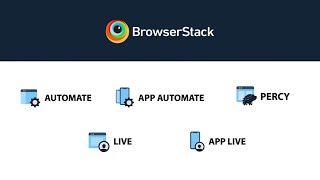 Kosten ähnlicher Produkte wie BrowserStack vergleichen
Startpreis
29,00 $/Monat
29,00 $/Monat
15,00 $/Monat
188,00 $/Monat
BrowserStack – Bereitstellung und Support
Kundenbetreuung
E-Mail/Helpdesk
FAQ/Forum
Wissensdatenbank
Telefon-Support
Chat
Einsatz
Cloud, SaaS, webbasiert
Mac (Desktop)
Windows (Desktop)
Training
Webinare
Dokumentation
Videos
Funktionen von BrowserStack
AB-Tests
API
Aktivitäts-Dashboard
Aktivitäts-Verfolgung
Alarmfunktion / Benachrichtigungen
Anforderungsbasiertes Testen
Anforderungsmanagement
Anpassbare Berichte
Automatisierte Terminplanung
Benutzer-Management
Berichterstattung und Statistik
Beurteilung-Management
Compliance Management
Daten-Import / -Export
Datenerfassung und Übertragung
Datenextraktion
Datenspeicher-Management
Datenvisualisierung
Drag-and-Drop
Drittanbieter-Integration
Echtzeit-Analytik
Echtzeit-Berichterstattung
Echtzeit-Daten
Echtzeitüberwachung
Fehlerverfolgung
Keyword-Driven Testing
Kundensegmentierung
Leistungsmanagement
Management von Softwaretests
Modellbasiertes Testen
Parametrisierte Tests
Performance-Tests
Problem-Nachverfolgung
Problemmanagement
Prognosen
Qualitätssicherung
Rollen-basierte Genehmigung
Sicherheit testen
Statische Analyse
Testskript-Bewertungen
Unicode-Compliance
Unterstützt parallele Ausführung
Verschieben und kopieren
Versionskontrolle
Visuelle Analytik
Werkzeuge zur Zusammenarbeit
Workflow-Management
Zusammenfassende Berichte
hierarchische Ansicht
Überwachung
API
Administrative Berichterstattung
Aktivitäts-Dashboard
Alarmfunktion / Benachrichtigungen
Anforderungsmanagement
Benchmarking
Benutzer-Management
Berichterstattung / Analyse
Berichterstattung und Statistik
Beurteilung-Management
Cross-Browser-Tests
Daten-Import / -Export
Datenvisualisierung
Debuggen
Diagramm-Erstellung
Drag-and-Drop
Drittanbieter-Integration
Echtzeit-Analytik
Echtzeitüberwachung
Engagement-Tracking
Fehlerverfolgung
Fortschrittsverfolgung
Historische Berichte
Kapazitätsmanagement
Konfigurationsmanagement
Lasttests
Leistungskennzahlen
Leistungsmanagement
Management von Softwaretests
Mobile Tests
Parallele Tests
Performance-Tests
Problem-Nachverfolgung
Problemmanagement
Regelbasierter Workflow
Regressionstests
Remote-Monitoring und -Management
Server-Überwachung
Service Level Agreement (SLA) Management
Suchen / filtern
Terminplanung
Test-Management
Trend-Analysen
UI-Tests
Uptime-Berichterstattung
Web-Tests
Workflow-Management
Zertifizierung und Lizenzierung
Zugriffskontrollen / Berechtigungen
Überwachung
Aris G.
Web Developer in Griechenland
Verifizierter Nutzer auf LinkedIn
Verbraucherdienste, 2-10 Mitarbeiter
Verwendete die Software für: Mehr als 1 Jahr
The full web testing suite
Kommentare: We are testing our website projects against all browsers - operating systems and devices to fix errors, bugs and behavior. Without BrowserStack, testing on all those devices and browsers would be impossible to afford and maintain.
Vorteile:
We are using BrowserStack to test our web applications on every platform there is and fix all bugs, design glitches, gestures etc. Having all those different devices, operating systems and browsers available is impossible. Thanks to BrowserStack not only we can test our websites on different browsers-platforms but we can document and verify everything using screenshots. The GeoLocation testing is very cool because we can test our websites which are available only in our country and need to know for sure if the website restricts user functionality for the rest of the world.
Nachteile:
The plans that include Selenium which is of interest to us, are very pricey and it's difficult to afford if a company has low-budget websites on its list. For big companies that handle big projects with thousands of users these plans are affordable and a must-have especially for Single Page Applications and high-traffic websites.
Mitchell C.
Senior Quality Assurance Manager in USA
Finanzdienstleistungen, 5.001-10.000 Mitarbeiter
Verwendete die Software für: Mehr als 1 Jahr
In Betracht gezogene Alternativen:
A Powerful Tool for Cross Browser Testing and Great Customer Service
Kommentare: The Browserstack team has been great. They worked one on one with our engineers to get up and running. They have listened to problems we are trying to solve and have come up with solutions that meet our needs.
Vorteile:
Browserstack is easy to use and covers almost any OS/Browser combination you could possibly need for testing. The live version can be picked up and used by anyone on day one. My automation team was able to easily convert our Selenium scripts. If you need to test on real devices they offer that as well.
Nachteile:
One user cannot be on multiple license types. We have automate pro and automate mobile licenses. For a user to move between them, you have to remove them from one license and add them to the other. Not a huge issue. We have mitigated this by separating duties, but for a smaller shop it could be an issue if you have more than one type of license.
Luan D.
iOS Specialist in Brasilien
Verifizierter Nutzer auf LinkedIn
Bankwesen, 1.001-5.000 Mitarbeiter
Verwendete die Software für: Mehr als 1 Jahr
PagBank reviewing BS
Kommentare: Most of the part we automate our UI testes with BS. So, it a crucial part of our daily development process. We also use BS to test our iOS application into several devices. Recently we discovered a bug in iOS 15 that was just solved because BS. Our MacOS's at the time were not updated with BigSur, so we were incapable to install our application with iOS 15 (because of Xcode). So BS come to our rescue and we could test, debug and delivery our app without the bug. In overall, my experience with BS is really great! Nothing to proclaim!
Vorteile:
I like the most in BS is the easiness to use. It is quite simple to build our application and test in n devices. It is also fantastic how easy is to use another devices and the amount of different devices (in iOS mostly) turn our tests and even find some bugs a lot easier. We in PagBank are loving using BS to test our product and to guarantee a great software to our customers.
Nachteile:
I think that BS need to provide new devices for Android platform. Here in Brazil we have a lot of devices that is most common use in our customers base, but we can't find theses devices in BS. I also like to ask you guys a better responsiveness about the bug that we sent to you! It is quite annoying not getting a answer about the problem.
Timothy T.
Co-Founder in Südkorea
Verifizierter Nutzer auf LinkedIn
Computer-Software, 2-10 Mitarbeiter
Verwendete die Software für: Mehr als 1 Jahr
An essential tool for front-end devs (when it works)
Kommentare: Cross checking responsiveness is a MUST for web design, but using this tool is close to a nightmare. It typically takes me 15-20 minutes just to get it working correctly, and I can't explain why sometimes it works and other times it doesn't. Their chrome plugin and the desktop app seem to work in connection to each other, but how or why they work sometimes and not others is a complete mystery. Testing Localhost sites especially will give you a headache as the tech just isn't well designed for a good user experience.
Vorteile:
- Uses actual devices and not emulators - A wide range of devices and sizes are available
Nachteile:
- The Chrome extension works about one out of five times you try it - Lots of bugs in getting it to work, and often kicks you off the device for unknown reasons - The connection is slow, but to be expected with remote connection to a live device - Sometimes bugs still do not show on BrowserStack which I can see on my own device of the same type - Checking localhost sites is especially difficult to get working
Daniel F.
Software Engineer in USA
Unterhaltung, 51-200 Mitarbeiter
Verwendete die Software für: Mehr als 2 Jahre
In Betracht gezogene Alternativen:
Danny Finkelstein - BrowserStack Review
Kommentare: Overall I've been using this product at 3 different companies for the past 8 years and I've been satisfied with my experience. Theres always going to be things that I would love to see more of (but that goes to say with any SASS product I utilize). BrowserStack looking at ways to optimize the network tunneling and latency between the VMs and the local tunnel would be even more key as I see a lot of customers looking towards alternatives sometimes like Docker Compose for running more performant tests (at least for chrome).
Vorteile:
BrowserStack is easy to get up and going. The documentation is fairly simple to use and the community support allows me to find answers promptly. The incremental improvements to the dashboard for reviewing automated tests have been helpful.
Nachteile:
I would have to say that BrowserStack is just not ahead of the game when it comes to beta versions of new iOS upgrades or chromedriver and sometimes in the past (although I've seen this improve) were late in providing the newest iOS version for automation.