Was ist BigBlueButton?
Open-Source-Webkonferenzlösung für das Online-Lernen. Die Lösung bietet bidirektionales Audio und Video, Folien, Live-Whiteboard für mehrere Nutzer, öffentlichen und privaten Chat sowie Bildschirmfreigabe. Nutzer können befragt werden, in Breakout-Räume gruppiert oder Emojis verwenden. Die Lösung lässt sich in Lernmanagementsysteme wie Instructure, Schoology, Jenzabar oder D2L integrieren.
Wer verwendet BigBlueButton?
Für Pädagogen und Schulen.
Wo kann BigBlueButton bereitgestellt werden?
Cloud, SaaS, webbasiert, Windows (Desktop), Linux (Desktop)
Über den Anbieter
BigBlueButton
2006 gegründet
Chat
Erhältlich in diesen Ländern
Kanada, Vereinigte Staaten
BigBlueButton Kosten
Startpreis:
Nicht vom Anbieter bereitgestellt
Ja, Gratisversion verfügbar
BigBlueButton bietet eine Gratisversion. Die kostenpflichtige Version von BigBlueButton ist ab N/A verfügbar.
Über den Anbieter
BigBlueButton
2006 gegründet
Chat
Erhältlich in diesen Ländern
Kanada, Vereinigte Staaten
BigBlueButton – Videos und Bilder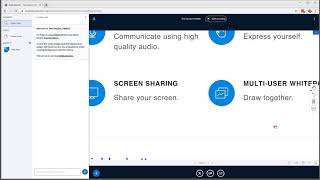 Kosten ähnlicher Produkte wie BigBlueButton vergleichen
BigBlueButton Funktionen
Aufzeichnung
Echtzeit-Chat
Echtzeit-Übertragung
Elektronische Abstimmung
Eltern-/Schüler-Portal
Filesharing
Gruppenarbeitsräume
Host-Steuerung
Interaktives Whiteboard
Privater Chat
Sitzungsaufzeichnung
Umfragen/Abstimmungen
Videokonferenzen
Virtueller Klassenraum
Alternativen für BigBlueButton
Bewertungen über BigBlueButton
Rubangakene I.
Game Developer in Uganda
Verifizierter Nutzer auf LinkedIn
Computerspiele, 2-10 Mitarbeiter
Verwendete die Software für: Mehr als 1 Jahr
Perfect tool for video Conferencing and Online Discussions
Kommentare: Throughout my experiences using BigBlueButton i noticed the software works best with computers of RAM starting from 4GB anything below tends to slow down the video real time signal and it freeze
Vorteile:
The best thing I like about BigBlueButton is its integration with the Learning Management Systems. This saves a lot of time and effort since all the necessary tools are available to aid learning sessions. Another thing is also it's customization for example choosing own colors and designs for the online classroom, enabling or disabling features based on your demands
Nachteile:
I think have no issue with BigBlueButton and still hoping to discover more interesting features
Marc F.
Ph.D. Student (Computer Science) in Deutschland
Forschung, 51-200 Mitarbeiter
Verwendete die Software für: Mehr als 1 Jahr
In Betracht gezogene Alternativen:
Like black coffee: Plain and it always works!
Kommentare: Overall, BigBlueButton is spotless and covers the standard use cases for online meeting and online teaching. I would choose BigBlueButton over any alternative product because of its simplicity in use and service delivery.
Vorteile:
BigBlueButton has become a daily companion for me. It is nothing more and nothing less than a simple service for online communication, without attracting attention with desktop applications or data integrity concerns. In the field of academic work, where it is also important that meetings between researchers can be realized worldwide and quickly, BigBlueButton is simple and highly functional. BigBlueButton is simple and to the point in its basic functionality. What makes BigBlueButton particularly elegant is that it can be installed on your own infra structures via Docker and scaled according to capacity. Especially in the field of online teaching and research, it is particularly appealing that BigBlueButton can be used on one's own systems without sharing information with third parties.
Nachteile:
It is often noticeable that BigBlueButton has problems with audio connection. Especially if the browsers used are not Chrome, Firefox or the InternetExplorer it can be that BigBlueButton does not allow a connection to headphones. Often this can cause delays in meetings.
Islam K.
web developer in Ägypten
Verifizierter Nutzer auf LinkedIn
Bildungsmanagement, 51-200 Mitarbeiter
Verwendete die Software für: Mehr als 1 Jahr
In Betracht gezogene Alternativen:
good software ... but!
Kommentare: overall bbb is good software to manage video conference if develop process continue as it is maybe in 3 years we will have golden product
Vorteile:
bbb is very easy to set , implement and lunch and has very simple view help anyone to manage it , beside it is large community and devloping proccess
Nachteile:
i think the position of developing cycle is wrong i mean bbb need more develop for customer and end user who is not technical i mean for all our teacher how hard it was to manage and customize and that is first; second bbb has weak error view system for example sometimes internet connection is too bad for sharing and bbb loading for ever it will be greate to show error msg "hi your connection is bad" that so simple but i think end user ( no technical user ) is not calculated here.
Brian S.
IT Manager in USA
Bibliotheken, 11-50 Mitarbeiter
Verwendete die Software für: Mehr als 2 Jahre
In Betracht gezogene Alternativen:
Very solid choice
Kommentare: We are a nonprofit, and these folks make life easier. They are great to work with and very responsive. Not a common experience with previous vendors we've used.
Vorteile:
We've been very happy with this product. The Moodle integration is critical for us, and it is solid. It will soon be packaged with Moodle itself, which should only serve to make it even better in the future. The interface is simple enough for anyone to familiarize with it and it checks off the majority of our boxes.
Nachteile:
I think slide navigation could be better. And currently, hyperlinks don't work on slides. These are things that used to be features on their old client versions before rewriting to remove Flash. So I'm hopeful they'll return at some point.
Damla T.
Lecturer/ Illustrator in Türkei
Verifizierter Nutzer auf LinkedIn
Bildungsmanagement, 5.001-10.000 Mitarbeiter
Verwendete die Software für: Mehr als 1 Jahr
Needs improvement
Kommentare: It was problematic. It was nice to use a clean and minimal interface but the icons made it difficult to understand which button is for what use and most problematic part was that you cannot undo simplest tasks (i.e. undo something you wrote on whiteboard). PPT upload for presentation takes too long and you lose presentation screen completely, which causes you to lose control of the class and chat during that time.
Vorteile:
Minimalist and clean looking interface.
Nachteile:
not memorable, error correction is almost impossible, icons do not explain themselves and there are different areas on the presentation screen where functions are scattered, hard to find some of them. Some commands are easily confused with each other.