Was ist Muvi?
Muvi ist eine End-to-End Multi-Screen-OTT-Plattform, die es Content-Besitzern ermöglicht, sofort ihre eigene TVEverywhere-Plattform zu starten! Muvi umfasst IT-Infrastruktur, Hosting, CDN, Content-Management, Transkodierung, DRM, Online-Videoplayer, Website und Apps für Mobile und TV. Vollständig verwaltete Video-Streaming-Plattform White Label Multi-Screen OTT TV überall starten Skalierbares Live-Streaming Video-Content-Management Robuste APIs Muvi Studio Zugelassenes DRM Pay-per-View und Abonnement.
Wer verwendet Muvi?
Globaler Markt – Muvi ist für alle, die ihre Audio-/Video-Inhalte im Internet monetarisieren möchten.
Wo kann Muvi bereitgestellt werden?
Cloud, SaaS, webbasiert, Mac (Desktop), Windows (Desktop), Linux (Desktop), Windows (On-Premise), Linux (On-Premise), Chromebook (Desktop)
Über den Anbieter
Muvi
2013 gegründet
Telefon-Support
24/7 Live-Support
Chat
Erhältlich in diesen Ländern
Kanada, Vereinigte Staaten, Vereinigtes Königreich
Über den Anbieter
Muvi
2013 gegründet
Telefon-Support
24/7 Live-Support
Chat
Erhältlich in diesen Ländern
Kanada, Vereinigte Staaten, Vereinigtes Königreich
Muvi – Videos und Bilder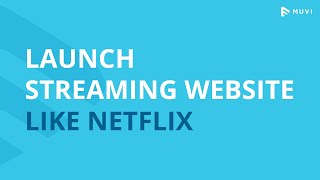 Kosten ähnlicher Produkte wie Muvi vergleichen
Muvi Funktionen
API
Berichterstattung / Analyse
Bildschirmaufnahme
Content-Management
Echtzeit-Übertragung
Interaktion mit Zielgruppen
Leistungsüberwachung
Mehrere Kamera-Feeds
Publikumsanalysen
Sitzungsaufzeichnung
Social-Media-Streaming
Teilen in sozialen Medien
Videoarchivierung
Zugriffskontrollen / Berechtigungen
Reem
Jordan Film Fund Manager in Jordanien
Verifizierter Nutzer auf LinkedIn
Verwendete die Software für: Mehr als 1 Jahr
Wonderful software and extremely professional team.
Vorteile:
For someone like myself, with modest technical expertise, I find that managing our Minaa VOD platform, hosted through Muvi is an enjoyable process. I update the VOD on monthly bases and whenever I have any technical difficulties, I use the Support feature that is handled perfectly by Muvi team. In terms of value for money, comparing Muvi software/ service with other platforms, I feel that we have an excellent value for money, specially that we have full control on the VOD itself. Our VOD platform offers the content in two languages: English and Arabic. While Arabic language is considered challenging in terms of programming, Muvi made it possible for us to present both languages; they've even supported us when we experienced some technical issues related to Arabic language. My overall experience with Muvi is quite pleasant and I truly appreciate the service and highly recommend it to fellow platforms.
Nachteile:
I feel that Muvi can offer more design choices for users. I also feel that DevHours rate is a but costly compared to annual subscription fees.
Antwort von Muvi
vor 2 Jahren
We are glad for your valuable experience with us at Muvi. It is our pleasure to inform you that being the only company in the industry to provide BYOD, we are soon to launch our own Visual Designer that will allow you to customize your template without any coding knowledge just like WIX. Please feel free to contact with our customer support team.
Unterhaltung, 11-50 Mitarbeiter
Verwendete die Software für: Mehr als 1 Jahr
In Betracht gezogene Alternativen:
Excellent platform for OTT Entrepreneurs . Also opportunity for Indie Content Production houses
Kommentare: I thought initially of developing own ott platform. But when we started using muvi white label ott has come handy. This is our 2nd year of use. more or less life is easy with MUVI
Vorteile:
Reasonably good ready to use templates to build your own ott platform. Good reports and analytics. Good Security options .
Nachteile:
To Improve. 1. Video Drag and drop button 2. Allowing Google Pay / UPI / PAYTM etc payment methods directly.
Steffen
Director, Founder in Dänemark
Unterhaltung, 2-10 Mitarbeiter
Verwendete die Software für: Mehr als 1 Jahr
International scalable platform
Kommentare: PIXIEMO has chosen MUVI as platform partner for our multiple streaming services.
We chose MUVI among many possible partners because they could accommodate
our demands for an international scalable platform - better than others.
We needed extensive modifications and they have accomplished all.
Not least thanks to our dedicated account manager Ankit Verma. We have all functionalities, features and apps available that you would expect from a fully
developed streaming service. The CMS and backend is fairly easy to use,
and we love the possibility to scale and ad products, features and apps as the
demands and the business grow.

We had an additional payment gateway implemented and that process was flawless. - Substantial variety of features
- Flexible with modification and customisation.
- Fast respond from support
- Comprehensive archive of help articles
- Dedicated account manager
- Value for money
Vorteile:
Easy to use, flexible to alter and customise, large variety of features and products, thorough support,
Nachteile:
We miss the combination of SVOD and EST, but we know we are among the very few to request exactly that, and it can be developed.
Caroline
Marketing Manager in USA
Medienproduktion, 11-50 Mitarbeiter
Verwendete die Software für: 1-5 Monate
Unsuccessful Migration, Poorly Built Product, Horrible Customer Service...
Kommentare: Nobody read the emails I sent, when there were 4+ Muvi employees on every email chain. It generally took well over 48 hours at least, sometimes over a week to hear back regarding urgent matters because they also work on India time. The platform as a whole is really, really poorly build and you will experience that first hand when you start to build off their templates and it looks like someone's first css project. The front end looks like the templates were thrown together on html/css in a good 15min. You will also likely not be able to make easy modifications to their html/css files. You are required to put in support tickets regarding any issues and they often take days to resolve, often issues related to the poorly written code, nothing you can fix.
Vorteile:
In our situation, we were trying to migrate from another platform to Muvi (they were the only ones offering a tiered content option at the time) and to say it was a difficult process would be an understatement. I have nothing positive to take from working with Muvi.
Nachteile:
If you are an American company do not use this platform. The communication/language barrier is a huge issue on top of them having potentially the most poorly build product I have ever seen or worked with. It is almost unusable and definitely unusable for a company with a large customer base. We could not communicate anything technical and this resulted in major miscommunications. They sent our launch emails and access to our platform to the wrong list of over 1,000 users, absolutely horrific scenario. We did not go through with the migration after one too many major communication errors and other issues. They will not give us our $4,000 back that we paid for the migration. Most other platforms offer free migrations. Can't get anyone to write me back, nothing.
Unterhaltung, 2-10 Mitarbeiter
Verwendete die Software für: 1-5 Monate
In Betracht gezogene Alternativen:
Finally found the best solution to our platform
Kommentare: reasonable, professional, and friendly support. I always appreciated their human interactions rather than bot/AI communication which can be frustrating when it comes to getting support help.
Vorteile:
Muvi is very easy to use, after playing with all the features within the first 2 weeks- which is great because that's within the free trial period they offer. We had a developer who constructed something similar to Muvi but not as advanced and sophisticated. The content team and our web designer are very happy with using it.
Nachteile:
Occasionally there are glitches here and there but the support is quick to resolve them. Other than that, everything is about 90% customizable which is great for what we are trying to do.