Was ist BookingKoala?
Online-Buchungslösung für die Dienstleistungsbranche. Zu den Features gehören Buchungsformulare, Admin-, Provider- und Kunden-Dashboards, intelligente Planung, Empfehlungen, Coupon-Management, Themen, Bewertungssystem, Systemprotokolle, mobile Apps und vieles mehr.
Wer verwendet BookingKoala?
Neugründungen und Unternehmen, die ihren Umsatz steigern oder Zeit und Geld sparen möchten.
Wo kann BookingKoala bereitgestellt werden?
Cloud, SaaS, webbasiert, Android (mobil), iPhone (mobil)
Über den Anbieter
BookingKoala
2017 gegründet
Telefon-Support
Chat
Erhältlich in diesen Ländern
Vereinigte Staaten
Über den Anbieter
BookingKoala
2017 gegründet
Telefon-Support
Chat
Erhältlich in diesen Ländern
Vereinigte Staaten
BookingKoala – Videos und Bilder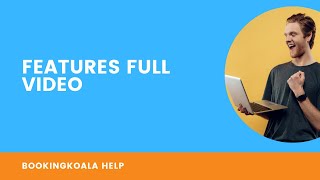 Kosten ähnlicher Produkte wie BookingKoala vergleichen
BookingKoala Funktionen
Abrechnung & Rechnungsstellung
Alarmfunktion / Benachrichtigungen
Angebote / Schätzungen
Arbeitsauftragsverwaltung
Aufgabenbibliothek
Aufgabenmanagement
Automatisierte Terminplanung
Bestätigung / Erinnerungen
Drittanbieter-Integration
Echtzeit-Planung
Fitness-Plan
Fitnessbeurteilungen
Flottenmanagement
Integration in die Buchhaltung
Inventarverwaltung
Job-Management
Kalender-Synchronisierung
Kalenderverwaltung
Kommunikationsmanagement
Kontakt-Datenbank
Kundendatenbank
Kundendienst-Historie
Kundenmanagement
Kundenprofile
Mitarbeiter-Management
Mitarbeitermanagement
Mobiler Zugriff
Online-Buchung
Online-Zahlungen
Online-Zeiterfassung
Reklamationsabwicklung
Reservierungs-Management
Service-Katalog
Speicherverwaltung
Terminplanung
Versandmanagement
Wiederkehrende Termine
Zahlungsabwicklung
Zahlungseinzug im Außendienst
Alternativen für BookingKoala
Bewertungen über BookingKoala
Durchschnittliche Bewertung
Preis-Leistungs-Verhältnis
Nutzerbewertungen nach Unternehmensgröße (Angestellte)
<50
51-200
201-1.000
>1.001
Bewertungen nach Punktzahl finden
Einzel- & Familiendienstleistungen, 11-50 Mitarbeiter
Verwendete die Software für: 6-12 Monate
Quick support, dev team, and good community.
Kommentare: Have been using them for a few months in my cleaning company and they have been fantastic. Quick support, quick dev team pushing new features, and a solid community.
Vorteile:
How versatile it is at different company sizes. It is a software you can really grow with.
Nachteile:
The initial setup was tough and took a long time. There are so many features and settings that at first it is a little overwhelming.
Faith
Business Owner in USA
Verwendete die Software für: 1-5 Monate
Best moving service software hands down
Kommentare: I benefitted from reducing office staff and saving more money. Also I save personal time from doing extra work on the side.
Vorteile:
I was used to doing everything the old school way of handing out flyers with my phone number and having customers call to book their moves, I dreaded this every time because of the people who would shop around for quotes and waste my time. Then I hired office staff to do this but it still wasted time and now money. I looked for alternatives that would solve this problems and no software really had it ALL for me until I found BookingKoala. From packages to provider and customer logins and to the reports section I have everything I need and more in one system. My customers can pay online and I can pay the movers all from within the same system. No more large amounts of cash or checks that I need to go directly to the bank to deposit.
Nachteile:
I have been lucky enough to be in the Beta testing group and got to experience the software before the general public. Although there were some minor glitches those were to be expected. So I cannot say there are things I like least about this. Although the pricing could be cheaper.
Antwort von BookingKoala
vor 4 Jahren
Faith, thank you so much for the kind review. We are excited to have you be part of the beta testing group.
Verbraucherdienste, 11-50 Mitarbeiter
Verwendete die Software für: 1-5 Monate
BookingKoala gave my cleaning service the JOLT it needed
Kommentare: I love BookingKoala on so many levels it's kind of scary. My business was not doing great at all before I used them, when I first started out things were great but then they kind of flat lined and then it just went down. I started looking for a software to help with scheduling and I also got a bonus because of the reports section. I could track everything I need in there.
Vorteile:
The first and foremost thing that I have to mention is that the customer support is extremely nice, helpful, and prompt. There has been no customer service that I have experienced like this before! Now to the software itself, the scheduling is a DREAM and I literally don't have to worry about overlapping bookings or any missed bookings. The customer and provider logins are so so so nice and all my customers compliment us because of it.
Nachteile:
I find it hard to find things that I don't like about it because there is just so much I am in love with. For me not being a coder or even a super tech savvy person the embedding process was hard for me but they assisted me with it, (actually they did it for me). There are times I find it hard to find a function to disable or enable but after some time I find it.
Antwort von BookingKoala
vor 4 Jahren
Hello Paige, thank you so much for the kind words and we would like to thank you for being a valued customer of BookingKoala!
Verbraucherdienste, 11-50 Mitarbeiter
Verwendete die Software für: 1-5 Monate
BookingKoala saved my business
Kommentare: Since the moment I signed up the team over at BookingKoala has helped me through every step of the way and I cant be more grateful.
Vorteile:
I love how everything is all in one place. I have my website and software all under one login where I can control everything. No more needing to go to other website builders like wordpress or wix. This makes it completely convenient to work. I would also like to say that the free courses to grow my business helped me get out of a dark place. I was about to shut the doors for good until I started learning from the courses and using the software to the fullest of its capabilities, from scheduling to marketing with coupons and gift cards.
Nachteile:
Theres nothing that I can think of that I don't like about it. It's priced super fair the product is unbelievable and the support helps me through everything.
Antwort von BookingKoala
vor 4 Jahren
Hi Stewart, on behalf of everyone at BookingKoala we want to thank you for the kind words and wish you lots of success in your business!
Verwendete die Software für: 1-5 Monate
I will never switch from BK to any other software.
Vorteile:
This software is so loaded with features and functions that I have been dreaming about for my cleaning business. The amounts of things I can do all within one place is amazing. For instance if one of my providers is going on vacation for 2 weeks I can deactivate their account and they will not be allowed to be booked for jobs but all their information and job history will still be there. Then when they come back all I do is click one button and they are reactivated!
Nachteile:
There are a few little things here and there that bug me like little bugs but those usually get fixed within 48 hours so I cant really complain about that. I would also love it if the Themes were already out but those are coming soon so again I cant really complain there either.
Antwort von BookingKoala
vor 4 Jahren
Laura, thank you for the review. Since we just launched last month we are still finding few bugs here and there but soon these all will be resolved! We are also super excited for the themes!