Was ist Netchex?
Ein cloudbasiertes System, das Arbeitgebern hilft, den Mitarbeiterlebenszyklus von der Rekrutierung bis zum Ruhestand zu verwalten.
Wer verwendet Netchex?
Webbasierte Lösung für das Mitarbeiterlebenszyklusmanagement, mit der Unternehmen jeder Größe Prozesse verwalten können, darunter Personalbeschaffung, Onboarding, steuerkonforme Gehaltsabrechnungen, Sozialleistungen, Anwesenheit und mehr.
Wo kann Netchex bereitgestellt werden?
Cloud, SaaS, webbasiert, Mac (Desktop), Android (mobil), iPhone (mobil), iPad (mobil)
Über den Anbieter
Netchex
Ansässig in Covington, USA
2003 gegründet
Telefon-Support
Chat
Erhältlich in diesen Ländern
Vereinigte Staaten
Sprachen
Englisch, Französisch, Portugiesisch, Spanisch
Über den Anbieter
Netchex
Ansässig in Covington, USA
2003 gegründet
Telefon-Support
Chat
Erhältlich in diesen Ländern
Vereinigte Staaten
Sprachen
Englisch, Französisch, Portugiesisch, Spanisch
Netchex – Videos und Bilder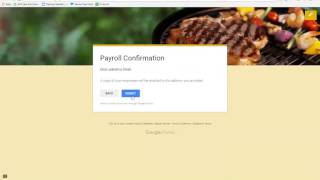 Kosten ähnlicher Produkte wie Netchex vergleichen
Netchex Funktionen
360-Grad-Feedback
401(k) Tracking
ACA-Berichterstattung
Abzug/Nachlass-Management
Aktivitäts-Dashboard
Alarmfunktion / Benachrichtigungen
Anbieter-Management
Angestelltenhandbuch
Ausfallzeit-Management
Automatisierte Terminplanung
Berichterstattung / Analyse
Bewerber-Tracking
COBRA Verwaltung
Compliance Management
Compliance-Verfolgung
Daten-Import / -Export
Dokumentenmanagement
Einstellungen (Personalbeschaffung)
Elektronische Formulare
Elektronische Verifizierung / I-9-Formulare
Entschädigungsmanagement
Erstellung von Einarbeitungsplänen
Fähigkeiten-Nachverfolgung
HIPAA konform
Individuelle Entwicklungspläne
Invalidenversicherungs-Management
Krankenversicherung-Management
Krankheitsausfall-Nachverfolgung
Lebensversicherung-Verwaltung
Leistungskennzahlen
Leistungsmanagement
Lohn- und Gehaltslisten-Management
Lohn-und Gehaltsabrechnung-Reports
Lohnpfändung
Management von Performance-Auswertungen
Mehrere Staaten (USA)
Mitarbeiter-Datenbank
Mitarbeitereinsatzplanung
Mitarbeitermanagement
Mitarbeiterprofile
Mobiler Zugriff
Online-Anmeldung für Zusatzleistungen
Online-Stechkarte
Online-Zeiterfassung
Personalbeschaffungs-Management
Rentenplan-Management
Scheck Druck
Schichttausch
Self-Service Portal
Stechkarte
Steuerkonformität
Timesheet Management
Trainingsmanagement
Urlaubsverfolgung
Urlaubsverwaltung
Verwaltung von Unterstützungsleistungen
Verwaltung von Zusatzleistungen für Angestellte
W-2 Vorbereitung
Zeit & Anwesenheit
Zeitverfolgung
Zielsetzung / Nachverfolgung
Zusatzleistungs-Dashboard
Überweisung
John N.
Senior Director of Corporate Administration in USA
Verifizierter Nutzer auf LinkedIn
Verwendete die Software für: Mehr als 2 Jahre
Awesome overall Experience
Kommentare: It makes my life easy!
Vorteile:
Their Customer Service and Support is the best I have seen both in knowledge and friendliness. Their product is super easy to use.
Nachteile:
If I had to come up with a con, their custom reports could be a little more user friendly. The good news is, that if you cant make your custom report do what you want, Customer Support will.
Jen M.
Payroll Benefits Administrator in USA
Verifizierter Nutzer auf LinkedIn
Automotive, 51-200 Mitarbeiter
Verwendete die Software für: Mehr als 1 Jahr
Quelle: GetApp
In Betracht gezogene Alternativen:
Netchex has the best value with innovative products for the company and HR Administrators
Kommentare: Netchex has so many learning tools, one-on-one training and webinars to help you learn the products with a dedicated team of customer care representatives that are always willing to go above and beyond to provide knowledgeable instruction and advise. We couldn't have accomplished the growth in our company without these products. Our company goal is to be the leading employer in our area and Netchex/Hireology has been a huge factor in providing tools to make that happen.
Vorteile:
The Netchex software has allowed the HR Administrative Team to streamline so many processes with the product suite available and the ability to integrate with industry leaders. With the NetGuide feature, our department has been able to onboard new hires more effectively and efficiently which gives a better overall first impression of our company allowing us to focus on training and welcoming new employees. The NetAssist HR helps most managers and administrators keep track of HR tasks easily with a snapshot view of what needs to be performed. The NetBenefits, NetCOBRA and ACA Central product has been a tremendous time and compliance life saver. Integration with our carriers has shaved hours of time off tracking a host of these tasks. It's all built in and easy to use!
Nachteile:
The HR department really loves all the offered products, but there are some functions that we still need. There are ways to monitor when performance reviews are happening but not a way to tie the individual performance factors for each employee in the system. It would be nice to have this as a built in the system in the employee profile instead of on paper. There is no tracking mechanism built to record personnel improvement plans or warnings. Initial set up and implementation is an extensive amount of work that was expected but exhausting for a 1 or 2 man team to stay on task and make deadlines. If considering Netchex, I would highly suggest that you assign an implementation team of 2-4 members to tackle.
Mitch B.
Senior Accountant in USA
Buchhaltung, 2-10 Mitarbeiter
Verwendete die Software für: 1-5 Monate
Using Netchex has made much of our payroll and HR processes so much easier.
Kommentare: Our overall experience with Netchex has been great. We really appreciate the elimination of paperwork with the hiring and onboarding process as this saves us time as payroll administrators and gives our employees the ability to fill out the necessary forms online whenever it works best for them. The product seems very sophisticated and the service team has always been very helpful whenever issues do arise.
Vorteile:
Our favorite part about this product is how it services the entire lifecycle of the employee. It begins with hiring and putting out adds and continues through onboarding and payroll once they are employed. You can also set up helpful templates to contact interviewees or soon-to-be employees to let them know about any paper work they need to complete (all online!) or to simply send them an email you set up beforehand. The entire process can be tailored to fit however you would like it to look.
Nachteile:
There are some areas within payroll that we wish would be more flexible and editable to match our specific needs. As with many payroll products, there are limitations with how reports can be tailored and we simply have to filter or manipulate the date into what we need it to show.
Christopher K.
HR Manager in USA
Fluggesellschaften/Luftfahrt, 51-200 Mitarbeiter
Verwendete die Software für: 6-12 Monate
Quelle: SoftwareAdvice
In Betracht gezogene Alternativen:
Netchex Nightmare
Kommentare: This has been one of the worst ATS programs I have used in my entire career.
Vorteile:
While we have not had the most pleasant experience with NetChex; the payroll process is the best feature. It is super easy to use and easy to process payroll in minutes.
Nachteile:
The tax department is horrible. We have submitted several tickets about missing state tax not being filed or paid, unemployment tax not being paid or filed, and last we have had to educate Netchex on how to pay these taxes. We have received several late fees, penalties, and notices because of Netchex. Last, every ticket is unprioritized; our tickets are open on average 5 weeks before they are fully resolved. Moreover, the talent acquisition system is horrible. The system doesn't tell you when a candidate applied for other jobs. The system doesn't generate reports that you can use to help manage the recruiting team or to increase efficiency. Moreover, when you call Netchex to get customized reports they say it isn't their system we have to contact another party to get answers and customized reports.
Alexis D.
Facility Administrator in USA
Verifizierter Nutzer auf LinkedIn
Krankenhausversorgung & Gesundheitswesen, 11-50 Mitarbeiter
Verwendete die Software für: 6-12 Monate
Quelle: GetApp
In Betracht gezogene Alternativen:
All The Work of A Large HR Department
Kommentare: We are not a very big company but Netchex has changed our orientation process to seem as if we were. And for the price a small business can afford!
Vorteile:
I have been incredibly enthusiastic about NetGuide. For a hospital, I have many employees with different credentialing certificates/licenses/vaccinations/etc. that expired almost everyday. Not to mention all the other regular HR items such as annual evaluations and education. It can be overwhelming for just one person. With NetGuide, I went from just myself reviewing all these items to know getting all managers involved and NetGuide even notifies the employee when I forget. So my busy day now has 5+ other people on their tasks!
Nachteile:
The scheduling software. Our hospital runs on 12 hour shift (AM/PM), we do work weekends unlike office people, and all holidays even major. We are open 24/7/365. Meaning the scheduling system in Netchex is more geared to an office-based company but I would like to integrate our scheduler with Netchex to provide a solution for everyone. Currently, I have to go back and forth between the two programs and of course it is a hassle but also not cost efficient.