Was ist Rocket.Chat?
Quelloffene, kostenlos bereitstellbare Slack-Alternative für Teamzusammenarbeit und Kommunikation. Umfasst Dokumentenfreigabe, Sprachnachrichten sowie Video- und Audiokonferenzen. Moderne Chatoberfläche mit Emojis, Reaktionen, Link-Vorschau, Sprachfunktion, Fotos und Videos. Private Gruppen und inoffizielle Nachrichten ermöglichen verschlüsselte private Konversationen. Öffentliche Kanäle ermöglichen die abteilungsübergreifende Zusammenarbeit mit Partnern. APIs und Bots werden unterstützt. Verfügbar für iOS, Android, Windows, Mac OS und Linux.
Wer verwendet Rocket.Chat?
Teams mit interaktiven Kommunikations- und Kollaborationsbedürfnissen. Nutzer, die eine Alternative zu Slack suchen. Unternehmen jeder Größe, die eine erweiterbare Plattform für Zusammenarbeit und Nachrichtenversand benötigen.
Wo kann Rocket.Chat bereitgestellt werden?
Cloud, SaaS, webbasiert, Mac (Desktop), Windows (Desktop), Windows (On-Premise), Linux (On-Premise), Android (mobil), iPhone (mobil), iPad (mobil)
Über den Anbieter
Rocket.Chat
Ansässig in Porto Alegre, USA
2016 gegründet
Telefon-Support
24/7 Live-Support
Chat
Erhältlich in diesen Ländern
Vereinigte Staaten
Über den Anbieter
Rocket.Chat
Ansässig in Porto Alegre, USA
2016 gegründet
Telefon-Support
24/7 Live-Support
Chat
Erhältlich in diesen Ländern
Vereinigte Staaten
Rocket.Chat – Videos und Bilder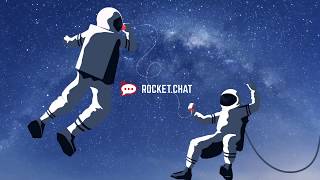 Kosten ähnlicher Produkte wie Rocket.Chat vergleichen
Rocket.Chat Funktionen
Aktivitäts-Dashboard
Alarmfunktion / Benachrichtigungen
Aufgabenmanagement
Automatische Antworten
Bearbeiten in Echtzeit
Berichterstattung / Analyse
Berichterstattung und Statistik
Bildschirm teilen
Brainstorming
Chat / Messaging
Content-Management
Diskussionen / Foren
Dokumentenmanagement
Drittanbieter-Integration
Echtzeit-Benachrichtigungen
Echtzeit-Chat
Echtzeit-Chat für Kunden
Einmalige Anmeldung
Filesharing
Kollaboration mehrerer Nutzer
Kommunikationsmanagement
Kontaktmanagement
Kundenspezifisches Branding
Live-Chat
Mobiler Zugriff
Offline-Formular
Proaktiver Chat
Remote-Support
Remote-Zugriff/-Kontrolle
Sprachanrufe
Suchen / filtern
Transfer / Weiterleitung
Transkripte / Chatverlauf
Video-Chat
Videokonferenzen
Websitebesucher-Nachverfolgung
Wechselseitige Audio & Video
Werkzeuge zur Zusammenarbeit
Alternativen für Rocket.Chat
Bewertungen über Rocket.Chat
Hendy
CTO in Indonesien
Verifizierter Nutzer auf LinkedIn
Einzel- & Familiendienstleistungen, 2-10 Mitarbeiter
Verwendete die Software für: 6-12 Monate
In Betracht gezogene Alternativen:
Lots of features as open-source & enterprise group chat software
Kommentare: Rocket.Chat has been very useful and relatively low-maintenance. Especially since we deployed it in MongoDB Atlas (another commercial product as DBaaS), so our MongoDB cluster is also low-maintenance. There are many features that can be enabled and configured, it's quite overwhelming at first. (to be honest, it still is now) But it makes me feel good too because if there's a use case, I feel that maybe 60-70% of the time, Rocket.Chat already provides that as an option.
Vorteile:
The core software is open-source, so the cost is low to get started. You have the option, but not forced to, to purchase business/enterprise support and upgrade for additional features, and Rocket.Chat company also provides hosting services. In case you want to modify the code (likely you won't need it), but you can, so it's a big plus for feeling in control. Rocket.Chat supports OpenID Connect for SSO authentication out-of-the-box, which we integrate with FusionAuth and it works as expected. So really happy about this. We also did submit some patches and enhancements to Rocket.Chat GitHub, and while response time varies, we were welcomed, some of our contributions were accepted, some were not accepted but with clear explanation. So we're very happy that we can collaborate directly with Rocket.Chat developers and hopefully having good relationship in the long term.
Nachteile:
I still see stability issues, sometimes chats not refreshing, and random minor issues. It's quite hard to debug/diagnose the issue, and on GitHub some issues have been waiting for weeks or months. I understand this is complex code without various platforms connected together, and to be fair Rocket.Chat tried to provide several debugging options inside it, so they do put effort in this. Configuring to use own Firebase Cloud Messaging (FCM) push notification is tricky, and requires deploying customized Android and iOS app... but this is to be expected and I'm not sure how it can be made easier. It still feels that they're pushing for new features more than to fix bugs. Which can be both a good thing or bad thing, depending on which side you're getting.
Antwort von Rocket.Chat
letztes Jahr
Hello Hendy, we're incredibly happy to see you've been having a positive experience with our product! Your feedback is very important for us - it's the only way we can improve our product. Thank you so much for your review :)
Informationstechnologie & -dienste, 11-50 Mitarbeiter
Verwendete die Software für: 6-12 Monate
In Betracht gezogene Alternativen:
My 6 months with Rocket Chat
Kommentare: Very satisfied . I have used Slack, Teamwork Chat before, but Rocket Chat is very economical to me ( free- minus the VPS cost). ANd it has everything we need.
Vorteile:
1. Installation is a breeze. I was able to install Rocket Chat, get SSL configured, and had a running server set up in an hour without having to wave through endless linux commands. 2. Inbuilt support, for Video call using Jitsi, and inbuilt notifications. 3. Slack like user interface , which my team can instantly connect to.
Nachteile:
1. The Quote a message, can be improved, it is visually not very clear. 2. The Video call doesn't ring inside the application, only gives a button to join which makes people skip it some times. 3. On Windows, if the app is running in background, you need to go to the notification panel to bring it to front, if you start from the Start Menu, it doesn't come to front. Overall, the shortcomings are very less and trivial. The software is very stable and a breeze to use.
Antwort von Rocket.Chat
vor 3 Jahren
Hi Aditya, our team is constantly improving the platform to offer our users an amazing team chat platform for internal and external communication. We would love to understand better the problems you are facing, would you be able to detail them and send us on support@rocket.chat? thanks for your feedback!
Verifizierter Rezensent
Supervisor in USA
Verifizierter Nutzer auf LinkedIn
Telekommunikation, 5.001-10.000 Mitarbeiter
Verwendete die Software für: Mehr als 2 Jahre
Rocket Chat Makes virtual chat a Cinch
Vorteile:
I like that you can post a message in real time along with pinging a specific person or even using an emoji to decorate the message. I also like that you favorite a room so it remains on your conversations list, you can update your profile and settings fairly easy and that you can edit or delete a message you posted if needed.
Nachteile:
I do not like when the software lags at times , where it takes almost a minute for it to catch up to the current messages. I also do not like that sometimes the pinned messages feature works and sometimes it doesnt. You can pin a message to it but you wont be able to see it, im not sure if theres a character count or not with that. I also do not like when you do a direct message or private message with an individual theres no way to delete the message when its not needed anymore, you can only hide the message.
Gabriel
Operational Manager in Rumänien
Verifizierter Nutzer auf LinkedIn
Computer-Software, 201-500 Mitarbeiter
Verwendete die Software für: 1-5 Monate
In Betracht gezogene Alternativen:
Good & free corporate chat alternative
Kommentare: Rocket.Chat is an overall-nice & free alternative to other enterprise messaging tools. A few words about setting it up:
- The server runs on-premises, so all chat data currently resides in our own infrastructure - this was also one of the reasons we chose this.
- Secondly it supports LDAP, so this played well with our Active Directory accounts.
- Voice calling requires additional setup, which we decided to skip.
- Mimetypes for supported file attachments need to be configured by hand, one-by-one And about usability: first of all, it does lack some nice-to-haves here and there:
- It cannot be integrated with SharePoint, so there are no status updates when going in a meeting.
- Since the desktop client is an Electron app, notifications are a bit lacking; these aren't persistent and besides showing a small blip in the system tray icon, you can't really tell whether there are any new messages.
- Also due to the client being an Electron app, it cannot support systemwide shortcuts
- It lacks the "threading discussion" that you see in other chat apps. However, all basic features are in place. Pasting images and links gives you a nice preview and text formatting is simple and works as expected. Also, it has a nice Off-The-Record mode where messages are not persisted.
And finally, features are still being developed so new features are added constantly.
Vorteile:
- Supports LDAP authentication - On-premises server - Platform availability (both web, mobile and Desktop) - Good & clean usability
Nachteile:
- Some things are still not working in the mobile native app (e.g.: voting on polls) - No support for threaded chat - No straightforward integration with SharePoint - Electron client app only, so notifications are a bit lacking
Antwort von Rocket.Chat
vor 3 Jahren
Hi Gabriel, Thanks for the feedback on your experience with our platform. We sincerely appreciate your insight because it helps us build a better customer experience!
Julien
CEO in Costa Rica
Verifizierter Nutzer auf LinkedIn
Informationstechnologie & -dienste, 11-50 Mitarbeiter
Verwendete die Software für: Mehr als 1 Jahr
In Betracht gezogene Alternativen:
This OpenSource tool made our whole business possible
Kommentare: We started our self-managed hosted community version of Rocket.Chat a week before starting our company. We were able to quickly facilitate collaboration and communication in our firm. We have implemented a custom made chatbot linked to our MySQL database for work distribution. This tool have been and still is the best we have used in the last two years. It is our "remote office" base. Amazing software, very customizable, unlimited possibilities.
Vorteile:
The possibility of having a self-managed version of it, running on our own servers, for free. This ensured our data stayed ours. We also implemented a chatbot connected to our MySQL and automatized the work distribution.
Nachteile:
There are over 1200 permission settings. Around 50% of the software is "okay" documented, the rest indicates it is "under development". Very complex to know exactly what impact will have each setting.