Das könnte dich auch interessieren:
Was ist Degoo?
Webbasierte sichere Lösung mit 100 GB Speicher und Dateiverschlüsselung.
Degoo – Videos und Bilder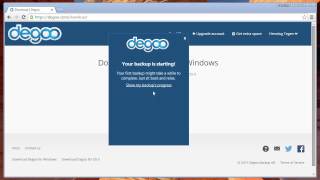 ▶︎
Kosten ähnlicher Produkte wie Degoo vergleichen
Startpreis
3,00 $/Monat
149,99 $/Jahr
Nicht verfügbar
2,00 $/Monat
Degoo – Bereitstellung und Support
Kundenbetreuung
E-Mail/Helpdesk
FAQ/Forum
Wissensdatenbank
Chat
Einsatz
Cloud, SaaS, webbasiert
Windows (Desktop)
Android (mobil)
iPad (mobil)
Funktionen von Degoo
API
Aktivitäts-Dashboard
Alarmfunktion / Benachrichtigungen
Anpassbare Berichte
Aufgabenmanagement
Automatische Sicherung
Backup und Recovery
Backups planen
Beibehaltungs-Richtlinie
Berichterstattung und Statistik
Compliance Management
Dateitransfer
Daten-Import / -Export
Datenreplikation
Datenspeicher-Management
Datensynchronisation
Datenwiederherstellung
Disaster Recovery
Dokumentenspeicher
Drittanbieter-Integration
E-Mail-Benachrichtigungen
Echtzeit-Benachrichtigungen
Echtzeit-Berichterstattung
Echtzeitüberwachung
Ferngesteuerte Server-Optionen
Inkrementelles Backup
Kompression
Kontinuierliche Datensicherung
Leistungskennzahlen
Lokale Server-Optionen
Mehrfache Format-Unterstützung
Mobile Benachrichtigungen
Optische Zeichenerkennung (OCR)
Richtlinien Managemen-
Risiko-Warnungen
Risikobewertung
SSL-Sicherheit
Sichere Datenspeicherung
Sicherungsprotokoll
Speichermengenkontrolle
Statusverfolgung
Störfallmanagement
Suchen / filtern
Support mehrerer Systeme
Verschlüsselung
Versionskontrolle
Web-Zugriff / Restaurierung
Wirtschaftsprüfung-Management
Workflow-Management
Überwachung
Siehe die vollständige BCM Software (Business Continuity Management) Liste
Arnold K.
Lead Operations Clerk in USA
Verifizierter Nutzer auf LinkedIn
Einzelhandel, 201-500 Mitarbeiter
Verwendete die Software für: Mehr als 2 Jahre
Excellent way to keep files encrypted online
Vorteile:
Ease of use. Can access files on mutiple devices. Encrypted files are kept separated in their own password protected section.
Nachteile:
Unable to view encrypted files. Yet encrypted photos are displayed on the front page "timeline".
Medizinische Praxis, 5.001-10.000 Mitarbeiter
Verwendete die Software für: Mehr als 1 Jahr
One of the best free options for backing up personal files and one of the cheapest for larger files
Kommentare: I'd say it was excellent when there was no size limit. Even now it's probably the best for photos and videos. But try not to upload anything with a name that could have copyright issues like a Christmas song.
Vorteile:
What I like most about this is that tons of free storage is offered for free and you can earn more storage by watching ads (the best option), installing and playing some games (it's not recommended). You get a syncing app for your pc or a degoo app for your mobile device and you can set it up to automatically upload your photos and videos. There's an option to optimize storage which is quite helpful as well. You can earn upto 750MB for watching a single ad which is enough for a 4k video shot from your phone, but you can only upload 512MB/file. But unlike Mega which forces you to purchase premium plans once you lose your hard earned space, degoo lets you keep your files. And you don't lose the storage you earned once. For people who need more storage, degoo offers premium plans with no upload size limit or download size limit with TBs of storage for a very low price, and you could find coupons offered by different sites which would let you earn further discounts.
Nachteile:
What I hate most about degoo? Well. They change their policy quite easily. When I first started using degoo, there was no upload size limit for any file. Then they reduced it to 512MB. There was no download/streaming size limit for your own files. They increased the space earned by watching each ad from 100MB to 750MB, but added restrictions to the size of the uploaded file and the size of the file that could be streamed. Not a big problem if you upload only small files or cut the videos into parts or format it to smaller size. But some people might not like it. You should avoid uploading music covers or naming your files after songs that are famous, else the bot would send you warning on copyright infringement. You are allowed to challenge this only once. Even people with premium membership have got this problem and some of them didn't even upload any songs/videos with names that could have such copyright. I uploaded a Christmas song that we had played for the church and got a warning and challenged the same to avoid account deletion.
Nicole S.
co-manager in USA
Unterhaltung, 2-10 Mitarbeiter
Verwendete die Software für: Mehr als 2 Jahre
A Wonderful Free Giant Cloud until you lose your phone and mis-read the fine print(s)!! BEWARE!
Kommentare: I have gotten ABSOLUTELY NO RESPONSE WHATSOEVER to any of my emails about this to Degoo Customer Service, even when my emails said drastic things like "this year I lost my entire family" or "I lost my son and these are my only videos and pictures of my only child and I can no longer have children," etc. I also included screenshots of the instructions detailing how often I must log in or access my account in order to keep my files saved, and thoroughly.
Vorteile:
Originally, I was recommending Degoo to everyone! I got SO MUCH SPACE, for FREE, and honestly I was using it primarily as a way to store all of my personal photos and videos of my only child, some of which were very large files. Since I mostly used my phone, I didn't realize there was such a problem accessing my stored files through pc. I think you can't... but this may have changed by now. I loved how it was written everywhere that my stuff would be forever stored, as long as I checked in once or twice a year. DONE!
Nachteile:
Hard times came and I was mugged and have been smartphoneless for a few months now, so one day I decided to check in to Degoo and try to locate a few specific videos through my PC, only to find IT HAD ALL BEEN ERASED!! Even though I had read and followed the directions in the fine print of how often to check in to ensure saving my files, I failed to notice there was ADDITIONAL, seemingly CONFLICTING fine print saying it had to be accessed once every 3 months?! I still fail to understand how both sets of instructions can simultaneously be true. I also noted the app has to be installed and running... or something to that effect, which is bad news if you are needing space, ONE OF THE BIG REASONS WE USE CLOUDS, RIGHT??
Gladstone L.
Freelancer in Jamaika
Computer-Software, Selbstständig
Verwendete die Software für: Mehr als 1 Jahr
Degoo experience
Kommentare: Degoo is perfect for me it allows me while im travelling to have internet plus its storage and security features works well in protecting users from malware and viruses its software interfaces well with other softwares and that too is a plus .
Vorteile:
Degoo features cloud storage for your devices and allowing you to store your contents its 100Gb is one of the pluses i must say. To all users as youre given enough space to store your pics which gives your device the advantage to not overloading your internal storage .plus Degoo wifi is great for users that wants to use the internet and be unseen this is another plus for the developers .Degoo software works well .its speed is fast and connectivity is great .allowing the user to be satisfied with the service from its software at present i have recommended Degoo to alot persons i come into contact with and i have gotten good feed back of the users that i tell about the software and they love it .I boast about this software as it works well anyone using Degoo will have a satifying experience.
Nachteile:
Presently i have no problem with this software it runs smoothly with my device and my pc at home when im on the go Degoo is my choice of software .
Mathieu N.
Senior Aplication Engineer in Frankreich
Informationstechnologie & -dienste, 201-500 Mitarbeiter
Verwendete die Software für: Mehr als 1 Jahr
In Betracht gezogene Alternativen:
Good solution for storage
Kommentare: I use Degoo daily on PC and Android, I have never used the secure folder yet.
I mainly use it to store data which I need from time to time.
I think that it more useful than having backup hard drives.
Vorteile:
One of the essentials that I wanted was the ability to access my information anywhere. Degoo allows access to information both on your PC / MAC and on your phone as long as you have an Internet connection. Possibility to encrypt a file in the interface (double security). Backup on all your devices, Degoo offers software to make automatic backup of your data.
Nachteile:
Sometimes the transfer speed can be a little bit slow, but the development team has to work to optimize this point. The user interface has also changed a lot in the last 2 months. The support may be a little slow, but I have always had an answer to my questions.