Was ist Broadly?
Die automatisierte Bewertungsplattform von Broadly hilft lokalen Unternehmen dabei, hervorragende Kundenbewertungen auf den wichtigsten Plattformen zu generieren, u. a. auf Google, Facebook, TripAdvisor, NextDoor und vielen mehr. Die Plattform hilft KMUs, Bewertungen zu erhalten, mehr Aufträge zu bekommen und direkt mit ihren Kund*innen über App oder Desktop zu kommunizieren. Online-Bewertungen sind für Kunden bei der Auswahl eines neuen Service der größte Entscheidungsfaktor. Die Anwendung soll kleinen, servicebasierten Unternehmen (1 bis 100 Mitarbeiter) helfen, einen besseren Online-Ruf zu erhalten.
Wer verwendet Broadly?
Lokale Unternehmen. Zu den Branchen gehören: Tierpflegedienste, Automobilindustrie, geschäftliche und professionelle Dienstleistungen, Bauwesen, Zahnmedizin und Medizin, häusliche Dienstleistungen, Gesundheit und Schönheit sowie Gastgewerbe.
Wo kann Broadly bereitgestellt werden?
Cloud, SaaS, webbasiert, Android (mobil), iPhone (mobil), iPad (mobil)
Über den Anbieter
Broadly
Ansässig in Oakland, USA
2013 gegründet
Telefon-Support
Erhältlich in diesen Ländern
Vereinigte Staaten
Über den Anbieter
Broadly
Ansässig in Oakland, USA
2013 gegründet
Telefon-Support
Erhältlich in diesen Ländern
Vereinigte Staaten
Broadly – Videos und Bilder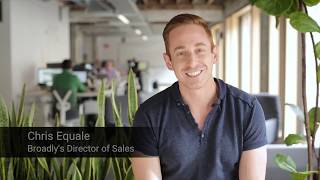 Kosten ähnlicher Produkte wie Broadly vergleichen
Broadly Funktionen
Berichterstattung und Statistik
CRM
Dashboard
Drittanbieter-Integration
E-Mail-Management
Feedback-Management
Kampagnenmanagement
Kundenhistorie
Kundenspezifisches Branding
Negatives Feedback Management
Nutzerbewertungs-Anfrage
Nutzerbewertungs-Notifikation
Reaktions-Management
SMS-Nachrichtenversand
Sammeln von Nutzerbewertungen
Sentiment-Analyse
Teilen in sozialen Medien
Trend-Analysen
Umfragen & Feedback
Überprüfung bewerten
Jonathan G.
Board Member in USA
Verifizierter Nutzer auf LinkedIn
Bürgerliche & soziale Einrichtungen, 11-50 Mitarbeiter
Verwendete die Software für: 6-12 Monate
So glad we gave Broadly a "try" for our business
Kommentare: I've really been enjoying Broadly's product for getting feedback from clients on every visit we do, whether good or that something we can work on, so that we can address promptly. Additionally, their communication platform for webchat & text capability has be an extremely valuable add to the way we are able to connect with our customers and soon to be customers. Definitely have seen an increase of social/shared reviews which we prior would really only verbally hear from clients, so glad that it's being put out more for others to hear about & I feel it's helped us connect with clients that might not have done the extra call or email to us had it not been for the chat option on our site.
Vorteile:
First off, their customer service thus far has been outstanding in helping me get going and fully utilizing their platform. I really like it's simplicity which makes it easily understandable with minimal "training" needed for any team member(s) that need to have their "hands in the pot". The prior is for both their review/feed back function as well as their chatbots.
Nachteile:
Thus far, I have honestly not experienced any cons to this service/platform/software. We're about a year into using them and fingers crossed this doesn't change.
Antwort von Broadly
vor 3 Jahren
So glad you're leveraging all of Broadly's features including reviews, our app and web chat! Helping your business connect with more customers and leads is our goal and it sounds like you're seeing both happen. Thanks for the review!
Kevin B.
Owner in USA
Verifizierter Nutzer auf LinkedIn
Hausmeisterservice, 2-10 Mitarbeiter
Verwendete die Software für: 1-5 Monate
In Betracht gezogene Alternativen:
It works
Kommentare: Helps get customer reviews. Enables chat on my website. Therefore, I like it!
Vorteile:
Its a pretty effective app/software that helps solicit customer reviews. I have almost a 33% review rate in my home services business now, before it was maybe 1-5%. I also love the fact that their plugin allows customers to chat with me on my website. Some customers hate calling, and having broadly provide a chat function on my website has allowed me to gain many new customers. Thank you Broadly.
Nachteile:
I wish it was better integrated with my CRM system, but that is on my corporate team (I own a franchise) - not broadly. They are actively working on it. Other negatives are the price - it is very expensive. Tough to quantify how much a positive review is worth. For now, in my first year in business, its worth it to me and I'll continue to use it.
Bau, Selbstständig
Verwendete die Software für: Mehr als 2 Jahre
In Betracht gezogene Alternativen:
Horrible stay away
Kommentare: Horrible customer service was not there and my client or account suscess manage was very hard to get a hold of and It seemed like they were not checking to see what they were doing on there end was working
Vorteile:
It was nice that there was a product that could send reviews.
Nachteile:
Horrible customer service not dedicated to clinet success we already signed up for another product that is broadly competitor and already seen huge improvement
Kelly michael S.
Director of Residential Marketing in USA
Verifizierter Nutzer auf LinkedIn
Bau, 11-50 Mitarbeiter
Verwendete die Software für: Mehr als 2 Jahre
Superb Chat and Text Platform for Small-Mid Businesses
Kommentare: Broadly is a very affordable and high quality tool. The text, chat and review features are effective and easy to use.
Vorteile:
Broadly is incredibly easy to set up and allows you to passively chat with new website visitors and when those visitors become customers, request a review from them.
Nachteile:
I wish there were more options for customization when it came to how the chatbot appears on different pages of the website. I also wish that there was the ability to customize the review link that we send out to incorporate different Google profiles.
Verifizierter Rezensent
Co Owner in USA
Verifizierter Nutzer auf LinkedIn
Verwendete die Software für: 1-5 Monate
Really fast, measurable results that customers/potential customers will actually be able to see.
Kommentare: It is a pressure-free way to ask customers for feedback. The benefit is then being able to apply that feedback to our website so others can see a client's experience, and it gives us a chance to see how our customers feel about the service we provide.
Vorteile:
Reviews link directly to your website so people can actually see what your customers think of you. Even if the customer does not have a Google or Yelp account, they can still share a review through Broadly that will show on your website. The software is able to determine if customers number is landline or cell, and can send review request to cell or email so you don't have to compress client info - do a ton of extra work - to get the feedback. Manages itself pretty well so I am able to focus on other things while the software reaches out.
Nachteile:
I have not found any cons yet, but I would say that there is value in having more than one person with access to the account and the ability to upload customers. My only issue is making the time to upload the customers, but that's my problem, not Broadly's.
Antwort von Broadly
vor 4 Jahren
Happy to hear Broadly's software is working well for your team. Love to hear that it's taking the pressure off of asking for reviews. We look forward to your continued success!