Was ist Mentimeter?
Mentimeter hilft Nutzern, interaktive Online-Präsentationen und Workshops mit einer Echtzeitabstimmungsoption für das Publikum zu erstellen und zu präsentieren.
Wer verwendet Mentimeter?
Kleine und mittelständische sowie mittelgroße und große Unternehmen
Wo kann Mentimeter bereitgestellt werden?
Cloud, SaaS, webbasiert, Android (mobil), iPhone (mobil), iPad (mobil)
Über den Anbieter
Mentimeter
Ansässig in Stockholm, Schweden
2014 gegründet
Telefon-Support
Chat
Über den Anbieter
Mentimeter
Ansässig in Stockholm, Schweden
2014 gegründet
Telefon-Support
Chat
Mentimeter – Videos und Bilder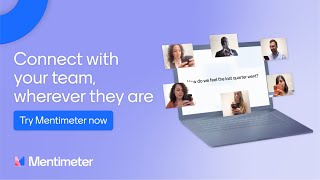 Kosten ähnlicher Produkte wie Mentimeter vergleichen
Mentimeter Funktionen
Animation
Anpassbare Fragen
Anpassbare Vorlagen
Audiodatei-Management
Befragungs-/Umfragemanagement
Berichterstattung / Analyse
Datenanalyse-Werkzeuge
Datenvisualisierung
Echtzeit-Daten
Feedback-Management
Kundenspezifisches Branding
Live-Ergebnisse teilen
Medienbibliothek
Offline-Bearbeitung
Offline-Präsentation
Präsentations-Tools
Q&A Management
Umfragen & Feedback
Umfragen/Abstimmungen
Video-Unterstützung
Werkzeuge zur Zusammenarbeit
Alternativen für Mentimeter
Bewertungen über Mentimeter
Hannah C.
Psygologist in Niederlande
Verifizierter Nutzer auf LinkedIn
Psychische Gesundheitsfürsorge, Selbstständig
Verwendete die Software für: Mehr als 2 Jahre
Incredible transformation of presentations
Kommentare: This app is great for my projects that I use for my clients!
Vorteile:
The fact that it can tranform a boring, long and tiring presentation, into one that is interactive, fun and cheerful makes it a great app.
Nachteile:
I did not like the fact that, at times the app takes a lot of time to show the poll results to viewers.
Paul B.
Human Resource Development in Japan
Verifizierter Nutzer auf LinkedIn
Informationstechnologie & -dienste, 10.000+ Mitarbeiter
Verwendete die Software für: 6-12 Monate
In Betracht gezogene Alternativen:
A smart tool that looks slick but has some frustrating limitations
Kommentare: We like Mentimeter a lot. You can be up and running with it in minutes, and it takes literally seconds to create a typical wordcloud or other slide. It looks amazing to those answering the questions. There are downsides though and I hope future updates will add functionality and improve the experience for paying users.
Vorteile:
Mentimeter allows you to easily (very easily) create and launch live, interactive polls, surveys and quizzes and create cool things like wordclouds in real time. It has a really smooth mobile integration through the use of QR codes which is a killer feature in the modern age. We have frequently had "wow moments" in meetings, workshops and training sessions using Mentimeter as people see animated quiz standing come in in real time and the like. Zero learning curve from the users point of view and almost frictionless.
Nachteile:
It has a few limitations that make it less slick from the point of view of the person using it compared to the people answering the questions. It does not integrate well with Powerpoint. There is an outdated and never updated plug in which crashes all the time and thus unusable. The other option is to import your slides into Mentimeter and do the whole thing from there. This is not always advisable because animations are not preserved and the general look of the slides suffers. Without PPT integration, if you are running a remote session using Zoom or similar you are forcing people to navigate away from your window to use Mentimeter and then relying on them coming back to see the results come in in real time. It damages the experience tremendously. You get around this by showing QR codes and having them do it on their phones, but still, not ideal. Another issue is that moving or otherwise adjusting slide shows inside Mentimeter is a huge pain. Drag and drop to change the order of slides is basically broken, so me and my team always make sure everything is in order before importing (if we even use importing, see above). Even a no-integrated session with more than a few Mentimeter slides is a huge pain to adjust. Finally, although they claim that switching between say PPT and Mentimeter on the fly is easy, it inhibits you from easily and smoothly moving to the next question. Not ideal.
Natasha W.
Consultant in USA
Eventservice, Selbstständig
Verwendete die Software für: Mehr als 2 Jahre
Wonderful LIVE results
Kommentare: I love Mentimeter because it's a great way to engage my audience and ensure that they feel included in my workshops.
Vorteile:
I use mentimeter in almost every workshop that I do. With mentimeter, I am able to solicit the audience response and show it in a word cloud LIVE during the presentation. My results and slide don't disappear over time, and I can always duplicate or view a prior slide. I love the options to hide results, to change the number of entries, and to stop and start the polling. Mentimeter also consistently add new features to their platforms, and I'm always happy to try them. Plus, you can use a lot of the features for free.
Nachteile:
Under the free account, you cannot create a mentimeter slide with a feature too far in advanced; you either get 2 days or 7 days for the presentation mode/slide feature to stay active because the voting code for the presentation becomes inactive after that time period.
Chad E.
Developer in Jamaika
Verwendete die Software für: 6-12 Monate
An efficient way to get instant feedback
Vorteile:
It is fast and easy to use. Allows the users to remain anonymous so they can feel more comfortable indicating their opinions. Excellent charts to present the poling of the results which is quite handy to verify how your audience feel about a presentation.
Nachteile:
There are quite a few bugs: Sometimes the app doesn't remember the event code. There are times when a question cannot be skipped. It is sometimes problematic to access the results from my PC.
Verifizierter Rezensent
iOS developer in Madagaskar
Verifizierter Nutzer auf LinkedIn
Computer-Software, 51-200 Mitarbeiter
Verwendete die Software für: Mehr als 1 Jahr
Create interactive presentation with Mentimeter
Kommentare: Really nice. The tool is super easy to use and anybody can really use it to empower their presentations
Vorteile:
Mentimeter is the first interactive software I find really fun for companies. The first time I used it was during one of our [SENSITIVE CONTENT] presentation. He used Menti to create general interaction during his meeting. It was pretty fun an awesome to see the result appearing live on each of our screens. You can use it in very serious and more decontracted context: really nice.
Nachteile:
Answers cannot be collected, at least from what I know. It's really a "live" tool and cannot be seen again on replay.