Was ist Owl Practice?
The Owl Practice platform serves thousands of therapists across US & Canada. Owl allows mental health professionals to easily manage their clinics or private practices, and helps enable PHI and professional standards compliance. Owl also works with academic institutions across the country to power their student wellness and training clinics.
Wer verwendet Owl Practice?
Owl is a leading comprehensive and compliant solution that helps mental health practitioners manage their practice, deliver digital therapy, and acquire new clients
Wo kann Owl Practice bereitgestellt werden?
Cloud, SaaS, webbasiert
Über den Anbieter
Owl Practice
Telefon-Support
Erhältlich in diesen Ländern
Kanada
Über den Anbieter
Owl Practice
Telefon-Support
Erhältlich in diesen Ländern
Kanada
Owl Practice – Videos und Bilder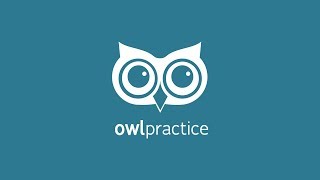 Kosten ähnlicher Produkte wie Owl Practice vergleichen
Owl Practice Funktionen
Behandlungsplanung
Bestätigung / Erinnerungen
Beurteilung-Management
Compliance-Verfolgung
Dokumentenmanagement
EMR / EHR
Formularverwaltung
Für Praxen für mentale Gesundheit
Self-Service Portal
Terminplanung
Alternativen für Owl Practice
Bewertungen über Owl Practice
Verifizierter Rezensent
Psychologist in Kanada
Verifizierter Nutzer auf LinkedIn
Psychische Gesundheitsfürsorge, 10.000+ Mitarbeiter
Verwendete die Software für: Mehr als 2 Jahre
Organizes Private Practice
Kommentare: Great software for private practice, especially if you are also employed elsewhere at the same time. Having to run your own business while working at a schoolboard can be hectic, but this software allows you to be organized and manage your client caseload more efficiently than if you were to do it all yourself.
Vorteile:
This software is a one-stop shop for all your private practice needs. It schedules, creates invoices, sends appointment reminders, stores files and case notes, all within privacy guidelines. Many of us in private practice are small businesses and do not have a secretary. This software functions similar to what an administrative assistant would do for you. It is easy to use, and even has a mobile app version which allows you to access your calendar on the main screen of your phone (it de-identifies client information too!)
Nachteile:
It is subscription-based, having to pay for it monthly/annually is not as desirable as just paying once for it. However, the software is constantly being updated with suggestions by actual psychologists and private clinicians - so being able to access the most up-do-date version is a plus despite having to pay monthly/annually for it.
Kim
Registered Psychologist in Kanada
Psychische Gesundheitsfürsorge, Selbstständig
Verwendete die Software für: Mehr als 2 Jahre
In Betracht gezogene Alternativen:
OWL for Psychology Private Practice
Kommentare: The use of OWL has been a very positive addition to my practice. It has been invaluable particularly in the world of the COVID-19 pandemic as it has allowed for more electronic/virtual services, forms, and record-keeping. The customer service team is very responsive to questions and comments for improvements.
Vorteile:
I started using OWL Practice to move my practice to electronic record keeping. This system allows for good note-taking options regarding client files. I was concerned with privacy and information staying within Canada which is a key feature I considered when selecting OWL. I appreciate this system was designed specifically for mental health practices as opposed to medicine-based options I have used in the past.
Nachteile:
Forms - being able to send forms through Owl is a great feature. It has taken some time to get used to how to create forms. Some of the features I would like to see added: - option for classification of a session as tentatively booked for a client so it can be held in my calendar without. - I have avoided using appointment reminders as I often use 'bookings' in the calendar to block off sections of time for client management/report writing. I wish there was a way to designate something that is linked to a client, but not a session that will send reminders/confirmations to clients.
Olga
Art Therapist, Supervisor in Kanada
Psychische Gesundheitsfürsorge, Selbstständig
Verwendete die Software für: 6-12 Monate
Please include group video!
Kommentare: Just that it's so streamlined - that's been helpful! It keeps me organized and is generally pretty user-friendly for clients.
Vorteile:
All of the features - that you can invoice clients, collect a payment, store notes, etc. all in one place. Customer service is phenomenal too!
Nachteile:
I have a hard time with the video functions - that there is no option for group video, and when I try to do supervision where my supervisee is playing a video clip of a session on their computer, I can't hear it!!! At times the video glitches for no apparent reason - I had a session last week where for some reason, we could not hear each other for a few minutes. My supervisees are understanding, but it's a real bother to have to sort through video glitches like that. And setting up a group call for individuals who aren't in a family is frustrating! So much behind the scenes work for me to register them all, link the accounts, make a separate event just for the video session and individual ones for each of their invoices.... oy. It would be good to have more editing features for the forms too. AND to send certain forms out automatically the morning of an appointment! Like the COVID screenings - I would love to have that go directly to the client on the morning of a scheduled appointment so that I don't have to think about it and remember to send it myself. AND more options for note-taking that aren't just writing. I am an art therapist and working with children and youth. I also use play interventions a lot. It would be nice to have a case note that's more versatile with checkboxes and other features where you can include a photo right on the same page.
Olivia
Registered clinical counsellor in Kanada
Gesundheit, Wellness & Fitness, Selbstständig
Verwendete die Software für: 6-12 Monate
In Betracht gezogene Alternativen:
On balance, good enough to keep using, but customer service needs work
Kommentare: Meets my needs now, but I would have left them months ago out of anger at their service if it weren't such a hassle to switch.
Vorteile:
The functionality is good and has been improving over the last year.
Nachteile:
Months after switching, they suddenly stopped supporting my device. It took them a month to fix the issue. I had to buy a new device for my business to function. When I asked for a one month credit on my user fee, they refused, saying that it was accessible during that time (but I don't consider suddenly requiring a desktop computer and a corded connection accessible in this decade). It was a cold response from a company that had initially been very welcoming (before they had me dependent on them).
Liana
Mental Health Counsellor in Kanada
Psychische Gesundheitsfürsorge, Selbstständig
Verwendete die Software für: 6-12 Monate
In Betracht gezogene Alternativen:
Some super helpful features, ease of use isn't always high
Kommentare: It took me a long time to set it up and feel like I had a handle on things. For main functions, it works, but when I need to make deeper changes (like services with different fees, changing details within a client profile), I'm always floundering.
Vorteile:
As a mental health practitioner working with partners and groups, I appreciate that OWL automatically links clients and **copies notes made in one chart into the charts of the other members of the therapy group.
Nachteile:
It isn't always intuitive to find the functions I want, or make changes to existing sessions. There is a strong "tree" organization to the major sections, without pathways to access different sections without "traveling back along each branch toward the trunk" so that you can "travel along another branch." I hope that metaphor makes sense! It feels very linear in this way and often interrupts flow. I also find that certain functions along a theme will be located in different places, making it confusing. For example, not all scheduling or services changes are made in the same area. I find there are many sneaky buttons within windows! The creation of forms feels a bit clunky and, for lack of a better descriptor, old. And viewing of forms that clients have filled out is often limited. I can't "view" client forms and see their entire answers - I have to download the form, which I would otherwise choose to not do. ****The self-guided help guide is TERRIBLE. Searching help articles by keyword yields MANY results, many of which seem to be totally unrelated.