Was ist Equicty?
Equicty delivers digital stable management solutions. Our purpose is making equestrians life easier by automating their key business activities in order to save time to focus on whats truly important: managing horses! Customers refer to our tool as a virtual assistant and thats exactly what we want to become. The supporting factor in your stable no matter the size, discipline or activity focus!
Our goal is to provide a support for anyone active in the horse industry!
Wer verwendet Equicty?
Currently active in 26 countries world wide. Sport Stables / Horse Traders / Riding clubs / Livery yard / Breeders / Breeding centra / Equine veterinarians Etc Independent from sport discipline!
Equicty – Details
Equicty
2014 gegründet
Equicty – Details
Equicty
2014 gegründet
Equicty – Videos und Bilder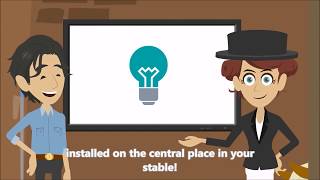 Kosten ähnlicher Produkte wie Equicty vergleichen
Startpreis
Nicht verfügbar
3,99 $/Monat
135,00 $/Monat
6,95 $/Monat
Equicty – Bereitstellung und Support
Einsatz
Cloud, SaaS, webbasiert
Android (mobil)
iPhone (mobil)
iPad (mobil)
Training
Persönlich
Live Online
Webinare
Dokumentation
Funktionen von Equicty
Abrechnung & Rechnungsstellung
Ad-hoc-Berichterstattung
Aktivitäts-Verfolgung
Alarmfunktion / Benachrichtigungen
Aufgabenmanagement
Aufgabenplanung
Automatische Sicherung
Automatisierte Terminplanung
Berichterstattung und Statistik
Bestandsführung
Buchhaltung
Datenspeicher-Management
Dokumentenmanagement
Dokumentenmanagement
Dokumentenspeicher
Einkommen & Bilanz
Elektronische Zahlungen
Ereignis-Nachverfolgung
Erinnerungen
ID-Tracking
Integration in die Buchhaltung
Kalenderverwaltung
Kommunikationsmanagement
Kommunikationsprotokoll
Kontaktmanagement
Kostenverfolgung
Kundendatenbank
Kundendatenbank
Kundenhistorie
Leistungskennzahlen
Mitarbeitermanagement
Multichannel-Marketing
Patientenakten
Pferde-Aufzeichnungen
Pferde-Datenbank
Rechnungsmanagement
Rollen-basierte Genehmigung
SSL-Sicherheit
Stammbaum-Nachverfolgung
Standortverfolgung
Terminplanung
Terminverwaltung
Unterricht-Management
Unterstützt YouTube
Versorgungs-Management
Vorlagen-Management
Wettkampf-Rekorde
Whiteboard
Zuchtmanagement
Zugriffskontrollen / Berechtigungen
Jess M.
Copywriter in Italien
Verifizierter Nutzer auf LinkedIn
Schreiben & Editieren, 2-10 Mitarbeiter
Verwendete die Software für: 1-5 Monate
Great product for working teams
Kommentare: Great. Excellent product
Vorteile:
I used this software as part of a working stable team. It was excellent for keeping track of what certain horses had done and setting up schedules.
Nachteile:
It was not possible to use it when offline
Antwort von Equicty
vor 12 Monaten
Hi Jess, thank you for your great feedback. It means a lot to us. Kind regards, Rachel
Inès V.
Manager in Niederlande
Professionelles Training & Coaching, 2-10 Mitarbeiter
Verwendete die Software für: 6-12 Monate
In Betracht gezogene Alternativen:
Helps to see the future
Kommentare: We are mostly solving the book keeping issues & training oversight by using the software. It's so easy to see who is working, doing what and where every day.
Vorteile:
I love the fact that every team member can easily edit & comment on each horse's daily routine. As i work in the office of our family business during the day it is super easy to follow what's going on at home. We also have a small breeding program going on. Before my groom was keeping hand written notes about upcoming babies & what stallions were used. Now we can enter all the necessary data into the software so no info gets lost. So super easy!
Nachteile:
It might be a bit of a struggle in the beginning to put all your horses, team members, accountancy info etc into the software. Depending on how many horses etc you have it will take quite a bit of time. But once it's in, you're all set to go!
Antwort von Equicty
vor 12 Monaten
Hello Ines, thank you so much for review and always being ready to help us out. Kind regards, Rachel :)
Gwendal L.
Cavalier in Frankreich
Landwirtschaft, Selbstständig
Verwendete die Software für: Mehr als 1 Jahr
My review
Kommentare: Organisation for the horse's work
Vorteile:
All the videos, pictures, x-ray that you got for every horses
Nachteile:
Maybe the management for the daily organisation
Antwort von Equicty
vor 12 Monaten
Hello Gwendal, thank you very much for your review. Kind regards, Rachel
Gabriela S.
Business Administration Student and Rider in Frankreich
Sport, Selbstständig
Verwendete die Software für: Mehr als 1 Jahr
Unexpented neecesity
Kommentare: I did not know about the software before I arrived at a stable in Toulouse, France. At the beginning I was shocked by the technology and didn't think it was quite necessary. But I was completely wrong. Because I'm a student my schedule changes a lot and is not constant. Instead of always texting or calling someone in the stable and explaining my schedule, they can see it in the main screen in the stable. This way neither of us is stressed if a the horse has already worked or not. They know exactly if the rider is coming to rico or if the horse needs to be worked without the usual text or call. I came to the conclusion that it was an unexpected necessity for my and for many others.
Vorteile:
I was impressed by how easy is to use the software. Even for someone that does not master the use of technology . The app is pretty straight-forward,all the needed activities are included in the options. It was designed to replace the common whiteboard in a more organised and smarter way. Even if your activity is quite estrange, you have an option to add it.
Nachteile:
If I were to add something it would be a the possibility of common tasks for the rider and horse. For instance if I work a horse in the plat. Have the option already made and later only drag the option into the week work of the horse.
Antwort von Equicty
vor 12 Monaten
Hello Gabriela, I would like to thank you for taking your time to write your super review. We are trying to work on the common tasks that you have mentioned so we can make it easier and faster for customers to plan. Thanks again for your time and have a nice day. Kind regards, Rachel.
Yann G.
Manager Stable in Frankreich
Sport, 2-10 Mitarbeiter
Verwendete die Software für: Mehr als 1 Jahr
Comment rendre votre quotidien d'écurie agréable et indispensable !
Kommentare: Optimisation du travail d'équipe, du travail d'écurie avec les propriétaires.
Optimisation du suivi santé des chevaux et du travail avec les vétérinaires, maréchaux et autres
Visibilité parfaite pour les chevaux de commerce.
Satisfaction de ce support par nos clients qui fait de Equicty un atout dans notre service et dans notre écurie.
Vorteile:
Le logiciel est très simple. Chaque utilisateur à son accès et l'utilise quotidiennement. Au Haras de Néroli, nous ne pouvons plus nous en passer. Le programme des chevaux, des employés tout est pensé pour la meilleure organisation. L'historique santé des chevaux est également accessible pour toutes les personnes et ainsi, nous travaillons avec un historique fiable. L'écran dans l'écurie est un plus mais est également indispensable pour exploiter à 100% le logiciel. Nous l'avons adopté et nous ne sommes pas prêt de nous en séparer ! Le support est très réactif, l'utilisation simple, bref, MERCI EQUICTY.
Nachteile:
La fluidité et réactivité du logiciel de la connexion wifi du tableau et la répétition des taches (idem à la dernière) via iPhone. Il se peut qu'il y ait quelques big de temps à autres et que le logiciel tourne dans le vide.
Antwort von Equicty
vor 12 Monaten
Hello Yann, Thank you for your effort in writing a great review. We greatly appreciate your feedback and for giving us ideas on where to improve. Kind regards, Rachel