Was ist Equicty?
Equicty delivers digital stable management solutions. Our purpose is making equestrians life easier by automating their key business activities in order to save time to focus on whats truly important: managing horses! Customers refer to our tool as a virtual assistant and thats exactly what we want to become. The supporting factor in your stable no matter the size, discipline or activity focus!
Our goal is to provide a support for anyone active in the horse industry!
Wer verwendet Equicty?
Currently active in 26 countries world wide. Sport Stables / Horse Traders / Riding clubs / Livery yard / Breeders / Breeding centra / Equine veterinarians Etc Independent from sport discipline!
Wo kann Equicty bereitgestellt werden?
Cloud, SaaS, webbasiert, Android (mobil), iPhone (mobil), iPad (mobil)
Über den Anbieter
Equicty
2014 gegründet
24/7 Live-Support
Chat
Erhältlich in diesen Ländern
Belgien
Sprachen
Französisch, Niederländisch
Über den Anbieter
Equicty
2014 gegründet
24/7 Live-Support
Chat
Erhältlich in diesen Ländern
Belgien
Sprachen
Französisch, Niederländisch
Equicty – Videos und Bilder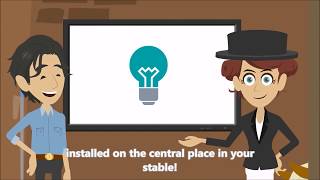 Kosten ähnlicher Produkte wie Equicty vergleichen
Jess M.
Copywriter in Italien
Verifizierter Nutzer auf LinkedIn
Schreiben & Editieren, 2-10 Mitarbeiter
Verwendete die Software für: 1-5 Monate
Great product for working teams
Kommentare: Great. Excellent product
Vorteile:
I used this software as part of a working stable team. It was excellent for keeping track of what certain horses had done and setting up schedules.
Nachteile:
It was not possible to use it when offline
Antwort von Equicty
letztes Jahr
Hi Jess, thank you for your great feedback. It means a lot to us. Kind regards, Rachel
Jewel Y.
Office Manager in USA
Landwirtschaft, 11-50 Mitarbeiter
Verwendete die Software für: 1-5 Monate
In Betracht gezogene Alternativen:
Excellent Program
Kommentare: My overall experience with Equicty was fantastic. I did weeks of research and about 10 demos of different programs, and not one program had the setup that Equicty has. Not only is the program simple to maneuver around, it is very easy to learn and has everything you need in one place. The team that has put this program together has obviously put a lot of time and effort in to building it and I was very impressed. Other programs were either too simple and didn't have what we needed for barn management OR they were so complicated and needed too much detail. Equicty suited our horse farm (which does farrier, boarding, training, endurance training and endurance racing all in one) as we could bring everything together in one place. In addition to the program being setup so well, I was constantly impressed with [SENSITIVE CONTENT] and his willingness/patience to help me whenever I needed it. I was able to train all of our personnel and enter everything into the program very well and will always keep this program in mind should someone ask me what I suggest. Thank you everyone at Equicty, you've done a truly remarkable job.
Vorteile:
This program has brought the management of our 50 horse farm together, including tracking our horse races, the training of each horse and rider, tracking of the medical for our horses as well as the tracking of our farrier work.
Nachteile:
Nothing was difficult about this program. There are features I would like to see, such as notes on the health/riding entries being able to be viewed in billing and a bit more on the mobile app for our managers in the field.
Antwort von Equicty
vor 2 Monaten
We are overwhelmed by your kind response and very thankful to receive your feedback. We are delighted that equicty is your superior choice. Please continue to reach out to us for support in the future. Warm regards, Team equicty
Gwendal L.
Cavalier in Frankreich
Landwirtschaft, Selbstständig
Verwendete die Software für: Mehr als 1 Jahr
My review
Kommentare: Organisation for the horse's work
Vorteile:
All the videos, pictures, x-ray that you got for every horses
Nachteile:
Maybe the management for the daily organisation
Antwort von Equicty
letztes Jahr
Hello Gwendal, thank you very much for your review. Kind regards, Rachel
Inès V.
Manager in Niederlande
Professionelles Training & Coaching, 2-10 Mitarbeiter
Verwendete die Software für: 6-12 Monate
In Betracht gezogene Alternativen:
Helps to see the future
Kommentare: We are mostly solving the book keeping issues & training oversight by using the software. It's so easy to see who is working, doing what and where every day.
Vorteile:
I love the fact that every team member can easily edit & comment on each horse's daily routine. As i work in the office of our family business during the day it is super easy to follow what's going on at home. We also have a small breeding program going on. Before my groom was keeping hand written notes about upcoming babies & what stallions were used. Now we can enter all the necessary data into the software so no info gets lost. So super easy!
Nachteile:
It might be a bit of a struggle in the beginning to put all your horses, team members, accountancy info etc into the software. Depending on how many horses etc you have it will take quite a bit of time. But once it's in, you're all set to go!
Antwort von Equicty
letztes Jahr
Hello Ines, thank you so much for review and always being ready to help us out. Kind regards, Rachel :)
Gabriela S.
Business Administration Student and Rider in Frankreich
Sport, Selbstständig
Verwendete die Software für: Mehr als 1 Jahr
Unexpented neecesity
Kommentare: I did not know about the software before I arrived at a stable in Toulouse, France. At the beginning I was shocked by the technology and didn't think it was quite necessary. But I was completely wrong. Because I'm a student my schedule changes a lot and is not constant. Instead of always texting or calling someone in the stable and explaining my schedule, they can see it in the main screen in the stable. This way neither of us is stressed if a the horse has already worked or not. They know exactly if the rider is coming to rico or if the horse needs to be worked without the usual text or call. I came to the conclusion that it was an unexpected necessity for my and for many others.
Vorteile:
I was impressed by how easy is to use the software. Even for someone that does not master the use of technology . The app is pretty straight-forward,all the needed activities are included in the options. It was designed to replace the common whiteboard in a more organised and smarter way. Even if your activity is quite estrange, you have an option to add it.
Nachteile:
If I were to add something it would be a the possibility of common tasks for the rider and horse. For instance if I work a horse in the plat. Have the option already made and later only drag the option into the week work of the horse.
Antwort von Equicty
letztes Jahr
Hello Gabriela, I would like to thank you for taking your time to write your super review. We are trying to work on the common tasks that you have mentioned so we can make it easier and faster for customers to plan. Thanks again for your time and have a nice day. Kind regards, Rachel.