Was ist ConstructionOnline?
Mit ConstructionOnline kannst du schneller, intelligenter und besser bauen.
Wer verwendet ConstructionOnline?
Bauunternehmer, Bauherren, Ingenieure und Architekten.
Wo kann ConstructionOnline bereitgestellt werden?
Cloud, SaaS, webbasiert, Android (mobil), iPhone (mobil), iPad (mobil)
Über den Anbieter
UDA Technologies
Ansässig in Auburn, USA
1999 gegründet
Telefon-Support
Chat
Erhältlich in diesen Ländern
Kanada, Vereinigte Staaten
Sprachen
Englisch, Spanisch, zh-hant
Über den Anbieter
UDA Technologies
Ansässig in Auburn, USA
1999 gegründet
Telefon-Support
Chat
Erhältlich in diesen Ländern
Kanada, Vereinigte Staaten
Sprachen
Englisch, Spanisch, zh-hant
ConstructionOnline – Videos und Bilder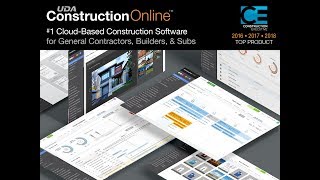 Kosten ähnlicher Produkte wie ConstructionOnline vergleichen
ConstructionOnline Funktionen
Abrechnung & Rechnungsstellung
Aktivitäts-Dashboard
Angebote / Schätzungen
Angebotserstellung
Anpassbare Vorlagen
Aufgabenmanagement
Aufgabenplanung
Auftragnehmer-Management
Auftragskostenrechnung
Auftragsänderungsmanagement
Berichterstattung / Analyse
Berichterstattung und Statistik
Bestell-Management
Budgetverfolgung / Auftragskostenrechnung
CRM
Dokumentenmanagement
Drittanbieter-Integration
Echtzeit-Aktualisierungen
Für die AEC-Branche
Genehmigungsmanagement
Historische Datenbank
Integration in die Buchhaltung
Job-Management
Job-Planung
Kalender-/Erinnerungssystem
Kalenderverwaltung
Kontaktmanagement
Kosten-Datenbank
Kostenschätzung
Kundendatenbank
Kundennachverfolgung
Leadmanagement
Mobiler Zugriff
Projekt-Nachverfolgung
Projektmanagement
RFI und Vorlagen
Sales-Pipeline-Management
Schätzung
Statusverfolgung
Terminplanung
Timesheet Management
Vertrags-/Lizenz-Management
Werkzeuge zur Zusammenarbeit
Wohngebäude
Zeit & Kosten Verfolgung
Alternativen für ConstructionOnline
Bewertungen über ConstructionOnline
Rean W.
President in USA
Verifizierter Nutzer auf LinkedIn
Verwendete die Software für: 1-5 Monate
This is the best new "toy" I've had in years. I feel like a kid in a candy store!
Kommentare: Saves time. Makes it easy to find stuff. Helps you stay organized. Keeps subs, vendors, owners, architects, vendors all on the same page.
Vorteile:
I am a new user of this kind of software. A few months ago I did not even know that something like this existed. It has opened a whole new world for me and I am blown away by what this software can do. We demo'ed a few competing products before making a choice and it was the wide range of features at the most competitive price that sold us on ConstructionOnline. I especially like the messaging feature which is basically an email system dedicated to one specific project.
Nachteile:
There is nothing I really dislike about ConstructionOnline, there are just some features I do not use as they do not meet my needs as a commercial general contractor. For example, I do not use Estimating and Change Orders as they seem to be less robust than some of the other software products. These features seem to be geared more towards the residential market. However, I realize it is hard to be everything for everyone. A feature, I think, that would be nice would be the ability to sign documents electronically. Maybe one can do it through Redline; if so, I have not been able to figure it out yet. As a general contractor one has to collect submittal packages from vendors and subcontractors, review them, and then attach a separate sheet to the package, that contains your stamp of approval/comments/signature on it, before you forward the submittal package on to the architect/engineer for review. On this submittal sheet there is space for the different reviewers to add their stamps as well. It would be nice if ConstructionOnline could generate this submittal sheet that you can attach to submittal packages sent to you. Currently, I generate the submittal sheet in another project management program, print it, place my stamp on it, sign it, scan it back into my computer, upload it to a pdf editor, add it to the submittal package file, and then upload the combined file to ConstructionOnline. It would be nice if you could do it all in ConstructionOnline.
Greg C.
Construction Superintendent in USA
Bau, 51-200 Mitarbeiter
Verwendete die Software für: 1-5 Monate
Housing Project
Kommentare: Keeping a major development organized, and communication between al aspects of the company smooth.
Vorteile:
Easy start up and intuitive to use. Transferable from laptop to tablet to phone.
Nachteile:
When taking photos of multiple Projects, it is necessary to back completely out of the Program and then re-enter. There is no way to jump from project to project.
Steve F.
President in USA
Bau, 2-10 Mitarbeiter
Verwendete die Software für: Mehr als 2 Jahre
Quelle: SoftwareAdvice
In Betracht gezogene Alternativen:
Almost, but missed the mark
Kommentare: Customer service is very helpful for the product they have. Unfortunately they miss on some pretty basis stuff. We have been told for over a year that development team is working on some of the basic fixes and still nothing changes.
Vorteile:
Estimation portion is good. Job costing is fair.
Nachteile:
It does not have the ability to provide clients with add/alternate pricing. Seems like a very basic feature that most construction companies are asked to provide. This one slipped by us through all the demo's and we have been frustrated for over a year with this. Have to manually do work arounds. Also we are a commercial construction company that does about 300 jobs a year. The software does not even have the ability to assign each project a job #. With as many jobs going on, we have to be able to cost every purchase and we do that using job #'s and PO#'s. We are manually assigning each job a number. These are just two of the larger misses on this software.
Bau, 2-10 Mitarbeiter
Verwendete die Software für: Mehr als 2 Jahre
In Betracht gezogene Alternativen:
Outstanding Support!
Kommentare: Organization, communication, scheduling, efficiency, productivity all improved by utilizing UDA.
Vorteile:
The best thing about this software is the almost instant customer support given through the live chat and the knowledge of all of the techs is superb.
Nachteile:
We are getting ready to integrate Quickbooks Desktop and it would be nice if UDA had their own accounting software within the program.
Kelly C.
Project Manager in USA
Bau, 11-50 Mitarbeiter
Verwendete die Software für: 1-5 Monate
In Betracht gezogene Alternativen:
Excellent speed and ease of use
Kommentare: Mananging numerous subcontractors on numerous projects. Makes keeping track easy.
Vorteile:
The fact that it is extremely fast and has a ton of great features
Nachteile:
Not sure yet I haven't used enough to find a con.