Das könnte dich auch interessieren:
Was ist Kotobee Author?
Kotobee Author ist ein umfassender E-Book-Ersteller und EPUB-Editor, der sich für Bildung, Schulung und Veröffentlichung eignet. Kotobee Author ist ein Gewinner des Academics Choice 2016 Smart Media Award.
Du kannst problemlos interaktive E-Books mit Video, Audio, 3D, Book Widgets, Fragen und mehr erstellen. Passe das Erscheinungsbild deiner E-Book-Apps an und emuliere das Ergebnis auf verschiedenen Plattformen und Geräten. Exportiere dein E-Book in über 10 verschiedene Formate, z. B. Web-Apps, mobile Apps und E-Library.
Wer verwendet Kotobee Author?
Im Wesentlichen Autorenschaft, Lehrende, Ausbildende, Selbstverlegende. Edtech, E-Learning, geschäftliches Lernen, Schreiben.
Kotobee Author – Details
Kotobee
2014 gegründet
Kotobee Author – Videos und Bilder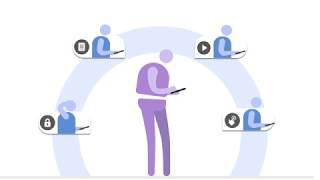 ▶︎
Kotobee Author – Details
Kotobee
2014 gegründet
Kosten ähnlicher Produkte wie Kotobee Author vergleichen
Startpreis
150,00 $/einmalig
120,00 $/Jahr
29,00 $/Monat
69,00 $/Monat
Kotobee Author – Bereitstellung und Support
Kundenbetreuung
E-Mail/Helpdesk
FAQ/Forum
Wissensdatenbank
Telefon-Support
Chat
Einsatz
Cloud, SaaS, webbasiert
Mac (Desktop)
Windows (Desktop)
Training
Persönlich
Live Online
Webinare
Dokumentation
Videos
Funktionen von Kotobee Author
API
Ablaufplan
Aktivitäts-Dashboard
Aktivitäts-Verfolgung
Alarmfunktion / Benachrichtigungen
Anpassbare Berichte
Anpassbare Fragen
Anpassbare Vorlagen
Asynchrones Lernen
Aufgabenmanagement
Autorensysteme
Benutzer-Management
Berichterstattung und Statistik
Beurteilung-Management
Content-Management
Daten-Import / -Export
Drag-and-Drop
Drittanbieter-Integration
Echtzeit-Analytik
Echtzeit-Daten
Einmalige Anmeldung
Engagement-Tracking
Fortschrittsbericht
Fortschrittsverfolgung
Fähigkeiten-Nachverfolgung
Gamification
Gemischtes Lernen
Inhalt-Bibliothek
Kommentare / Notizen
Kundenspezifisches Branding
Kurs-Veröffentlichungen
Kurse mit Kursleiter
Kurse zum Selbststudium
Lernmanagement
Mehrsprachig
Mobiler Zugriff
Multimedia-Unterstützung
PowerPoint-Konvertierung
Quiz
SCORM-Compliance
Selbst-Lernen
Synchrones Lernen
Trainingsmanagement
Umfragen & Feedback
Video-Management
Video-Unterstützung
Videokonferenzen
Vorlagen-Management
Zertifizierung und Lizenzierung
interaktive Inhalte
Jim paul B.
Teacher in Philippinen
Verifizierter Nutzer auf LinkedIn
E-Learning, 10.000+ Mitarbeiter
Verwendete die Software für: Mehr als 2 Jahre
Kotobee for Developing Interactive E-books
Kommentare: As a teacher, I find Kotobee Author as a very useful tool in developing learning materials that capitalize on e-learning as its format and way of delivery. With this tool, I have unlimited opportunities to engage my students in meaningful, engaging, and interesting way to learn stuff. Its special features such as photo galleries, integrated animations and videos, and interactive quizzes with real-time feedback are a sure hit among the learners. Add on the list the myriad of widgets that can be used in incorporating gamification in the classroom or in online distance learning. I cannot ask for more. It's a time-saving, all-in authoring tool for teachers like me! More power, Kotobee!
Vorteile:
Kotobee Author has all the tools one needs in making an interactive e-book. I love the fact that its output can take several formats: an embeddable tool in various LMS platforms, a separate mobile application, or as an e-pub material. Further, I find its features very engaging. For example, third-party elements can be integrated in the e-book such as Hot Potatoes, Eclipse Crossword, and Word Search Puzzle Maker. And with the aid of basic coding, one can facilitate unlimited materials using HTML 5 Package. Finally, the tool gets updated more often than not, which I find so interesting since every update comes with improved features. Oh, and I'd also like to add that its customer support is top-of-the-line, since it gives free one-on-one demos or tutorials which the user can schedule in his/her most convenient time. Awesome!
Nachteile:
It has everything I needed in looking for a quality authoring tool, but Kotobee software can still be improved if it could allow more access to its elements and features even offline. It's not all the time that I'm connected to a WiFi, and in cases where internet connection is poor, it becomes challenging to proceed working on the platform, though one once is already connected to the net, the application tool automatically syncs and saves your work, so nothing goes to waste.
E-Learning, 2-10 Mitarbeiter
Verwendete die Software für: 1-5 Monate
Great Solution
Kommentare: Overall, so far it is a great solution for my company's goals.
Vorteile:
The features and integration with other apps
Nachteile:
No cons at this point. The customer service seems to really value the customer.
Amor B.
Teacher in Philippinen
Verifizierter Nutzer auf LinkedIn
Bildungsmanagement, 501-1.000 Mitarbeiter
Verwendete die Software für: 1-5 Monate
eBook Creation with Kotobee Author: Its Advantages and Drawbacks
Kommentare: Overall, Kotobee Author is an interactive ebook appropriate for my blended class specifically for reference use as well. It only needs to be downloaded so that means offline access is possible with fewer exceptions if you have URL links embedded.
Vorteile:
The most impactful feature would be to import a PDF or Word document into a Kotobee Author file (there might be some tweakings needed). It makes an eBook interactive, engaging, and eye-catching to the readers. With Kotobee Author, you can add any types of images, videos, 3D models, and even graded assessments. Even when using words, you can link them to any websites, chapters, or anchors in the book. To lessen the bandwidth usage, you do not need to open a browser since it automatically pops up for your convenience. Kotobee Author has another exquisite feature that is widget integration from sites such as BookWidgets that makes students attentive and interested. You can add custom autoplay audio that aids their flow of reading.
Nachteile:
Since Filipino students mostly use phones for online learning, the fact that I cannot separately edit its mobile app version is unbearable. I like to make custom header titles above my lessons (using a laptop) but once you view it on mobile, it becomes unorganized. Also, there are times in the customize tab, the gear keeps on loading without showing the web preview. Thus, not making the system fit for a huge image size so it needs primary optimization.
Maria joana P.
Teacher in Philippinen
Bildungsmanagement, 51-200 Mitarbeiter
Verwendete die Software für: 1-5 Monate
In Betracht gezogene Alternativen:
Kotobee is the ebook maker you wanted to be
Kommentare: I love using this software most especially for creating my customized materials for the lesson.
Vorteile:
The kotobee author is very user friendly most especially for teachers who are beginning to embrace remote learning with our teaching. What I also like most of this software is that you can organize your lessons in a way that it is interactive for the learners.
Nachteile:
The software could have built in application so that it will be easier to navigate and create materials most especially for teachers.
Mark anthony J.
EdTech Specialist in Philippinen
Verifizierter Nutzer auf LinkedIn
Grundschul- & Sekundarbildung, 10.000+ Mitarbeiter
Verwendete die Software für: Mehr als 1 Jahr
Kotobee Authoriffic!
Kommentare: Kotobee Author allowed our teacher participants in our several trainings here in the Philippines to create their own interactive ebook that is contextualized and personalized according to the needs of their learners and the learning competencies required. It also allows them to use it offline which solves the internet connection problem in some areas. Exciting future for digital authoring for teachers!
Vorteile:
Kotobee Author brings out your innate creativity! Its easy to create your own interactive ebook that can be read online or offline. I love the flexibilities such as built-in testing and exporting in different devices/platforms, the rich content that can excite and motivate our learners and the over all experience that can definitely transform education in this 4IR.
Nachteile:
None at all but if you can allow us to use a library of books for kids for free in our commons.deped.gov.ph site (which can be accessed here in the Phil using Free Data) that would be awesome!