Was ist Business Hangouts?
Business Hangouts ist eine robuste Webinar-/Web-Konferenzlösung für Marketingexperten, Trainer, Unternehmer und KMU. Keine Downloads und keine PINs für die Zuschauer. Zeichne direkt auf YouTube/Social Media auf. Das Tool bietet einen integrierten E-Mail-Service, der die Zuschauer an das kommende Webinar erinnert und ein Follow-up mit deiner Marke durchführt. Das Tool beinhaltet Unterstützung für mehrere Moderatoren, private oder öffentliche Veranstaltungen, mehrere Freigabeoptionen und einheitlicher Chat mit voller Moderatorensteuerung. Kann vom G-Suite-Marktplatz heruntergeladen werden.
Wer verwendet Business Hangouts?
Unternehmen, Vermarkter*innen, Pädagog*innen/E-Learning, Regierungsbehörden, religiöse Organisationen, gemeinnützige Organisationen, Franchise-Betreiber*innen, Online-Akademien, Event-Organisator*innen/Promoter*innen, Softwareentwickler*innen/Anbieter*innen
Wo kann Business Hangouts bereitgestellt werden?
Cloud, SaaS, webbasiert, Mac (Desktop), Windows (Desktop), Android (mobil), iPhone (mobil)
Über den Anbieter
JetVideo Technologies
2011 gegründet
Telefon-Support
24/7 Live-Support
Chat
Über den Anbieter
JetVideo Technologies
2011 gegründet
Telefon-Support
24/7 Live-Support
Chat
Business Hangouts – Videos und Bilder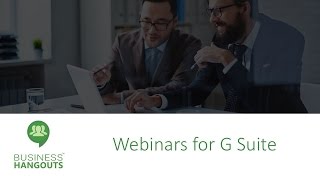 Kosten ähnlicher Produkte wie Business Hangouts vergleichen
Business Hangouts Funktionen
Alarmfunktion / Benachrichtigungen
Berichterstattung / Analyse
Bildschirm teilen
Kundenspezifisches Branding
Live-Chat
Mobiler Zugriff
Multi-Hosts
Q&A Management
Umfragen/Abstimmungen
Veranstaltungsmanagement
Alternativen für Business Hangouts
Bewertungen über Business Hangouts
Genau
Founder in Brasilien
Verifizierter Nutzer auf LinkedIn
Internet, 2-10 Mitarbeiter
Verwendete die Software für: Mehr als 1 Jahr
In Betracht gezogene Alternativen:
Good service, awesome experience
Kommentare: Overall experience is good. Only thing I should change is more interactivity between users while chatting.
Vorteile:
Most part of softwares are heavy and with a low latency.
Nachteile:
Few add-ons and plugins. We miss more backgrounds and other tools to enhance to experience of chat
Michell
Owner in Brasilien
Import und Export, Selbstständig
Verwendete die Software für: Mehr als 1 Jahr
Google Hangout the best tool for virtual meetings so far
Vorteile:
Very very easy to use, even a person that is not familiar with technology can work with it. It's share the link and connect! there is no need of user ID and this stuffs...
Nachteile:
It only works with Google Chrome and Firefox browsers, they should go further and be open to other browsers such as Safari, Internet Explorer, etc once some companies are limited about it, so this becomes a limitation. there should be an option for user to see the invited people when sharing a presentation. You can see them but only when you are not presenting full screen materials, this is bad once you lack the expression of your audience.
Andy
Head Of Marketing in Deutschland
Verifizierter Nutzer auf LinkedIn
Computer-Software, 51-200 Mitarbeiter
Verwendete die Software für: Kostenlose Testversion
Quelle: GetApp
Miserable UX
Vorteile:
-Probably good features -You can send invites to event directly from the dashboard -Integration with Google Calendar
Nachteile:
-More expensive than other solutions -Set up is brutal: you need gmail, G+, a youtube account, AdSense Account, Admin Ritghts on your domain, monetization activated on Youtube, LiveStreaming activated plus a bunch of other requirements and settings -Onboarding via thick pdf handbook!!! OR Set up a meeting with a rep (whenever you can find a spot to schedule a meeting to have support to setup the whole thing) - Got to sign up and went through the painful process of setting up the whole thing just to find out that the product can't be used in Germany (where I currently live). They accepted my credit card and billing address no problem, though. Maybe warn people before they waste two hours? -They say 'free trial, cancel anytime' but there's no visible option to cancel/suspend/delete account anywhere. They don't talk about canceling your account in the FAQs (where you should normally find this kind of information) and searching their documentation returns zero document/guides on this topic. You can access community support by first requesting to be accepted in a 'forum' (it's actually a G+ community). Once you're accepted you have to scroll through all the entries and hope to find somebody who managed to cancel their account. At this point you just feel trapped. Next step, blocking the credit card.
Martin
Administrative Clerk in USA
Verifizierter Nutzer auf LinkedIn
Informationstechnologie & -dienste, 10.000+ Mitarbeiter
Verwendete die Software für: Mehr als 1 Jahr
Business Hangouts has the perfect web conferencing tool.
Kommentare: I really thought that it was very easy to use and it provide a much better option of video conferences than most of the other video platform. Through the Business Hangouts software, scheduling the audio and video calls is very easy. Our conversation chat through the audio and video conferences and screen sharing all good by the Business Hangouts software.
Vorteile:
The best thing of the Business Hangouts is that we can easily schedules our calls and meeting and in this why the support lines of our calling is very helpful for us. The outstanding features of the business hangouts makes this software powerhouse such as file sharing, polling, screen, video sharing and the ability to record. This software let me organize a video conference meeting with everyone at anytime. This software is an efficient software for the audio and video conferencing which allowing me to communicate with our friends, colleagues and team members. Hence, it is a best way for collaboration.
Nachteile:
Mostly the business hangouts works properly but sometimes it created some issues such as it is not as easy to get sound working and get things setup. The quality of video conference is not as best as should. Sometimes the new users have to face difficulty when it is loading due to which I have to sign in again and then our precious time will be waste but it is not all time issue. When we sharing our screen, the video conference quality will be automatically decreased. But still it is an excellent platform for meeting collaboration.
Carlos Alberto
Gerente de Finanzas Tributarias de FOPNPROCINE in Venezuela
Verifizierter Nutzer auf LinkedIn
, 51-200 Mitarbeiter
Verwendete die Software für: Mehr als 2 Jahre
Impotant software since it allows you to hold online meetings and video conferences with your client
Kommentare: It can be recorded commercial events and posted on youtube
Vorteile:
The system is very interesting because it allows you to hold online meetings in all parts of the world, you only need your clients, students or guests to be connected to perform any event, as well as having online support that helps you solve any problem you may have. present, also allows you to customize your video conferences to the style you have in your company, being a tool with low cost value with respect to the skills, so it is very useful when conducting meetings online
Nachteile:
You must have a very good online connection to carry out your meetings in lines and video conferences, and it should be more commercially driven so that it is better known in the market, despite the good customers that use it.