Was ist LiveTour?
Alles, was du brauchst, um deine fesselnden virtuellen Touren zu erstellen und jeden Raum in 360 Grad zu erfassen. Erhalte dein komplettes VR-Kit gegen eine einfache monatliche Abonnementgebühr.
Wer verwendet LiveTour?
Immobilienmakler, Innenarchitekten, Fotografen, Einzelhändler oder einfach alle, die einen Raum in 360-Grad-virtueller Realität präsentieren möchten.
LiveTour – Details
iStaging
2015 gegründet
LiveTour – Details
iStaging
2015 gegründet
LiveTour – Videos und Bilder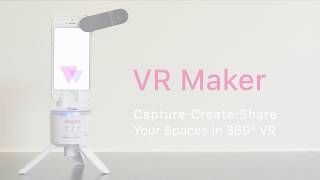 Kosten ähnlicher Produkte wie LiveTour vergleichen
Startpreis
9,00 $/Monat
Nicht verfügbar
N/A
149,00 $/einmalig
LiveTour – Bereitstellung und Support
Einsatz
Cloud, SaaS, webbasiert
Android (mobil)
iPhone (mobil)
iPad (mobil)
Training
Live Online
Webinare
Dokumentation
Funktionen von LiveTour
API
Agent-Management
Aktivitäts-Dashboard
Aktivitäts-Verfolgung
Alarmfunktion / Benachrichtigungen
Anpassbare Berichte
Anpassbare Vorlagen
Aufgabenmanagement
Berichterstattung und Statistik
CRM
Content-Management
Daten-Import / -Export
Datensynchronisation
Dokumentenmanagement
Dokumentenspeicher
Drag-and-Drop
Drip-Kampagnen
Drittanbieter-Integration
E-Mail Marketing
E-Mail-Management
E-Mail-Vorlagen
Echtzeit-Benachrichtigungen
Elektronische Unterschrift
Erinnerungen
Immobilienverwaltung
Kalenderverwaltung
Kampagnenmanagement
Kommunikationsmanagement
Konfigurierbarer Workflow
Kontakt-Datenbank
Kontaktmanagement
Kunden-Objekt-Abstimmung
Kundenmanagement
Kundenportal
Kundenspezifisches Branding
Lead-Erfassung
Lead-Generierung
Lead-Pflege
Leadmanagement
Pipeline-Management
Provisionsmanagement
Social-Media-Integration
Terminverwaltung
Transaktionsmanagement
Verfolgung von Interaktionen
Verwaltung von Auflistungen
Vorlagen-Management
Website-Management
Workflow-Management
Zugriffsquellen-Verfolgung
3D-Visualisierung
API
Anpassbare Kategorien
Anwendungsentwicklung
Augmented / Mixed Reality
Benutzerinteraktion-Nachverfolgung
Berichterstattung / Analyse
Berichterstattung und Statistik
Bildbearbeitung
Bildbibliothek
Content-Management
Daten-Import / -Export
Datenvisualisierung
Design-Management
Drag-and-Drop
Drittanbieter-Integration
Echtzeit-Daten
Gemischtes Lernen
Geräteübergreifende Veröffentlichung
Immersive Umgebung
Inhalt-Bibliothek
Inhaltserstellung
Inspektions-Management
Konfigurationsmanagement
Kundenspezifisches Branding
Meeting-Management
Mehrfache Format-Unterstützung
Multimedia-Unterstützung
Planungs-Tools
Produktvisualisierung
Projektmanagement
Projektvorlagen
Prozess-Simulation
Prädiktive Analytik
Präsentations-Streaming
Rollen-basierte Genehmigung
SCORM-Compliance
Selbst-Lernen
Social-Media-Integration
Teilen in sozialen Medien
Trainingsmanagement
Video-Management
Video-Unterstützung
Videobearbeitung
Virtual Prototyping
Virtuelle Meetings
Werkzeuge zur Zusammenarbeit
Workflow-Management
Zugriffskontrollen / Berechtigungen
interaktive Inhalte
360-Site Stream
API
Aktivitäts-Dashboard
Aufgabenmanagement
Berichterstattung / Analyse
Berichterstattung und Statistik
Bildbearbeitung
Bildbibliothek
Content-Management
Datei-Verwaltung
Daten-Import / -Export
Drag-and-Drop
Drittanbieter-Integration
E-Mail Marketing
Engagement-Tracking
Etikettierung
Für Immobilien
Für das Gastgewerbe
Geografische Karten
Geolokalisierung
Grundrisse und Karten
Hotspot
Inhalt-Bibliothek
Kategorisierung / Gruppierung
Konversion-Tracking
Kundenspezifisches Branding
Lead-Erfassung
Lead-Generierung
Mehrere Standorte
Mitglieder-Buchhaltung
Mobiler Zugriff
Multimedia-Unterstützung
Panoramen
Passwort-Management
Planungs-Tools
Rollen-basierte Genehmigung
Social-Media-Integration
Textbearbeitung
URL-Anpassung
Video-Management
Video-Streaming
Video-Unterstützung
Videobearbeitung
Virtuelle Realität
Visuelle Analytik
Voice-Over / Audio
Website-Analytik
Website-Management
Wechselseitige Audio & Video
interaktive Inhalte
David B.
Owner in USA
Verifizierter Nutzer auf LinkedIn
Verwendete die Software für: 1-5 Monate
Fantastic value, works great, saves thousands of dollars in video production costs.
Kommentare: Like any software. The value comes in the ability to make your life easier and better. Great value here.
Vorteile:
I am extremely impressed by the overall quality of the software. It's not a cheap hack and works everytime. Simple to learn and use, I was able to create my first video in minutes. It took just a short time to learn how to insert floor plans. Adding to MLS listings could not be more simple. Hotspots, the ability to tag features with prices and information make it a great experience for the viewer. Customizing icons, logos and contact information for personal branding establishes your authority and brand. Back end management features give you the ability to organize and scale with your whole organization. It couldn't be better.. but it is. Add your own background music, insert Youtube vidoes and even embed 3D models. WOW!!!!
Nachteile:
The only thing it lacks for me is the ability to personalize each video from a mailing list. This would be a marketing advantage, if you are an agent with a list, you could send a video with personalized messages.
Manuel C.
Founder in USA
Verifizierter Nutzer auf LinkedIn
Internet
Verwendete die Software für: 6-12 Monate
Affordable and great platform
Kommentare: Price and usability
Vorteile:
The price is pretty low compared to others companies that offer the same services. There is no fee for publishing the tour. You can create/edit them on your computer or in your smartphone, which for me is incredibly faster than the PC.
Nachteile:
You have to keep your account active in order to have your tours online. If you cancel your account or downgrade to the free tier you will be able to have only 3 tours with 3 panoramas each. The platform compresses the images, so if you didn't use a good 360 camera you will experiment some noise on your images.
Antwort von iStaging
vor 4 Jahren
Hi Manuel, thanks for this detailed review! Our product team has been notified of your comments regarding the tour storage count as well as the image compression. Stay tuned!
Barry C.
President in USA
Fotografie, 2-10 Mitarbeiter
Verwendete die Software für: 1-5 Monate
DO NOT SIGN UP with iStaging
Vorteile:
None. There was nothing to like. SaaS lacks customer service and the text is misleading.
Nachteile:
Cons: What did you like least about this software? It appears this is a con. I signed up and had a couple of questions. First time the user puts in their phone. If the phone is not accepted, you get this message: SORRY, PHONE IS NOT COMPATIBLE... Unfortunately, VR Maker cannot create good quality tours with your smartphone alone :( But hang on, with the amazing 360° camera bundles, you too can become a VR master! Check out our available bundles here. The text invites you in to sign up but you never see anything about a 360° camera bundle. The software had a message board opportunity. I asked a question. The response said they were out and would answer in three hours. They never answered. When you sign up and it doesn't work out. Beware: You lose your money. They indicate it is their right to keep your money for providing zip, zero, nada services. If they were in the U.S., they would be called Democrats. They believe your money is their right.
Gesundheit, Wellness & Fitness, 2-10 Mitarbeiter
Verwendete die Software für: Mehr als 2 Jahre
So much better than looking through photos!
Vorteile:
I LOVE how easy to use LiveTour is. I also love how much more of a home you get to see when looking online. 100x better than simply looking through photos!
Nachteile:
I have yet to find something I dislike about LiveTour! Always a 10/10 experience!
Karin C.
Licensed Realtor in USA
Verifizierter Nutzer auf LinkedIn
Immobilien
Verwendete die Software für: 1-5 Monate
Great value for the price!
Vorteile:
The price cannot be beat, especially compared to Matterport! I like that it's a DIY solution so I don't have to hire a photographer, and with the fisheye lens attached to my phone I don't need an expensive 360 camera. I love that I can brand it to myself and use my own logo instead of the iStaging logo.
Nachteile:
There are some stitching errors using the fisheye lens no matter how slowly I turn in a circle. And I don't like that you have to log into the app using wifi. I have a listing out in the country with no wifi, so the first time I went to take pictures I couldn't do it with no wifi. The next time I logged in at home, drove over there, and since I was already logged in it worked for a while. But then I got an error message and had to go back to the home screen and it logged me out. It took me several visits to the house to get a full set of photos. I also wish we could put the custom logo on the ceiling and not just on the floor.