Das könnte dich auch interessieren:
Was ist ON24?
Anpassbares Webinar-System für Vermarkter, mit dem sich die Zielgruppe ansprechen lässt und sich die besten Leads ermitteln lassen.
Wer verwendet ON24?
Bedient kleine und mittlere Unternehmen.
ON24 – Details
ON24
1998 gegründet
ON24 – Videos und Bilder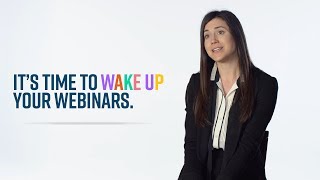 ▶︎
ON24 – Details
ON24
1998 gegründet
Kosten ähnlicher Produkte wie ON24 vergleichen
Startpreis
Nicht verfügbar
24,00 $/Monat
Nicht verfügbar
13,99 $/Monat
ON24 – Bereitstellung und Support
Kundenbetreuung
E-Mail/Helpdesk
FAQ/Forum
Wissensdatenbank
Telefon-Support
24/7 Live-Support
Chat
Training
Persönlich
Live Online
Webinare
Dokumentation
Videos
Nick A.
Senior Designer- Marketing in USA
Verifizierter Nutzer auf LinkedIn
Computer-Software, 1.001-5.000 Mitarbeiter
Verwendete die Software für: Mehr als 2 Jahre
In Betracht gezogene Alternativen:
The best and only way to do Simulive Webinars
Kommentare: I have been using on24 for over 3 years. First as a powerpoint designer and now I run it end-to-end. I find the software intuitive​ and after a bit of training easy to use.
Vorteile:
We use On24 in our marketing department to attract new leads for our sales team. We use On24's Simulive feature. This allows us to pre-record our speaker and slides. Then the day of the live webinar the attendees watch the edited video then our speakers are pushed into a live conversation to take questions that have came in. On24 is maybe the only webinar platform that can do this. All others are more of a screenshare system. Simulive gives us the most flexiblity to have a seamless webinar​ without any sound or speaker problems.
Nachteile:
On24 audience console allows us to put up different resources, surveys and links, but it is limited in its customizability​. I'd like to see more console customization when it comes to menu format and colors. Also being able to upload your branded font would be great too.
Lauren B.
Programs Coordinator in USA
Non-Profit-Organisation Management, 2-10 Mitarbeiter
Verwendete die Software für: 6-12 Monate
The Best for What is Out Right Now
Kommentare: This system is one of the better systems out there. It meets all our needs with some limitations. Just be aware that you will need to learn the system yourself and expect little help from the higher ups. They will not give any types of discounts or refunds on the bill but will offer extra "help" packages, which was no help to us as by the end of our event as we knew the system better than some of the help techs. But now that we know the system using the platform for our events is easy and does what we need it to do. They are upgrading the system all the time to make it better which is helpful.
Vorteile:
One of the only platforms out there that has been established since way before the pandemic. When we purchased it was affordable and catered to what we needed in an events platform. One that allowed individual events and served as a conference platform for multiple events. It allowed to have a conference feel without spending a lot on the virtual world looking platforms.
Nachteile:
The onboarding for the system was horrible. There are several areas on this platform and with each section there is a different ON24 person to lead you through the process. We spent half the time explaining our event over and over again to different people for each section. The team would quickly show us the platform and ask if we had questions, however, since it was our first time we did not know the right questions to ask and missed a lot of good information because of it. We ended up learning the platform ourselves through their library of resource help. By the end of our first event, I knew more about the platform and how it worked better than their "expert help" staff team.
Liz K.
Marketing Stategist in USA
Hochschulbildung, 51-200 Mitarbeiter
Verwendete die Software für: Mehr als 1 Jahr
In Betracht gezogene Alternativen:
trash
Kommentare: Seriously terrible
Vorteile:
simu-live and on-demand options allow us to mitigate the risks involved with live presenting on this platform.
Nachteile:
the "best practices" where presenters need a wired internet connection, clear cookies, restart the computer and have no other apps going--are you kidding me? What year is it? The customer service is poor, not for lack of CSM's trying, but because there is no follow through from the product team, and CSM's often don't have access to the latest information, leaving them set up for failure.
Verifizierter Rezensent
Marketing Manager, Law Schools and Large Law in USA
Verifizierter Nutzer auf LinkedIn
Computer-Software, 10.000+ Mitarbeiter
Verwendete die Software für: Mehr als 2 Jahre
The industry standard - but will it remain that way?
Kommentare: I've used on24 on and off since the early 2000s. It's a tried and true platform. What I fear is that position of dominance has made them a bit comfortable and they aren't innovating as quickly as I would like to see. It will be interesting to see what happens in this industry. Several agile startups are quickly nipping at the heals of on24. It will be interesting to see if any of those companies can scale to take on this giant.
Vorteile:
When I've invited national speakers onto webinars, they are always impressed to hear we use on24. It has name recognition and speakers are familiar with how it works. Some integrations are available (for an extra cost). The platform is fairly customizable. We are able to add certain kinds of content into the webinar that provide us with extra value.
Nachteile:
It's a bit cumbersome. The UX is fairly dated. It's almost since this has been around so long, it's harder to updated and modernize. While it's customizable, branding options are a bit limited. You can add a logo and some customer colors, but that's about the extent of it. Building our the registration page requires entering data in multiple places. Integration with CRMs are available, but at a steeper cost.
Verifizierter Rezensent
Manager, Marketing & Communications in USA
Verifizierter Nutzer auf LinkedIn
Versicherung, 201-500 Mitarbeiter
Verwendete die Software für: Mehr als 2 Jahre
Handled with Kid Gloves
Kommentare: The stability of the platform and the ease of use with ON24's technical assistance has broadened the appeal of webinars throughout our company. More and more subject matter experts want to discuss webinars for their products, services and specific client training opportunities.
Vorteile:
Responsive technical team Continuous improvement to platform Excellent initial and ongoing training Highly customizable screens to promote our brand
Nachteile:
Infrequent technical difficulties with firewalls and unique audience configurations are sometime difficult to overcome during a live webinar which annoy customers