Was ist Pressero?
Aleyant Pressero ist eine erschwingliche und einfach zu bedienende,
cloudbasierte B2B- oder B2C-Online-Storefront-Lösung,
die leicht an deine Bedürfnisse sowie die deiner
Kundschaft angepasst werden kann. Online-Design, sofortige Preisgestaltung, Nachbestellungen,
Inventarabwicklung, Versandintegration und Kreditkartenzahlungen
werden unterstützt, ebenso wie reaktionsfähige
Website-Designs, die auf Smartphones, Tablets, Laptops
und anderen Geräten funktionieren.
Wer verwendet Pressero?
Web-to-Print-Lösung, die Unternehmen jeder Größe bei der Verwaltung des Nutzerzugriffs, der Online-Zahlungsabwicklung, der Suchmaschinenoptimierung, des Content-Managements, der Warnungen/Benachrichtigungen und mehr unterstützt.
Wo kann Pressero bereitgestellt werden?
Cloud, SaaS, webbasiert
Über den Anbieter
Aleyant
Ansässig in Wheaton, USA
2005 gegründet
Telefon-Support
Chat
Erhältlich in diesen Ländern
Afghanistan, Albanien, Amerikanische Jungferninseln, Andorra, Anguilla und 148 weitere
Über den Anbieter
Aleyant
Ansässig in Wheaton, USA
2005 gegründet
Telefon-Support
Chat
Erhältlich in diesen Ländern
Afghanistan, Albanien, Amerikanische Jungferninseln, Andorra, Anguilla und 148 weitere
Pressero – Videos und Bilder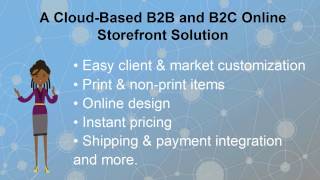 Kosten ähnlicher Produkte wie Pressero vergleichen
Pressero Funktionen
Angebote / Schätzungen
Auftragsmanagement
Content-Management
Drucken an mehreren Standorten
Genehmigungs-Workflow
Produktkonfigurator
SEO-Management
Vorlagen
Alternativen für Pressero
Bewertungen über Pressero
Craig
President in USA
Verifizierter Nutzer auf LinkedIn
Druck, 11-50 Mitarbeiter
Verwendete die Software für: Mehr als 2 Jahre
Web to Print Software
Kommentare: I truly believe that our shop's growth will all come from web to print. We've recently captured a couple very large accounts because of our capabilities.
Vorteile:
Pressero/eDocBuilder has a fairly steep learning curve but once you're there, it's a wonderful product. We're having a hard time keeping up with customer demands for web stores. We upgraded from a lesser product because of it's lack of functionality. There has been little that we haven't figured out to achieve with the Aleyant products.
Nachteile:
Learning curve, but again - with the extensive functionality comes complexity. I wouldn't want to "dumb down" the software to gain easy learning.
Sean
Web2Print Manager in USA
Druck, 11-50 Mitarbeiter
Verwendete die Software für: Mehr als 2 Jahre
Good solution for users who do know or want to create their own websites
Kommentare: I was introduced to this product when it was decided that our existing platforms would be sunsetted. While not as powerful, nor as costly, as these platforms. We have found ways to make almost every thing work just as well. We went form spending multiple thousands of dollars a month, to hundreds and still giving our clients the high quality service they expect.
Vorteile:
Some of the things I like best are part fo what causes issues in more advanced solutions. Their default templates are robust and easily edited, but the customization is limited to certain specific areas. I have found they work for most of our clients needs. There is also an option to have professional services copy a skin for you and you have greater editing control.
Nachteile:
There are a few specific limitations that are difficult to get around. The don't have cumulative pricing or many other features that are needed for apparel type items. The EDOC template system is powerful but can be very difficult to change location of text boxes. Have rich text editing capabilities would be a great addition as well.
Antwort von Aleyant
letztes Jahr
Thank you for the feedback! Regarding some the limitations mentioned, moving text boxes is much easier when you utilize the Field Designer option which allows you to visually place elements where you want, with the option to use X+Y axis's for more accurate placement. Rich Editor boxes are available with certain template types, though not with all, so it comes down to application. Please reach out if you would like more info!
Sevren
Systems Analyst in USA
Druck, 11-50 Mitarbeiter
Verwendete die Software für: 6-12 Monate
Pay Less for Better Elsewhere
Kommentare: My experience has largely been one of frustration, as their software has problems that users have to pay to overcome, and the support is usually not supportive. The online chat is usually quick and responsive, but frequently can't help unless you pay them to do it on their end. I tried a training session and learned nothing because they wouldn't answer my questions. Then, they won't set up the next one presumably because I asked for real training because I didn't want to follow the guided tour. I'd like actual support and software that is what they said it would be, and this isn't that.
Vorteile:
The eDocbuilder is probably the nicest feature since you can create markup dependencies so that an empty field can be filled in with other information instead of being blank. I also like that the chat support is responsive.
Nachteile:
1. It's expensive. Other options do the same for less. 2. It's not what it seems. The website said all plans offered unlimited sites, but we had to upgrade to get more than a few. 3. The training is terrible. They don't tell you the things you want to know, and right now I've been trying to schedule a training session with them for almost a month and they won't return my emails. 4. It's very limited. Many of the things you want to do you have to pay extra to have them do it for you. Simple things, usually, like importing products or deleting all of them instead of doing it one at a time.
Antwort von Aleyant
vor 2 Monaten
Thank you for the feedback. Our chat support is for support related items. If the chat is initiated to take advantage of our Professional Services team, we have a way to reach out to them directly. Additionally, all training should be completed as some questions are answered during the training. You're welcome to jump ahead, but it can make things confusing. We are persistent about trying to schedule times with all our new clients. Free training is included with our packages as long as the training is completed within 3 months of signing up. After that, you can still do the training, but the "free" period has passed. Even if it has passed, our knowledge base is full of helpful articles and videos where you can follow along and ramp up quickly. Per our site's listed packages as well as on our order form, it's clearly stated that you have unlimited B2B sites. B2C sites do have a limit, depending on which package you sign up for, but you can always add more.
Marketing & Werbung, Selbstständig
Verwendete die Software für: Mehr als 2 Jahre
Pressero - Great Web to Print Software
Kommentare: Always get great support. Love the product - they are always making improvements to help the user experience.
Vorteile:
Best pricing engines for configurable products - in the print industry this is needed, because nothing is off-the-shelf.
Nachteile:
It's not inexpensive, but worth the money because it's reliable, configurable, and powerful.
Antwort von Aleyant
letztes Jahr
Thanks for your support, Lisa. We look forward to helping your business grow!
James
Prepress/OMS Specialist in USA
Druck, 11-50 Mitarbeiter
Verwendete die Software für: Mehr als 2 Jahre
In Betracht gezogene Alternativen:
Satisfied customer
Kommentare: Our company has used Pressero for many years, now. Although there have been a few hiccups over the years as Aleyant has scaled Pressero, it has always been a pleasant experience dealing with their staff. They are knowledgable, professional, and friendly.
Vorteile:
The ability to integrate with our internal production software was critical. It has saved tremendous time and money on order entry for our sales staff. Being able to receive print-ready production PDFs with all of the order details is fantastic.
Nachteile:
It has not really embraced the growing promotional products market, yet.
Antwort von Aleyant
vor 8 Monaten
Thank you for your review, James! We are currently working on a few integrations that will address your needs to sell promotional products on Pressero.Stay tuned to our blog for more information on Aleyant.com.