Das könnte dich auch interessieren:
Was ist Web to Print Shop?
Web to Print Shop (W2P Shop) ist eine modulare Web-to-Print-Lösung, die alle Arten von Web-to-Print-Lösungen anbietet, die Druckunternehmen möglicherweise benötigen. Die Lösung bietet mehrere Komponenten und anpassbare Funktionen an, aus denen du wählen kannst, um sicherzustellen, dass du eine Web-to-Print-Lösung erhältst, die allen B2B- und B2C-Online-Druckanforderungen anspricht. Racad Tech ist der Überzeugung, dass die Anpassung von Web-to-Print-Lösungen an die Anforderungen deines Unternehmens der Schlüssel ist, um dir und deinen Kunden eine optimale Erfahrung zu bieten.
Wer verwendet Web to Print Shop?
Für innerbetriebliche Zwecke, kommerzielle Druckereien aller Größen, Schilderläden, die Druckindustrie, sowie Druckdienstleister, -makler, darunter: Offset-, digitale, LargeFormat- und Web-Press-Kompatibilität. Kreativagenturen.
Web to Print Shop – Details
Racad Tech
2001 gegründet
Web to Print Shop – Videos und Bilder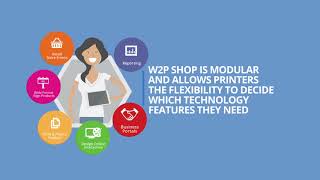 ▶︎
Web to Print Shop – Details
Racad Tech
2001 gegründet
Kosten ähnlicher Produkte wie Web to Print Shop vergleichen
Startpreis
Nicht verfügbar
550,00 $/Monat
Nicht verfügbar
395,00 $/Monat
Web to Print Shop – Bereitstellung und Support
Kundenbetreuung
E-Mail/Helpdesk
FAQ/Forum
Wissensdatenbank
Telefon-Support
Chat
Training
Persönlich
Live Online
Webinare
Dokumentation
Videos
Funktionen von Web to Print Shop
API
Aktivitäts-Dashboard
Angebote / Schätzungen
Anpassbare Berichte
Anpassbare Vorlagen
Auftragsabwicklung
Auftragsmanagement
Auftragsverfolgung
Benutzer-Management
Berichterstattung und Statistik
Bestell-Management
Bildbearbeitung
Bildbibliothek
Content-Management
Design-Management
Dokumentvorlagen
Drag-and-Drop
Drittanbieter-Integration
Druck-Management
Drucken an mehreren Standorten
ERP
Elektronische Zahlungen
Genehmigungs-Workflow
Inhalt-Bibliothek
Integration von Druckservices
Inventarverwaltung
Katalogisierung / Kategorisierung
Konfigurierbarer Workflow
Kontrolle des Genehmigungsprozesses
Kostenschätzung
Kreditkartenbearbeitung
Kundenkonten
Kundenspezifisches Branding
Leistungskennzahlen
Multichannel-Marketing
Onlinekatalog
Produktkonfigurator
Rabattmanagement
Rollen-basierte Genehmigung
SEO-Management
Schätzung
Suchen / filtern
Textbearbeitung
Versand-Management
Vorlagen
Vorlagen-Management
Vorschaufunktion
Website-Management
Workflow-Management
Zugriffskontrollen / Berechtigungen
Lindsey W.
Brand Manager in USA
Verifizierter Nutzer auf LinkedIn
Druck, 11-50 Mitarbeiter
Verwendete die Software für: Mehr als 1 Jahr
Ultimate flexibility with complete control
Kommentare: We needed a solution to make designing scratch off cards easier for our customers and to allow orders to come into production automatically. Scratch offs are already a complicated product, so a system that could make design more accessible and reduce errors during pre-press and production would be a dream. So we reached out to [SENSITIVE CONTENT HIDDEN] and his team to see what we could do. We had previously worked with them to create our prize generation engine which is still in use today but needed to implement a few of their other products to create a seamless experience for our customers. After dusting off our previous project, we realized we needed to rebuild from the ground up. Rebuilding would not only bring it up to date but help build a more stable system for future features. At first this seemed daunting. My team was already behind in launch and a rebuild sounded like it could be 6 months or more of work. To my amazement, [SENSITIVE CONTENT HIDDEN] team delivered everything in under 2 months to get our launch back on track!! Web to Print Shop has an amazing team of engineers you won't find anywhere else. They're dedicated to creating a quality product that works and their communication is impeccable. We talked through many of our design challenges together to brainstorm lasting solutions.
Vorteile:
Hands down, the udraw designer is my favorite. It allows ALL of our customers to have fun designing our scratch offs regardless of their design experience. It also gives me easy access to create new design templates any time we need to. I feel completely in control of my product. I'm not dependent on the software team to implement new products for me and I don't feel locked in to their system. This allows me to launch new products and features quickly! I can also tailor the UI exactly to my brand, creating an entirely seamless transition between product pages to designer to checkout.
Nachteile:
There were a few conflicts with one of our existing Wordpress plugins that made us search for other solutions for that plugin functionality. However, this is to be expected with any Wordpress integration and overall the effort was minimal.
Avedis S.
Owner in Kanada
Druck, 2-10 Mitarbeiter
Verwendete die Software für: 6-12 Monate
In Betracht gezogene Alternativen:
W2P Shop delivered on every promise
Kommentare: From initial contact to live and functional website, the entire process had a hard deadline of 1 month... which they met in 3 weeks.
Vorteile:
I was given a beautiful, clean user interface on a website powered by WordPress, with excellent plugin integration and SEO capabilities Incredible customer service, wherein all questions are answered in a timely and professional manner A reasonable price-point, with no hidden fees
Nachteile:
I had been searching for a company and a solution like this since 2014. Lost alot of money and time on other solutions. I wish I would have found these folks sooner.
Tim L.
prepress operator in USA
Druck, 51-200 Mitarbeiter
Verwendete die Software für: Mehr als 2 Jahre
A web2print review
Kommentare: Over all it has exceeded my expectations. When I needed something I have been able to find it myself, or thru a quick email to their support staff.
Vorteile:
The number of product types is my most liked featured of the software.
Nachteile:
I have not found any missing features. I believe this speaks to the maturity of the product.
Tom C.
Web Strategy in USA
Druck, 2-10 Mitarbeiter
Verwendete die Software für: 1-5 Monate
Review of Web to Print software by Racad Tech
Kommentare: Our customers are able to design and order products more easily because of Racad's best in class multiple design tools that can be select per product. Customer's can also get accurate quotes in real time which not only helps them but lowers our customer service cost. We can lock in or lock out certain areas of the design screen for customers, making things easier for them and us.
Vorteile:
There are many things I like so it is difficult to say what I like MOST. What I most appreciate is that this software provides almost UNLIMITED OPTIONS in both interacting with our customers on the internet AND in running our manufacturing and shipping operation. We researched a lot of different Web to Print vendors and their's was the best. The other great thing is that this company really listens to customer service issues and customer service NEEDS. If we need a new feature built they will built it.
Nachteile:
There is just no way to offer so many features and introduce some complexity. One needs to work reasonably hard to learn the software and they need to focus. Their training and customer service team is very good and patients. They never make us feel stupid if we ask a dumb question. They encourage us to ask for help instead of being annoyed. They have a team of exceptionally professional and kind, smart people. Our only regret is they live in a different city so we can't socialize with them easily.
Mark A.
Regional Business Manager, UK & Ireland in UK
Druck, 5.001-10.000 Mitarbeiter
Verwendete die Software für: Mehr als 2 Jahre
In Betracht gezogene Alternativen:
A truly flexible solution
Kommentare: We used the solution predominantly for name tags/ badges and business print. The name tag solutions were revolutionary and helped us to streamline our business process, make it easier for our customers to place orders, improved our profitability, whilst also eradicating many of the spelling errors inherent in these businesses and where high levels of variable data are used.
The solution now forms an integral part of the organisation's foundations from sales, through to delivery.
Vorteile:
The software was incredibly capable and the team at RacadTech were willing, able and highly competent at developing and delivering cutting edge functionality that provided even greater differentiation in our marketplace. The team at Racad were the most engaged and helpful amongst the many options we reviewed and gave us confidence that we were building an ongoing partnership with an organisation that saw value in the relationship and were committed to helping our business grow by continually developing and supporting us technically.
Nachteile:
There are very few in all honesty. I'm impatient so would love to move faster, but Racad have also led us and set our expectations effectively and worked to align priorities.