Was ist Unreal Engine?
Spielentwicklungs-Suite zum Erstellen von 3D-Filmen, Visualisierung, Trainingssimulationen mit visuellem Scripting, AI, Personen-Animation usw.
Unreal Engine – Details
Epic Games
1991 gegründet
Unreal Engine – Details
Epic Games
1991 gegründet
Unreal Engine – Videos und Bilder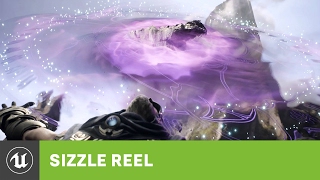 Kosten ähnlicher Produkte wie Unreal Engine vergleichen
Startpreis
N/A
Nicht verfügbar
N/A
39,00 $
Unreal Engine – Bereitstellung und Support
Einsatz
Cloud, SaaS, webbasiert
Mac (Desktop)
Windows (Desktop)
Funktionen von Unreal Engine
3D-Imaging
API
Ad-hoc-Analyse
Agentenbasierte Modellierung
Aktivitäts-Dashboard
Anpassbare Berichte
Berichterstattung / Analyse
Berichterstattung und Statistik
Bewegungs-Modellierung
Branchenspezifische Datenbank
Compliance Management
Datei-Verwaltung
Daten-Import / -Export
Datenvisualisierung
Datenüberprüfung
Design-Analyse
Design-Management
Direkte Manipulation
Diskrete Event-Modellierung
Dokumentenmanagement
Drag-and-Drop
Drittanbieter-Integration
Dynamische Modellierung
Echtzeit-Daten
Echtzeitüberwachung
Grafische Präsentation von Daten
Grafischer Workflow Bearbeiter
Individuelle Anpassung
Inhalt-Bibliothek
Konfigurierbarer Workflow
Kontinuierliche Modellierung
Leistungsmanagement
Mathematische Modellierung
Monte-Carlo-Simulation
Produktdatenmanagement
Prognosen
Projekt-Workflow
Prozesskontrolle
Prädiktive Analytik
Präsentations-Tools
Regelbasierter Workflow
Richtlinien Managemen-
Stochastische Modellierung
Szenarioplanung
Turbulenzmodellierung
Versionskontrolle
Veränderungsmanagement
Visuelle Analytik
Workflow-Management
Zugriffskontrollen / Berechtigungen
2D-Zeichnung
3D-Spiele
API
Aktivitäts-Dashboard
Animation
Anwendungsmanagement
Aufgabenmanagement
Aufgabenplanung
Automatisierte Terminplanung
Benutzer-Management
Berichterstattung und Statistik
Dashboard-Erstellung
Datensynchronisation
Diagramm-Erstellung
Dokumentenspeicher
Drittanbieter-Integration
E-Mail-Management
Echtzeit-Daten
Fehlerverfolgung
Fortschrittsverfolgung
IT-Asset-Management
In-App-Kauf
In-Game-Analytik
Integrierte Entwicklungsumgebung
Kalenderverwaltung
Konfigurationsmanagement
Konfigurierbarer Workflow
Leistungskennzahlen
Meeting-Management
Mehrere Abteilungen / Projekte
Mehrere Projekte
Mitarbeiter-Onboarding
Multiplayer-Gaming-Netzwerk
No-Code
Physiksimulation
Priorisierung
Prognosen
Projekt-Workflow
Projektmanagement
Projektplanung
Prototyp-Erstellung
Sichere Datenspeicherung
Spieler-Management
Statusverfolgung
Termin-Fristenmanagement
Virtuelle Realität
Werkzeuge zur Zusammenarbeit
Workflow-Management
Zeitplanmanagement
Zugriffskontrollen / Berechtigungen
API
Aktivitäts-Dashboard
Anwendungs-Zugriffskontrolle
Archivierung & Aufbewahrung
Automatische Sicherung
Backup und Recovery
Berichterstattung / Analyse
Compliance Management
Datei-Verwaltung
Dateitransfer
Datenmigration
Datenspeicher-Management
Datenvisualisierung
Desktop-/Anwendungsvirtualisierung
Disaster Recovery
Drittanbieter-Integration
Echtzeit-Berichterstattung
Echtzeitüberwachung
Einmalige Anmeldung
Ereignisprotokolle
Ferngesteuertes Update / Installation
HIPAA konform
Integration des aktiven Verzeichnisses (AD)
Kapazitätsmanagement
Konfigurationsmanagement
Lastverteilung
Leistungsüberwachung
Namensraum-Management
Provisionierung virtueller Maschinen
Remote-Monitoring und -Management
Remote-Zugriff/-Kontrolle
Rollen-basierte Genehmigung
Server-Überwachung
Service Level Agreement (SLA) Management
Sichere Datenspeicherung
Snapshots virtueller Maschinen
Verschlüsselung virtueller Maschinen
Versionskontrolle
Virtuelle Maschinen-Überwachung
Visuelle Analytik
Warnungen / Eskalation
Zugriffskontrollen / Berechtigungen
Zwei-Faktor-Authentifizierung
Luis daniel R.
Lead Application Developer in Puerto Rico
Verifizierter Nutzer auf LinkedIn
Computer-Software, 11-50 Mitarbeiter
Verwendete die Software für: Mehr als 1 Jahr
In Betracht gezogene Alternativen:
The best choice for ambitious 3D Games
Kommentare: I really liked using Unreal and prototyping quick ideas. It's a really flexible engine and really powerful. Even the testing stuff look and run great. I wish there was a more open community that helped each other out or introduced new users to advanced knowledge of the engine that you will only earn with time by using it.
Vorteile:
Unreal Engine has grown over the years and it's now more friendly to single developers, indy movie produces and indy game studios as well. It has a robust toolset that allows you to create 3D games with one of the best engines for realistic looks, yet you can use models that fit your artistic vision, ex: stylized games. If you want an example of how small studios can make a good unreal game, look for Hellblade: Senua's Sacrifice and if you want to look for AAA Games that look extremely realistic or movie quality, look at Gears of War 5 or Kingdom Hearts 3. Unreal also has an asset store where you can buy models or tools to help you quickly build or prototype your game and it has a blueprint system that allows you to program your game logic without knowing how to write in C++. The engine also runs in a myriad of platforms including mobile.
Nachteile:
One of the downsides of Unreal is how complex it is when comparing it to Godot or Unity. The community for it, it's very small and a lot of the people who have knowledge on Unreal are tied behind studio contracts and maybe they're not allowed to share or help around in the web much, but when you look at Unity, there's dozens and dozens of websites, youtubers, courses and resources that you could basically build a game with no knowledge, but in Unreal it will take a lot of time and expertise on what you're doing. Also one last thing, you can build 2D games in Unreal, but you're better off using GameMaker or Unity for 2D Games. The community and engine support is just bigger and bettter.
David K.
Developer in USA
Computerspiele, 2-10 Mitarbeiter
Verwendete die Software für: Mehr als 2 Jahre
It's a technical marvel, but know what you're getting into.
Kommentare: Unreal Engine is always interesting to use in game jams for graphical fidelity, though at times Unreal Engine projects can become a mess when working on commercial games. People need to know accurately what they're getting into when building a new game in Unreal, because for some it's overwhelming, for others it's like trying to get a game out of modding a first-person shooter, and then for some it ends up being a good choice for their game. Once your whole team is experienced with it, Unreal Engine can be quite good, depending on which genre of game you're going for.
Vorteile:
Unreal Engine games are excellently visually impressive, and the cross-platform functionality is very good. Even though it's more technically impressive, it's still more stable than Unity. The updates are frequent and prioritize bug fixes more accurately than Unity, and Unreal's pricing is certainly second-to-none.
Nachteile:
A lot of aspects of the editor are unnecessary to make a good game and end up getting in the way more than anything else. The occasional crashes are always saddening, but it's still more stable than most of Unreal's competition.
Unterhaltungselektronik, 11-50 Mitarbeiter
Verwendete die Software für: Mehr als 1 Jahr
Unreal Engine for Game and Mod Creation
Kommentare: When creating mods for Ark: Survival Evolved this is the main option you use and it made it extremely easy to do.
Vorteile:
The amount of features included in Unreal Engine are extremely rich. There are so many options to create or just customize an already built character or map that you can get lost in it for hours.
Nachteile:
Nothing, every aspect of this program I genuinely enjoyed using.
Faith S.
associate in Kanada
Computerspiele, 51-200 Mitarbeiter
Verwendete die Software für: Mehr als 1 Jahr
Great tool
Vorteile:
Really great tool for game development with limitless possibilities.
Nachteile:
Steep learning curve, its hard to get the hang of.
Marcos C.
Business Development Consultant in Paraguay
Unterhaltung, 51-200 Mitarbeiter
Verwendete die Software für: Mehr als 1 Jahr
In Betracht gezogene Alternativen:
The Clear Choice for Low-Code Game Development
Kommentare: Once you get used to the clunky interface, Unreal Engine is by far the best game development environment for my needs. Epic Games has a ton of assets available for free that make game development a breeze. You can deploy games made Unreal just about anywhere, too, without having to pay per export modules (I'm looking at you, Game Maker). I just really, really like Unreal.
Vorteile:
The thing I like the most about Unreal is that the Blueprints, which are its visual scripting features, are part of Unreal's DNA. It's been a part of Unreal for ages. Visual scripting in competing engines like Unity is an afterthought, and therefore isn't nearly as well implemented. Another fantastic thing about Unreal is that Epic Games keeps acquiring really good companion software companies. Just by using Megascans you can get amazing graphics assets for your games without spending a dime. Incredible value all around.
Nachteile:
Everyone knows Unreal's interface is outdated and clunky to use. I'm in the same boat. It's just terrible. Even the asset marketplace is terrible to navigate. It can definitely get extremely frustrating. But when you compare it to what Unreal offers elsewhere, as well as just how clunky Unity and Godot are also, then you realize you're coming out of it all with a net positive.