Was ist WaiverFile?
Mit WaiverFile kannst du deine Haftungsausschüsse schneller und einfacher erfassen und ordnen. Die Funktionen für Veranstaltungsorganisation machen das Verwalten von Partys, Veranstaltungen und Check-ins sowie das Gruppieren von Teilnehmern einfach. Alles wird in der sicheren Datenbank von WaiverFile gespeichert, sodass du schnell nach Namen suchen, Berichte erstellen und Kontaktinformationen für das Marketing verwenden kannst.
Wer verwendet WaiverFile?
Das Unternehmen richtet sich an Sportarenen, Trampolineinrichtungen, Fitnessstudios und viele andere Orte, die körperliche Aktivitäten anbieten. Jedes Unternehmen, das seine Verzichtserklärungen elektronisch bereitstellen möchte, kann WaiverFile verwenden.
WaiverFile – Details
WaiverFile
2004 gegründet
WaiverFile – Details
WaiverFile
2004 gegründet
WaiverFile – Videos und Bilder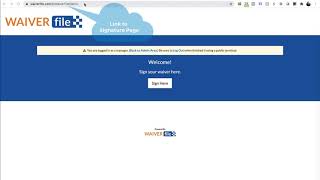 Kosten ähnlicher Produkte wie WaiverFile vergleichen
Startpreis
15,00 $/Monat
10,00 $/Monat
50,00 $/Monat
399,00 $/Monat
WaiverFile – Bereitstellung und Support
Kundenbetreuung
E-Mail/Helpdesk
FAQ/Forum
Wissensdatenbank
Telefon-Support
Chat
Einsatz
Cloud, SaaS, webbasiert
Android (mobil)
iPhone (mobil)
iPad (mobil)
Training
Live Online
Webinare
Dokumentation
Videos
Funktionen von WaiverFile
AB-Tests
API
Aktivitäts-Dashboard
Alarmfunktion / Benachrichtigungen
Anpassbare Felder
Anpassbare Formulare
Anpassbare Vorlagen
Barcode / Tickets scannen
Benutzer-Management
Berichterstattung und Statistik
Datei-Verwaltung
Daten-Import / -Export
Datensynchronisation
Digitale Unterschrift
Dokumentenmanagement
Dokumentenspeicher
Dokumentvorlagen
Drag-and-Drop
Drittanbieter-Integration
Durchsuchbare Datenbank
E-Mail Marketing
E-Mail-Management
E-Mail-Tracking
E-Mail-Vorlagen
Echtzeit-Daten
Elektronische Unterschrift
Erinnerungen
Formularverwaltung
Geschenkkarten-Management
Kalenderverwaltung
Kontaktmanagement
Kundendatenbank
Kundenspezifisches Branding
Mehrere Standorte
Mehrsprachig
Mobile Unterschriftenerfassung
Offline-Zugriff
Online-Signierung
QR-Code
Rechnungsmanagement
Registrierungs-Management
Ressourcenzuordnung und -planung
Sichere Datenspeicherung
Social-Media-Integration
Statusverfolgung
Suchen / filtern
Vorlagen-Management
Waiver Kiosk
Web-Formulare
Zugriffskontrollen / Berechtigungen
Siehe die vollständige Software für Abtretungserklärungen Liste
Durchschnittliche Bewertung
Preis-Leistungs-Verhältnis
---
Nutzerbewertungen nach Bewertung
---
Nutzerbewertungen nach Unternehmensgröße (Angestellte)
<50
51-200
201-1.000
>1.001
Laurent C.
Senior SAP HCM & SuccessFactors Project Manager in USA
Verifizierter Nutzer auf LinkedIn
Unternehmensberatung
Verwendete die Software für: 1-5 Monate
Excellent services, they know how to listen and to tailor the solution. Great job!!
Kommentare: Streamlining our processes and get rid of paper.
Vorteile:
I started the process of looking into improving my process around waivers. I put all my specific requirements and send them over 4 different vendors. 75% responded and for some reason, I like the answer from the owner of the company. I start the process to get the free trial to start looking into the product to make sure it was going to work for us. Remember that all companies are different and a single solution can't fit all business. Few emails later and a phone call allows us to get the solution that fits. 10 days later I was able to launch it.
Nachteile:
At first, I realized they do not have an app for Droid or iPhone but realized quickly this is an advantage as any customer can use their own phone to sign the waiver. No need for an app.
Antwort von WaiverFile
vor 4 Jahren
Thanks for the review, Laurent! We're so happy to hear that WaiverFile is working well for you. We're also working on iOS and Android apps in which will allow for kiosk signing to continue if internet is lost, but as you say, signing works anywhere with no need for an app. Thanks again for taking the time to review!
Breeann D.
Owner in Kanada
Freizeit, Reisen & Tourismus, 2-10 Mitarbeiter
Verwendete die Software für: Kostenlose Testversion
In Betracht gezogene Alternativen:
Customer Service Excellence
Kommentare: Customer service was top notch. I emailed a question and got a response within an hour. When we communicated further, I asked to speak to someone on the phone, they immediately called me. We were able to get so much sorted out during our call and [SENSITIVE CONTENT] customized my profile based on what our needs were. He was able to anticipate features we might need and showed me features that I wasn't aware of. If you are thinking of choosing WaiverFile, give them a call to see exactly what they can offer!
Vorteile:
The software is great to use and offers features that make the tedious waiver job easier. Organization of the completed waivers and the features you can add like Events help to streamline that process.
Nachteile:
it looked basic at first and I was worried about it being only for US customers. Perhaps it would be more attractive immediately for potential customers if there was a place to choose Canada. There were some issues with address fields because the default is set to USA.
Antwort von WaiverFile
vor 2 Wochen
Thanks so much for the review! We do have plans to make the address field offer different styles depending on country, so look out for those updates soon. In the meantime, the custom fields handle it. Thanks for taking time to share your feedback with us!
Jennifer C.
Recreation Therapist in USA
Gesundheit, Wellness & Fitness, 2-10 Mitarbeiter
Verwendete die Software für: 1-5 Monate
Operation Comfort
Vorteile:
Able to use from the iPad when out and about at programs.
Nachteile:
All the info you have to input. With the paper version of DSUSA waiver it only requires name, signature & date. With the waiver file they have to input name, signature date, address & email. Don't like that the media & liability waiver are 2 forms & you have to enter same info again.
Antwort von WaiverFile
vor 2 Jahren
Thanks for your review, Jennifer! Regarding the specifics with that form, DSUSA specified that they wanted the two forms to be separate. I'll reach out to them to see if they would allow us to combine them, and/or make any of the extra fields optional. (Our software supports that, it's just the way it was decided to configure it). There's also an option to make it jump immediately to the second form after completing the first, I'll make sure we have that enabled on your account since it's a new addition and may not be turned on. If the requirement is to still have two forms, this at least makes the flow easier. Thanks again for your feedback, we always strive to do all that we can to ensure the entire process is as easy as we can make it! Feel free to contact us if you have any other thoughts or questions!
Lynn D.
Owner/ Operator in Kanada
Erholungseinrichtungen & -dienstleistungen, 11-50 Mitarbeiter
Verwendete die Software für: 1-5 Monate
Great Service
Kommentare: We have to have trace contact for covid and also a liability waiver for all persons entering the facility. Make the process easy using this product. Service has been amazing and appreciated.
Vorteile:
QR Camera scanner has been a great asset for checking in out customers Very easy to set up and we like that the search is also available and easy.
Nachteile:
QR Scanner settings need a little bit more information on display for groups
Antwort von WaiverFile
vor 2 Monaten
Thanks for the review! We'll keep you posted as the new features that you mentioned get launched :)
Taryn B.
Recreation Event Manager in Kanada
Gastgewerbe, 501-1.000 Mitarbeiter
Verwendete die Software für: 6-12 Monate
Thank-you!
Kommentare: Incredible! I have dealt mostly with the rep who has been absolutely amazing. Thank-you!! I haven't even needed to try to reach out to anyone else because he is always helping and answering any questions I have. He has been helping from the beginning before we even signed up and I was just asking questions.
Vorteile:
1. It is so easy to use. Just being able to play around and learn how to input different waivers myself was extremely handy because we are adding more waivers into our account each season. If I ever needed help or changes, it was done almost immediately! 2. The fact that group leaders can log in and view who has completed a waiver for their group is a game changer when we are dealing with hundreds of required forms a day. 3. Their customer service!!!
Nachteile:
Nothing because any issue I may have had was taken care of so quickly by their amazing customer service.
Antwort von WaiverFile
vor 2 Jahren
Thanks so much for your review, Taryn! We're delighted that everything is working out so well for you!