Was ist UPshow?
UPshow ist eine Social-Media-unterstützte Plattform für die Einbindung von Verbrauchern, die Marken dabei unterstützt, mithilfe vorhandener Fernsehgeräte die Ergebnisse zu erzielen, die für ihr Unternehmen am wichtigsten sind. Passe deinen eigenen Marken-TV-Kanal vollständig an die perfekte Kombination aus kundengenerierten Inhalten, Unterhaltungsfeeds, digitaler Beschilderung und Trivia/Spielen an. Das Plug-and-play-Setup ist ein Kinderspiel und die cloudbasierte Plattform lässt sich von jedem Gerät aus problemlos steuern.
Wer verwendet UPshow?
Unternehmen, die ihre Bildschirme über traditionelle digitale Beschilderungen hinaus nutzen möchten, mit ansprechenden und unterhaltsamen Funktionen und interaktiven Fähigkeiten wie Social-Media-Displays, Spielen und mehr.
UPshow – Details
UPshow
2015 gegründet
UPshow – Details
UPshow
2015 gegründet
UPshow – Videos und Bilder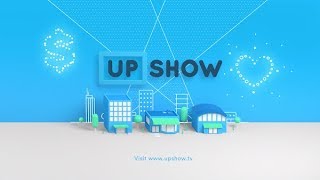 Kosten ähnlicher Produkte wie UPshow vergleichen
Startpreis
Nicht verfügbar
20,00 $/Monat
8,50 $/Monat
9,00 $/Monat
UPshow – Bereitstellung und Support
Kundenbetreuung
E-Mail/Helpdesk
FAQ/Forum
Wissensdatenbank
Chat
Training
Live Online
Webinare
Dokumentation
Videos
Funktionen von UPshow
API
Aktivitäts-Dashboard
Alarmfunktion / Benachrichtigungen
Anpassbare Vorlagen
Audit Trail
Automatisches Aktualisieren
Automatisierte Terminplanung
Benutzer-Management
Berichterstattung und Statistik
Bildbibliothek
Content-Management
Daten-Import / -Export
Datensicherheit
Digitale Beschilderungen
Digitales Menüboard
Drag-and-Drop
Drittanbieter-Integration
Echtzeit-Aktualisierungen
Echtzeit-Benachrichtigungen
Echtzeit-Daten
Echtzeitüberwachung
Inhalt-Bibliothek
Inhalte planen
Kampagnenplanung
Kundenspezifisches Branding
Layout und Design
Medienbibliothek
Mehrere Standorte
Mobiler Zugriff
Multimedia-Unterstützung
Offline-Zugriff
Remote-Display-Management
Remote-Zugriff/-Kontrolle
Social-Media-Integration
Spiellisten-Management
Support mehrerer Bildschirme
Terminplanung
Veranstaltungskalender
Video-Management
Video-Streaming
Video-Unterstützung
Visueller Editor
Vorlagen-Management
WYSIWYG-Editor
Werbemanagement
Widgets
XML / RSS
Zugriffskontrollen / Berechtigungen
interaktive Inhalte
Überwachung
Tess S.
Sales and Marketing Manager in USA
Verifizierter Nutzer auf LinkedIn
Gastgewerbe, 11-50 Mitarbeiter
Verwendete die Software für: 6-12 Monate
We love UPshow and it's a lot of fun for us and our guests.
Kommentare: We run quite a bit of promotional events in our facility. This allows us to promote our events on a continuous loop to our active customers.
Vorteile:
This software is so easy to use and pretty intuitive. I love being able to share our own highlights while making it interactive for the customer.
Nachteile:
It would be great to have editing within UPshow for our spotlights. One less step I have to take to make our graphics the right size the better. I would also love to be able to customize the order and frequency of things more as well. While I love having some options now, I would love to have more options.
Antwort von UPshow
vor 3 Jahren
Tess, thank you so much for the review, your feedback is much appreciated. Strike City is an amazing venue and the ideal UPshow partner, I visited when I was in Charlotte 2 years ago. Your concept for editing functionality to be added to the Spotlight creator is a great one and I've already shared it with our product team. Thank you again!
Derek C.
Instructor in USA
Gesundheit, Wellness & Fitness, 2-10 Mitarbeiter
Verwendete die Software für: Mehr als 1 Jahr
This is a great addition to your operation!
Kommentare: This is just a fun platform to add interest to your business presentation, viral reach, and event information. It does even more stuff, but like all software I have customized the things that are important to me. I highly recommend this software!
Vorteile:
I like how customers get immediate feedback for their efforts. We even use it to post announcements and events. This is also an amazingly effective way to create or increase viral reach for your business.
Nachteile:
The only problem we have encountered with this program is that the text you can add to an image is only in white. This is a problem for many images that also contain white. This is highly irritating- I won't lie- but this is literally the only problem I have with this service. Everything else has been awesome.
Antwort von UPshow
vor 2 Jahren
Thanks Derek for the review - you'll be very pleased with the updated Spotlight creator coming soon that will solve for the text issue you mentioned, and much more!
Verwendete die Software für: Mehr als 1 Jahr
Upshow is about money they are not about the customer. Buyer beware- cancellation is difficult theya
Vorteile:
it is productive and helps a great deal with social media marketing- it gets you the impressions for sure
Nachteile:
they are sneaky, won't cancel your account even after the term is up- asked them to cancel a snap filter they did not just keep on billing us.
Antwort von UPshow
vor 4 Jahren
Thank you for your feedback, we're glad to hear that UPshow has made a meaningful impact on your social media marketing. The communication issues you stated regarding a cancellation request are not the UPshow way, and I'm glad that we promptly took care of you. Most of all, we're excited that you decided to stay on board and are a top performing customer!
Restaurants, 51-200 Mitarbeiter
Verwendete die Software für: 6-12 Monate
Solid program but needs a little more options
Kommentare: I dont have issues, like you are asking for feedback.
Vorteile:
Ease of use and uploading content. Social media participation. Customers seeing them self on the tvs is your biggest asset. At least in my world.
Nachteile:
I would like to upload photos threw the back office (online portal) instead of going threw social media. To go further, birthday templates for customers have a single picture one, 4 picture one, and a template like social media pictures that shows multiple flipping threw the screens. The same template for events, like anniversaries, bands, and previous annual parties (example customer appreciation party). Also a "text your pictures" or "email your pictures" to the admin to add to this screen. That feature would be for people like me that dont really use instagram or snap chat. I use facebook , which I guess if for old people
Antwort von UPshow
vor 2 Jahren
Thanks Sean for the review and feedback. Coming early next year we have an integration with Canva that will allow for you to easily create beautiful Spotlights using their templates. Either way, I'll be sharing your thoughts with our product team.
Kerry L.
Owner/Operator in Kanada
Musik, 2-10 Mitarbeiter
Verwendete die Software für: Mehr als 1 Jahr
TouchTunesTV powered by Upshow
Kommentare: UPshow has been a great company to work with. There have been problems, but they are quick to reply and resolve the issues. I would definitely recommend working with them.
Vorteile:
The interface is easy to create new Spotlights on the fly. And able to make your own ads and upload them and even links to Youtube videos. I like that the hashtags for the location are easy to put into social media when posting and even afterward and they still will show up on the TV screens.
Nachteile:
There are some limitations on using the interface on an iPhone or iPad. Usually it's easier to create your ads on a laptop and then make subtle changes or scheduling if needed later on an iPad.
Antwort von UPshow
vor 2 Jahren
Thanks Kerry for the feedback - I'm glad you've had a great experience with the UPshow team and platform!