Was ist Kustomer?
Kustomer ist die erste Plattform für Customer Experience, Service und Support, die sich auf Kunden und nicht auf Tickets konzentriert und es Unternehmen ermöglicht, alles über jeden Kunden zu erfahren. Mit Slice, Glossier, Outdoor Voices und mehr bietet Kustomer Unternehmen einen umfassenden Überblick über das Leben eines jeden Kunden. Kustomer vereinheitlicht alle relevanten Daten, Kundenhistorie, Anwendungen und Systeme und ermöglicht so informierte Servicemaßnahmen. Kustomer wurde 2015 mit Sitz in New York City gegründet.
Wer verwendet Kustomer?
B2C-E-Commerce, Einzelhandel, Dienstleistungen, Unterhaltungselektronik, Konsumgüter, Reisen/Unterhaltung, Abonnement-Services, Internet.
Wo kann Kustomer bereitgestellt werden?
Cloud, SaaS, webbasiert
Über den Anbieter
Kustomer
2015 gegründet
Telefon-Support
Chat
Erhältlich in diesen Ländern
Vereinigte Staaten
Über den Anbieter
Kustomer
2015 gegründet
Telefon-Support
Chat
Erhältlich in diesen Ländern
Vereinigte Staaten
Kustomer – Videos und Bilder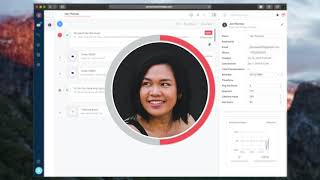 Kosten ähnlicher Produkte wie Kustomer vergleichen
Kustomer Funktionen
Alarmfunktion / Benachrichtigungen
Anpassbare Formulare
Anpassbare Vorlagen
Automatisiertes Routing
Befragungs-/Umfragemanagement
Berichterstattung / Analyse
Berichterstattung und Statistik
CRM
Call-Center-Management
Chat / Messaging
Dashboard
Datenvisualisierung
Drittanbieter-Integration
E-Mail-Management
Engagement-Tracking
Feedback-Management
Kommunikationsmanagement
Kundendatenbank
Kundenerlebnis-Management
Kundenhistorie
Kundensegmentierung
Kundenspezifisches Branding
Leistungskennzahlen
Live-Chat
Makros/Antwortvorlagen
Multi-Channel-Kommunikation
Multichannel-Datenerfassung
Negatives Feedback Management
SMS-Nachrichtenversand
Self-Service Portal
Sentiment-Analyse
Service Level Agreement (SLA) Management
Supportticket-Management
Terminverwaltung
Textanalyse
Ticket-Management
Trend-Analysen
Umfragen & Feedback
Verfolgung von Interaktionen
Virtueller Assistent
Visuelle Analytik
Vorlagen-Management
Warnungen / Eskalation
Warteschlangenmanagement
Werkzeuge zur Zusammenarbeit
Wissensbasis-Management
Workflow-Konfiguration
Workflow-Management
Alternativen für Kustomer
Bewertungen über Kustomer
Meagan M.
Head Of Customer Experience in USA
Verifizierter Nutzer auf LinkedIn
Internet, 51-200 Mitarbeiter
Verwendete die Software für: Mehr als 1 Jahr
Very happy Kustomer! (HA get it?)
Kommentare: when leaving desk.com, we shopped zendesk and freshdesk in addition to kustomer. we chose kustomer and have never looked back. it's been integral to getting not only CX but multiple operations teams into a single environment where we can collaborate.
Vorteile:
the concept can't be beat - aggregating multiple customer touchpoints into a timeline really gives you an immediate sense of that user. not only can you quickly glance at context clues (like purchases, NPS surveys, and support cases) but with the right integrations, you already know WHICH customer is calling as within a second of answering the call. this makes it easy for your agents to already dive into the issue and pitch solutions without having to ask for name, confirmation number, etc. all the basics are there too like user profile with easy edits, merging, moving, forwarding, notes, macros, etc. since we got in early we've seen a lot of exciting features and changes with kustomer over the last year. autopilot steers tickets right to your agents so they don't go cherry picking through searches. making new searches is crazy easy and you can set specific team-based or user-based permissions for them. @mentions available for internal notes on cases. there's an internal knowledge base they recently released which seems awesome, though we've yet to utilize it. CSM and customer support are pretty great too.
Nachteile:
there's a lot they still aspire to - they're a young company who just secured another round of funding and with any luck they'll hire a lot of developers. we've been a somewhat demanding client but the truth is that you need robust reporting to understand your CX/CS teams and hold them accountable. they out-of-the-box reports that kustomer offers are "good" but leave a lot to be desired. you can export custom CSVs to find what you need but it's not always possible to find what you need at all, and only one person can export at a time per environment. additionally, while the concept of open API and full access for users to write scripts and worfklows for their environments is wonderful in theory, the documentation provided for workflows is weak. if you don't know javascript, you'll struggle to write your own workflows.
Antwort von Kustomer
vor 4 Jahren
Hi Meagan, happy to read about your experience with Kustomer! Having long-term happy customers like yourself makes us super proud :)
Verifizierter Rezensent
CTO in USA
Verifizierter Nutzer auf LinkedIn
Finanzdienstleistungen, 11-50 Mitarbeiter
Verwendete die Software für: Mehr als 1 Jahr
In Betracht gezogene Alternativen:
Highly Configurable Customer Chat Tool
Kommentare: Overall it's a great tool for our customer support and in-app chat use case. They are generally responsive to
issues that we have with the tool. Their SDKs leave a bit to be desired though.
Vorteile:
Kustomer is a great tool for customer support and chat interaction. We were previously using Intercom but felt left behind as they started to focus more on being an inbound sales tool. Kustomer allows is highly configurable in terms of features/functions and in its integration with outside tools.
Nachteile:
The web interface has a bit of a learning curve as it's not the most intuitive UI. Additionally, their SDKs can be difficult to integrate due to poor documentation, unusual integration patterns. Their iOS SDK is written in Objective-C which is quite dated at this point.
Mariam K.
Partner vertical lead in Georgien
Verifizierter Nutzer auf LinkedIn
Verbraucherdienste, 51-200 Mitarbeiter
Verwendete die Software für: Mehr als 2 Jahre
Chats, Emails and data - together
Kommentare: Overall, it is a good platform, you can have access on past data with customers, couriers and partners profiles chats,emails and calls. Thats really good.
Vorteile:
I like that I can control daily KPIs and it is easy to track it. Also, you can track surveys, quantities and also integration with other platforms.
Nachteile:
I think that it could be better if it does not have some bugs. Also, it will be great if we were able to save Team pulse on a channel which we use (every move clears it).
Verifizierter Rezensent
Supervisor in Georgien
Verifizierter Nutzer auf LinkedIn
Verbraucherdienste, 51-200 Mitarbeiter
Verwendete die Software für: Mehr als 2 Jahre
Great tool for customer service
Kommentare: Overall I'm pretty satisfied with kustomer, offers a lot of useful tools and reports, it's good indeed but could be even better.
Vorteile:
Best part is that the software is easy to get used to. It works great for emails, and live chat, with the ability to have different channels. The supervising tools are awesome as well, you can keep an eye on everything or just use filters to have visibility on something specific. The conversation system is great as well, being able to easily look at previous interactions with the customer helps a lot to understand the whole story.
Nachteile:
The downtimes, are quite impactful and sometimes takes a long time to fix it. Another downside is that it's not that good for social media, lacks some key features like gifs. Also if the conversation grows a lot the loading times get a bit longer as well, not too much but definitely noticeable.
Emily H.
Communication Operations Manager in USA
Freizeit, Reisen & Tourismus, 51-200 Mitarbeiter
Verwendete die Software für: 6-12 Monate
In Betracht gezogene Alternativen:
Intuitive, Easily Customizable, Kustomer has been a great solution for our company.
Vorteile:
With Kustomer, personalization and customization is incredibly easy. Overnight we were able to set up chatbots, FAQ pages, contact forms, and other features we had been relying on our engineering team to create for us with our previous CRM platform. The team loves how tickets are centered around the customer so we have a full picture every time we need to help someone.
Nachteile:
Filters for new searches can be a bit tricky to set up to ensure that you're not missing any customer communications. Reporting can also be a bit tricky to set up as there are a lot of parameters to filter through.