Was ist Bookmark?
Bookmark ist ein KI-gestützter Website-Builder. Die KI-Software AiDA (Artificial Intelligence Design Assistant) von Bookmark ermöglicht es dem nicht technischen Unternehmer und Kleinunternehmer, sofort eine außergewöhnliche Website zu erstellen. AiDA eliminiert bis zu 90 % der mit der Erstellung und dem Design von Websites verbundenen Schwachstellen, indem es eine brandneue Website in weniger als 30 Sekunden erstellt und den Nutzer dann einfach durch den Prozess der Bearbeitung von Inhalt und Design führt.
Wer verwendet Bookmark?
Bookmark ist ein Website-Erstellungstool für nicht technikaffine Personen. Die einfache Drag-and-drop-Technologie macht das Erstellen einer professionellen Website schnell, einfach und unterhaltsam.
Wo kann Bookmark bereitgestellt werden?
Cloud, SaaS, webbasiert
Über den Anbieter
Bookmark
Ansässig in Toronto, Kanada
2014 gegründet
Telefon-Support
24/7 Live-Support
Chat
Über den Anbieter
Bookmark
Ansässig in Toronto, Kanada
2014 gegründet
Telefon-Support
24/7 Live-Support
Chat
Bookmark – Videos und Bilder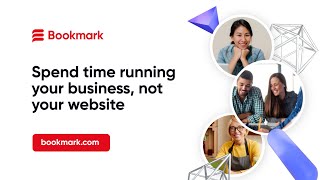 Kosten ähnlicher Produkte wie Bookmark vergleichen
Bookmark Funktionen
Anpassbare Vorlagen
Auftragsmanagement
Automatisches Aktualisieren
Bearbeiten in Echtzeit
CRM
Content-Management
Daten-Import / -Export
Datensicherheit
Design-Management
Drag-and-Drop
Drittanbieter-Integration
Einkaufswagen
Inventarverwaltung
Katalogisierung / Kategorisierung
Multichannel-Marketing
Online-Shop-Designer
SEO-Management
Vorgefertigte Vorlagen
Website-Management
Zielseiten / Web-Formulare
Alternativen für Bookmark
Bewertungen über Bookmark
Sam L.
Owner in USA
Verifizierter Nutzer auf LinkedIn
Marketing & Werbung, Selbstständig
Verwendete die Software für: 1-5 Monate
In Betracht gezogene Alternativen:
Bookmark Is Awesome!
Kommentare: I am helping people that are not tech savvy claim their footprints on the internet.
Vorteile:
I like that is affordable and has ease of use. I like that there are tips and online trainings to help grow the business.
Nachteile:
I wish it was more customizable. The image editing is not that great when trying to have an image fit better. I also wish it looked better on mobile.
Sue B.
Marketing Strategist in USA
Öffentlichkeitsarbeit und Kommunikation, Selbstständig
Verwendete die Software für: 6-12 Monate
In Betracht gezogene Alternativen:
An Excellent Alternative to WordPress and Other Website Builders
Kommentare: Overall, I am very pleased with Bookmark. You get a lot for a very reasonable amount of money. It allows just the right amount of backend customization, yet not so much that it becomes a burden for users who don't want to get bogged down with features they don't understand.
Vorteile:
I really like how easy Bookmark is to use. It really has all the features I look for in a website builder, without a lot of the headaches people can run into when they use WordPress. I like to use it to build websites for my small business clients who are looking for a dependable website that looks beautiful, but who may not be tech savvy enough to want to deal with learning WordPress.
Nachteile:
The AI builder in Bookmark is fun to use, but I think it could do more to scrape current sites and pull in images that are relevant to my client's current web assets. The AI builder is a great way to quickly build a great looking and functional demo site, but I don't really understand how it is actually using AI. It kind of seems slightly gimmicky in that respect. That said, I still think the AI builder is time saving feature and it is worth using it to spin up a quick website.
Marquita R.
Owner/Operator in USA
Design, 2-10 Mitarbeiter
Verwendete die Software für: 1-5 Monate
Bookmark is good start for non tech savvy people
Kommentare: Book.ark is good for beginners that need help building their domain and it's design. It's not to hard to use, but some features can give you trouble when using them.
Vorteile:
I like the drag and drop feature, it does make things really easy. Even though you can't really create your own layout from scratch, you are able to quickly create a design that works in a short period of time.
Nachteile:
Some features were giving me trouble like; the blog function. This is big for out company because through our monthly subscription you get to visit our blog page and get tips and lessons, but with this giving us such a time we weren't always able to have this feature up to date or to our liking.
Matthew F.
Business Consultant in USA
Gesundheit, Wellness & Fitness, 2-10 Mitarbeiter
Verwendete die Software für: 6-12 Monate
Take the money and run!
Kommentare: Seemed okay at first but now I HATE working with them.
Vorteile:
Easy to visually set up the website but that's about it.
Nachteile:
You can't upload your blogs and keep the same url, if you pay for their email or it is included in the plan they won't help you with setup, you can't take payment over the phone effectively, customer support just refers you to online irrelevant guides...I don't think they know their own system. I was promised a google credit that they didn't honor. I move to bookmark for more simplicity but since I've moved my SEO has tanked, my sales have struggled, and all I get from bookmark are shrugs. I asked what it would take to get a refund since I paid for a year in advance and they told me there are no refunds. I will appeal to ecwid who they build their system on and hopefully they will be more reasonable.
Antwort von Bookmark
vor 3 Jahren
Hello Matthew, with all due respect we've been helping you for 5 months with every question you've asked. In fact, the total messages back and forth with the support team is 498. We tried really hard to help you Matthew. I think this review is unfairly written. And in regards to the Google Ads $100 credit. Google changed their rules and was no longer offering this credit. So we weren't able to pass it along to you.
Marktforschung, Selbstständig
Verwendete die Software für: 1-5 Monate
How did I go so long without this product
Kommentare: I have a large distributed web with multiple subscription sites, clients, and marketing pages. Bookmarks helps me streamline and bring all that in under control. They are wonderful at this point to work with and I don't forsee that their committment to their product is going to change. I'm happy to have found them.
Vorteile:
Quick and easy framework setup using the digital assistant helps me get the website off and running and allows me to focus on the customer and their content.
Nachteile:
Some work still needs to be done on the blog feature, but the websites and ecommerce is a grand slam.