Was ist ChurnZero?
Die SaaS-Plattform von ChurnZero hilft Unternehmen mit einem Abonnementmodel, Kundenabwanderung zu bekämpfen. Die Plattform ist so konzipiert, dass sie sich in CRM-Systeme und in eine Anwendung oder einen Dienst integrieren lässt. So hilft ChurnZero Unternehmen, zu verstehen, wie ihre Kunden ihr Produkt verwenden. Zudem bewertet die Anwendung ihre Zufriedenheit und die Wahrscheinlichkeit, dass sie ihr Abonnement verlängern. Sie bietet dem Unternehmen die Möglichkeit, die Kundenerfahrung durch zeitnahe und relevante Touchpoints, einschließlich In-App-Inhalten, zu automatisieren und zu personalisieren.
Wer verwendet ChurnZero?
ChurnZero wurde für Unternehmen mit einem digitalen Abonnementmodel (SaaS, Inhalte, Dienstleistungen) entwickelt, bei denen Kundenengagement für den Kundenerfolg entscheidend ist.
ChurnZero – Details
ChurnZero
2015 gegründet
ChurnZero – Details
ChurnZero
2015 gegründet
ChurnZero – Videos und Bilder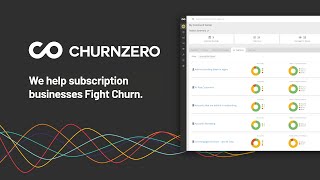 Kosten ähnlicher Produkte wie ChurnZero vergleichen
Startpreis
Nicht verfügbar
N/A
Nicht verfügbar
Nicht verfügbar
ChurnZero – Bereitstellung und Support
Kundenbetreuung
E-Mail/Helpdesk
Telefon-Support
Chat
Training
Persönlich
Live Online
Webinare
Dokumentation
Winnie I.
Vice President in USA
Verifizierter Nutzer auf LinkedIn
Unternehmensberatung, 11-50 Mitarbeiter
Verwendete die Software für: 6-12 Monate
Great CS platform for SaaS businesses
Kommentare: - Increased visibility on usage stats
- Better understanding of which clients are high/medium/low risk of churning (good for our CS team)
- Knowledge of which features of our SaaS platform are used most widely (drives more R & D and good info for our product teams)
- Smoother annual renewal process (good for our sales teams)
- Improved and consistent communication and setting up plays
- Understanding our various segments and the activities we see among them
Vorteile:
Implementing ChurnZero has been one of the highlights of our year. It is a great feeling knowing we are proactively able to monitor client health and manage renewals appropriately. We used to track activities and usage internally but it was a much more manual process. ChurnZero's platform and sleek UX is easy to use and navigate. Reports, dashboards, and key metrics are easy to understand and digest and enable our teams to take actionable steps. In less than 6 months, we were able to not only fully implement ChurnZero but have data and analysis in time for our annual user conference in October. Our enterprise clients were thrilled with our new usage stats we were able to provide to them...definitely made us look great!
Nachteile:
While there are options to tailor/customize certain elements (like segmentation, churn score, etc) there is still opportunity to allow further tailoring of the site and features. For example, tailoring notifications is great but having the ability to remove tags would be beneficial. Being able to see what browser our end users are using while in our platform would also be helpful because many of our customer troubleshooting begins with us identifying whether they are using browsers that are too old or are no longer being supported. ChurnZero has been good so far at listening to us and accepting feedback and helping us with implementation. I have no doubt they have good product roadmap plans and will incorporate elements as more and more of their customers suggest improvements. ChurnZero is also a very robust system and we have it integrated not only with our SaaS platform but also with Salesforce so fully implementing everything took longer than expected (~3 months). This was mainly due to our internal resources having the time to work with the implementation team (not ChurnZero's fault) but I wish we had more of a heads up prior to rolling out.
Pauline S.
CS Operations Senior Manager in UK
Computer-Software, 201-500 Mitarbeiter
Verwendete die Software für: Mehr als 1 Jahr
In Betracht gezogene Alternativen:
Great CS platform
Kommentare: CZ makes it much easier to segment clients and contacts, and to reach out to the right accounts and contacts. Plays and Journeys are sometimes a bit difficult to link (emails to be sent semi-automatically after a specific step of the journey has been completed for example) and Journeys are really something the CSMs struggle dealing with. Otherwise, the Support is always very reactive.
Vorteile:
Multi-currencies, Integrations with other tools we use internally (Salesforce, Wootric, Webhooks, Intercom), ability to create as many segments as needed, native NPS surveys
Nachteile:
Custom dashboards not being included in the standard plan (we have to export the data every time outside CZ to provide the team with graphs), NPS Surveys available only in one language (sending NPS Surveys in different languages means creating different surveys which will result in having several NPSs for the same product - which is not what we want)
Verifizierter Rezensent
Data Analyst in Kanada
Verifizierter Nutzer auf LinkedIn
Informationstechnologie & -dienste, 11-50 Mitarbeiter
Verwendete die Software für: 1-5 Monate
Quelle: GetApp
Ok Tool but Will Deceive to Close the Sale
Vorteile:
Journeys and Plays both have some great elements to them. Journeys for tracking the path of an account through their experiences. Plays for automation or processes.
Nachteile:
During the sales process they told us their integrations worked a certain way and they had certain functionality that they later told us did not work when we tried to get it up and running during the onboarding process. Unfortunately, this occurred quite a few times with little to no recourse. It is very clear that their team is ok with stretching the truth or not giving the full answer in order to close a sale. If they had been honest with the functionality the whole time it would have been easier to adapt but unfortunately, they kept changing their story causing us to lose time and money in continually changing our processes to suboptimal methods as they revealed the product did not work as expected. Particular pain points: - Emails can be sent from ChurnZero but only with one recipient. - Despite claiming to have a Segment integration, it is not a full integration and is intended for only events. They can set it up to accept attributes but it can be very glitchy. - The HubSpot integration is only "bi-directional" for some attributes and not others. This is not outlined anywhere. - The HubSpot sync only syncs tasks, there is no sync for emails or notes. - The Custom Table interface (where integrations sync to) is really badly formatted making it difficult to read. - The HelpScout sync only shows a small preview and formats badly to where the small preview takes up the whole page making it difficult to easily see past conversations. - If a Play is created for an account it creates it for every single contact on the account even if it's just creating a single task for the account - The UI is a little glitchy in places formatting weirdly - There's no way to add your own attributes or upload csvs, all this needs to be done by sending the information to their team. - There is no way to customize how many accounts appear in their lists (known as Segments) meaning only 10 accounts can be viewed at a time (a big pain points for CSMs skimming their account list). I'm sure there's many other nuiances we still have yet to discover. We were really excited for this tool and the possibilities but unfortunately it has been a lot of let-downs in the functionality.
Antwort von ChurnZero
vor 3 Jahren
Thanks for the review. It is appreciated and I'm sorry we got off to a bad start. 1) I do object to the word "deceive"; it may be miscommunication or lack of deep knowledge or even sloppiness. Since we, of course, believe in customer success, we know that deception at any point bites back. We wouldn't knowingly deceive, but we'll work to improve in our communication to customers and prospective customers alike. 2) We do see consequences from this problem and you have been given recourse. We have changed our development schedule to build functionality to bridge the gap here. This is the price we are paying from the problem and it is a big one. We will strive to deliver on what was promised to you and your team. 3) Thanks for the thoughts on some of the other features. They are great feedback for our team. I will make sure they read this. I believe we have tried to make right what was a bad start to the partnership. I hope we can continue to show that we have the best interest of our customers in mind.
Doug M.
Manager, Corporate Customer Success in USA
Computer-Software, 501-1.000 Mitarbeiter
Verwendete die Software für: 1-5 Monate
In Betracht gezogene Alternativen:
The software is great, the team is amazing
Kommentare: Five out of five starts. The team has been amazing from the start, and we're excited to be a part of the CZ Community. No software is perfect, but ChurnZero definitely puts customers first, and we've enjoyed every minute of the partnership so far.
Vorteile:
The team that supported our onboarding and success has been absolutely next level. Through the entire sales/post sales process, our organization has felt like a priority, and the CZ team has seamlessly handled every curveball we've thrown. For the last 2 years, our org has operated without a CS platform, so bringing ChurnZero in to the fold has been an immediate game changer for our CS org. The ease of use for CSMs, the increased visibility into tasks, responsibilities, and journeys/plays has made our team more efficient than ever. As we continue to develop our use cases and build out the platform, we continue to be impressed with the capabilities to support our needs. We're still early in our lifecycle with ChurnZero, but have been blown away. As we continue to dig in, we know there's a lot to do, but we're excited at what the platform has unlocked for us already!
Nachteile:
The only downside is the inability for an admin to delete custom fields that they created on their own (requires a support ticket). I understand the purpose, but as someone who builds first and thinks later, this leads to a bit of a slow down when I need to go back and clean things up. On that note, the support team has been incredibly responsive and supportive. Second "negative" is the lack of flexibility with the default "dashboard" the command center. Our CSMs/segment leaders would love the ability to create/define/build their own weekly views, but we've been able to make do with the default command center and some custom dashboards.
Elsie C.
Director of Customer Care in Kanada
Computer-Software, 11-50 Mitarbeiter
Verwendete die Software für: Mehr als 2 Jahre
In Betracht gezogene Alternativen:
ChurnZero changed my life!
Kommentare: It's been overwhelmingly positive. I absolutely love the Customer Success Managers that I've been lucky enough to work with - they have been wonderful! I'm at a place where I've been with CZ for nearly 3 years and I feel like I still have so much more to get out of it - it's the gift that keeps on giving. I think this might be the most dramatically positive review I've ever written!
Vorteile:
ChurnZero gives you visibility on every customer who interacts with your organization. It is an incredibly robust tool that is limited only by the data that you send to it! If you spend the time to get to know all of the ways that you can leverage CZ you'll never look back. It has completely changed the way that we are able to interact with and empower our customers. The greatest Pro is the people though - the support team is the most responsive I've dealt with (I'm talking replies within MINUTES sometimes) and the Customer Success Managers are the best in the world. They have fantastic webinars and weekly content so it's just the beginning of your best practice adventure.
Nachteile:
I'll admit it was tricky to set up. But any system like this will be! That's the nature of robust systems - you need development work and a clear picture on where you are going. But you'll get an implementation specialist who will guide you through every step and (provided you have developer availability!) you can get through it easily. The only other Con I have is that the Email Tool can't be used for Email Marketing - it's great for one-on-one messages but you can't create big colourful branded emails in it. It's just not robust enough. Instead, I create these in Hubspot and port over the HTML code which is a great workaround but very time consuming. But CZ put out so many massive enhancements and new features I have absolute faith that they'll work on this one day and I'm happy to wait until then (that's saying something!)