Was ist Inventory Source?
Inventory Source is a dropship inventory & order management software that allows you to automatically upload products, sync inventory & route orders with dropship suppliers to virtually any online store, marketplace or ecommerce platform. Connect to our 180+ dropship supplier network or add your own private supplier, auto-upload product data and keep inventory in sync - no manual file imports, auto-route orders and sync shipment tracking.
Wer verwendet Inventory Source?
Inventory management & dropshipping automation solution that provides small to midsize eCommerce businesses with solutions for vendor onboarding, order processing, sales reporting, and more.
Wo kann Inventory Source bereitgestellt werden?
Cloud, SaaS, webbasiert
Über den Anbieter
Inventory Source
2003 gegründet
Telefon-Support
Chat
Erhältlich in diesen Ländern
Vereinigte Staaten
Über den Anbieter
Inventory Source
2003 gegründet
Telefon-Support
Chat
Erhältlich in diesen Ländern
Vereinigte Staaten
Inventory Source – Videos und Bilder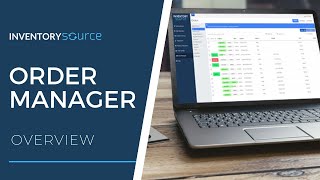 Kosten ähnlicher Produkte wie Inventory Source vergleichen
Inventory Source Funktionen
Auftragsmanagement
Berichterstattung / Analyse
Beschaffungsmanagement
Bestandskontrolle
Bestandsoptimierung
Bestell-Management
Inventarverwaltung
Kostennachverfolgung
Lieferanten-Management
Sendungsverfolgung
Suchen / filtern
Versand-Management
Alternativen für Inventory Source
Bewertungen über Inventory Source
Carlemile G.
Owner in USA
Verifizierter Nutzer auf LinkedIn
Konsumgüter, 2-10 Mitarbeiter
Verwendete die Software für: Mehr als 1 Jahr
Carlemile's Review
Vorteile:
That allows my business to be automated, allowing me to focus on what important.
Nachteile:
If you're running multiple business, it gets pretty expensive really quick
Einzelhandel, 2-10 Mitarbeiter
Verwendete die Software für: 6-12 Monate
In Betracht gezogene Alternativen:
I am always recomending this solution.
Kommentare: I love Inventory Source. There could be some serious improvemnet in a couple of areas, but over all it is my favorite inventory management solution.
Vorteile:
Inventory Source has made my store virtually automatic. I love the ability to price 13k products in minutes, and trust the automation of my store. Very simple to set up, and it was the ONLY solution that would integrate with my favorite supplier.
Nachteile:
Customer Service is a dying art that needs to be brought back. Inventory source would be #1 and would stay there if they would buck the trend and get some customer service.
Brian C.
Owner in Schweden
Einzelhandel, 2-10 Mitarbeiter
Verwendete die Software für: 1-5 Monate
Avoid like the plague
Kommentare: [SENSITIVE CONTENT HIDDEN] is condescending and arrogant. He called me late for our onboarding call, was obviously not interested in talking to me. He basically said "Do you have any questions?" which was strange as I had just started using the platform, so I really didn't at that point. "Okay, goodbye then." My onboarding call was less than two minutes. When I contacted him about these pricing errors, he stated that it was because I was new and didn't know what I was doing, despite the fact that I took screenshots of all of my settings and sent them to him. They were correct. Avoid these people, they don't care about you or your well being.
Vorteile:
It allowed me, in most cases, but not all, to successfully link my sources and sales platforms.
Nachteile:
There were numerous pricing errors which forced me to cancel orders, damaging my seller reputation. I had all of the settings correct: do not list below wholesale cost, tiered markups from wholesale... and many times, not just once, there were errors. One example is a 1200 bed listed on Walmart for 50 dollars. Someone bought it. I had to return the money and cancel the order. I wrote to them about it, and they said it was fixed. It kept happening. Just today, I had an item which cost 598 wholesale get listed for 311. Someone bought it. I am done.
Josh L.
Owner/Founder in USA
Marketing & Werbung, 2-10 Mitarbeiter
Verwendete die Software für: 1-5 Monate
Absolutely junk!
Kommentare: It was absolutely terrible. Their support will always respond back with basic answers, but there are true core features that are broken that they claim work, but actually do not work or do not work well enough. This can be very complex and unfortunately, the software is nowhere good enough to do what it claims it will do. I have had several issues with the software breaking and will never suggest this software to my clients or others in the industry.
Vorteile:
I loved that you can easily select products and push them to channels.
Nachteile:
You should ABSOLUTELY RUN from this garbage software! You can load products and they integrate to the suppliers they claim, but you will sell items that aren't in stock and then it will randomly break from time to time. And No it isn't user error, I have been in the eCommerce business since 1999. I can assure you I know what I am doing and this company is no good. You will have to spend a bit more, but "real" software is needed if you are looking to professionally handle your inventory! This is by far one of the worst pieces of software I have worked with in the industry and I have worked with dozens and dozens over the years. I normally never, ever leave negative reviews, but since this software is so vital I feel it might help others to let them know that this could potentially get your account suspended if you are for example drop shipping on a platform such as Amazon.
Sansarah B.
Chief Operations Officer in USA
Einzelhandel, 2-10 Mitarbeiter
Verwendete die Software für: 1-5 Monate
Not worth it
Kommentare: very poor. I asked for a refund after trying to work with them for about 2 weeks. I had so many issues and they were not able to integrate the repricer correctly.
Vorteile:
they have a good supplier's directory, which is great and free to consult.
Nachteile:
their support is terrible. They take too long to respond, they are not available by chat or phone (you would have to wait around 2 days to schedule a zoom call if you need to speak with someone) and do not follow up. They also seem to not communicate or not take notes so every time you have to explain the same issue to a different person.