Was ist JustCall?
JustCall ist ein cloudbasiertes Telefonsystem, mit dem Unternehmen Telefonnummern aus 58 Ländern sammeln und ihren Kunden lokale Ziffern anzeigen lassen können. Mit dem System kannst du deinen internationalen Kunden und Interessenten näher sein, was dir hilft, Vertrauen aufzubauen und ihr Zutrauen zu gewinnen. JustCall bietet dir die Plattform, die du benötigst, um deine internationalen Kunden an einem einheitlichen Standort zu verwalten und mit ihnen über eine einfache und unkomplizierte Lösung zu kommunizieren.
Wer verwendet JustCall?
Die Anwendung eignet sich für kleine und mittlere Unternehmen, die von mehreren Standorten aus lokal oder global agieren.
Wo kann JustCall bereitgestellt werden?
Cloud, SaaS, webbasiert, Mac (Desktop), Windows (Desktop), Android (mobil), iPhone (mobil), iPad (mobil)
Über den Anbieter
JustCall
2014 gegründet
24/7 Live-Support
Chat
Über den Anbieter
JustCall
2014 gegründet
24/7 Live-Support
Chat
JustCall – Videos und Bilder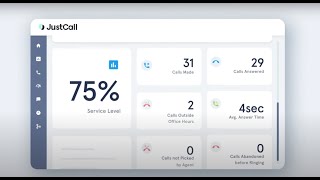 Kosten ähnlicher Produkte wie JustCall vergleichen
JustCall Funktionen
API
Alarmfunktion / Benachrichtigungen
Anpassbare Vorlagen
Anrufaufzeichnung
Anrufplanung
Anrufprotokoll
Anruftext-Aufzeichnung
Anrufverteilung
Anrufüberwachung
Automatische Anrufverteilung
Automatisches Telefonwahlgerät
Befragungs-/Umfragemanagement
Berichterstattung / Analyse
Berichterstattung und Statistik
Call Screening
Call-Center-Management
Computer Telephony Integration
Drittanbieter-Integration
Echtzeit-Berichterstattung
Echtzeit-Chat
Ereignisgesteuerte Aktionen
Geplanter Nachrichtenversand
IVR / Spracherkennung
Kampagnenmanagement
Konferenzschaltung
Kontakt-Datenbank
Kontaktmanagement
Leadmanagement
Listen-Management
MMS
Massen-SMS
Mobiler Zugriff
Nachrichten-Personalisierung
Power Dialer
Prädiktive Wähler
SIP-Trunking
Stimmenanpassung
Telefon-Tasteneingabe
Text in Sprache (verwandeln)
Umfragenerstellung
Umleitung der Anrufe
Vereinheitlichte Kommunikation
Videokonferenzen
VoIP-Verbindung
Voice-Mail
Voicemail-Transkription
Vorlagen-Management
Warnungen / Eskalation
Warteschlangenmanagement
Weiterleitung von Anrufen (Call Routing)
Wissensbasis-Management
Zwei-Wege-Messaging
Alternativen für JustCall
Bewertungen über JustCall
Matthew B.
Director in Frankreich
Verifizierter Nutzer auf LinkedIn
Informationstechnologie & -dienste, 2-10 Mitarbeiter
Verwendete die Software für: Mehr als 1 Jahr
Fast implementation, great support team
Kommentare: Painless, easy onboarding. Support is easy to get hold of and they even configured a few lines and integrations that weren't part of the normal set-up. The software works great - both inbound and outbound calls, but the thing that really sets the company apart is the support. I've thrown some next level problems at them, expecting them to say "sorry, but no" - I always get "sure, no problem". Well done.
Vorteile:
It's so simple to set up. From purchasing the number, through to setting up complex redirects, configuring end user devices and support is outstanding.
Nachteile:
Not much, maybe they could have a few more integrations, but maybe I should also ask them if they could make them!
Bildungsmanagement, 2-10 Mitarbeiter
Verwendete die Software für: 6-12 Monate
Integrates well with most CRMs
Kommentare: We use AgileCRM and although they integrate with Twilio, there's no mobile option, and I'm on the go a lot. We needed to be able to answer at the desk and on the go at the same time. By not using the telephony features in Agile, we are able to go with their cheapest plain, which saves money. JC integrates pretty will, although there's no way to do automated sms campaigns from Agile via JC. The integration allows us to look at the customer history which also displays emails, notes, deals and anything else we want. We used to have to search many places to see conversations, but now we can just look at the history in Agile since it includes phone calls and texts.
Vorteile:
JC is very versatile in that it offers the ability to make calls from an app, cell phone or desktop. This allows us to quickly switch from one platform to another. It also integrates pretty will with our CRM which means we can see call and texting information along with other client history.
Nachteile:
The call quality is subpar, but acceptable, especially from the app. They say that my internet is too slow, but I never had these issues with my previous provider. However, I've found a way around this, and that is to forward to a Google Voice number rather than ring the app. This way, it isn't using my LTE signal. Luckily, the main people answering calls are stationary and on strong wifi, so it's not a huge problem for me as the owner. However, we still have random glitches where we'll answer and no one is there or we try to answer and it doesn't work. But this only happens maybe once per week, so again, not a huge deal. We put up with these things because there isn't a good alternative if we want to continue. integrating the phone with out CRM.
Kyra T.
Customer Success in USA
Verbraucherdienste, 11-50 Mitarbeiter
Verwendete die Software für: 1-5 Monate
In Betracht gezogene Alternativen:
A Versatile Service
Kommentare: JustCall's wide range of functionality has been invaluable to our team's productivity, and the flexibility they provide for modifying existing features and building new ones has been impressive. The interface could use an update.
Vorteile:
JustCall has a wide range of functionality. Their name is a misnomer because they do so much more than "just call". The features we use the most are calling, call transferring, texting, and texting campaigns. JustCall integrates so nicely with Hubspot, which is a literal lifesaver for our team. You can also create saved text templates so you don't have to type out the same message if you're sending it multiple times a day. JustCall's support team is relatively responsive (chatbot on site) and can usually accommodate special requests for new features or modifications of current ones. This has been really nice for our team.
Nachteile:
JustCall's support team is based in India, and the language barrier can occasionally become an issue. Sometimes calls drop, the interface isn't super appealing, and the Chrome extension that allows you to easily text or call often has issues. Using the same account with more than one user is difficult at times, as notifications will only go to one user, and the notifications don't always update automatically so you have to refresh manually a lot.
Antwort von JustCall
vor 2 Monaten
Hi Kyra, Thank you for taking the time to leave us a detailed review. We truly appreciate your feedback. We are thrilled to hear that you are enjoying the Justcall features and the HubSpot integration. Regarding the issues, Please mail us at help@justcall.io and we will be there to help you throughout.
Verifizierter Rezensent
Director in Myanmar
Verifizierter Nutzer auf LinkedIn
Computer-Software, 2-10 Mitarbeiter
Verwendete die Software für: 6-12 Monate
In Betracht gezogene Alternativen:
Changes the way you sell and manage
Kommentare: The customer service team are fabulous and flexible. They are consistently updating the software and understand each client will have slightly different needs.
I have watched JustCall change the way salespeople work, for the better!
Vorteile:
It visually integrates well with our CRM Easy to use in the CRM set up Being able to review calls, and see the call & SMS activities makes it easy to train staff as well as ensure the tasks are being completed. This also means we can review a conversation making our next call a more productive one.
Nachteile:
I just which the Premium package was more cost effective for teams and there was an SMS template functionality
Antwort von JustCall
vor 3 Jahren
Thank you so much for sharing your kind words and review. We do have SMS Template functionality. You can save text messages as templates and use them to reply quickly. Here is more information: https://justcall.io/updates/manage-saved-replies/ Hope this helps.
Verifizierter Rezensent
International Member Services in USA
Verifizierter Nutzer auf LinkedIn
Transport/Güterfrachtverkehr/Schienenverkehr, 201-500 Mitarbeiter
Verwendete die Software für: 6-12 Monate
CRM Heaven
Vorteile:
JustCall is a great tool for making calls that would require some sort of CRM follow-up. We use ours to track leads and then follow-up with them, using the CRM coupled software. It's not frills, and does the job.
Nachteile:
The software can be buggy at times, but a quick restart solves the trick.
Antwort von ViralWoot
vor 4 Jahren
Thank you for sharing your review. We recently launched some interesting new features like SMS Bot, Auto Dialer, SMS Campaigns, SMS Scheduler, Voice Broadcast etc that will serve some niche use cases and help us differentiate from some of the other players in the market. Regarding the restart to solve trick - due to Chrome's support for WebRTC we were depending upon Chrome for last 2 years. And, high RAM usage by Chrome at times causes issue with Audio packet transfer. But, we are launching our built-from-scratch new dialer that will get rid of this dependency. In last 2 months, we have re-wrote most of our APIs & achieved great success with load time. Thanks again for the opportunity. And, we will surely work hard on making sure that all are interesting features are more visible to our users.