Was ist OnePageCRM?
OnePageCRM ist ein einfaches, kontaktorientiertes CRM. Das Unternehmen verwendet einen Aufgabenlisten-Ansatz zur Verwaltung von Leads, bei denen jeder Kontakt eine nächste Aktion hat, um eine Nachverfolgung zu garantieren. Erfasse Leads aus Gmail, Outlook, Twitter und Facebook und erstelle mit nur einem Klick einen Kontakt in OnePageCRM. Verwalte Deals und verfolge deine Verkaufsziele mit der intuitiven Vertriebspipeline. Integriere alle deine bevorzugten Business Apps. Hast du eine Frage? Das Unternehmen ist über Telefon, Chat und E-Mail erreichbar.
Wer verwendet OnePageCRM?
Selbstständige, kleine Unternehmen und Vertriebsteams, die ein einfaches, aber leistungsstarkes Tool suchen, um mehr Geschäfte abzuschließen.
Wo kann OnePageCRM bereitgestellt werden?
Cloud, SaaS, webbasiert, Mac (Desktop), Windows (Desktop), Linux (Desktop), Chromebook (Desktop), Android (mobil), iPhone (mobil), iPad (mobil)
Über den Anbieter
OnePageCRM
2010 gegründet
Telefon-Support
Chat
Erhältlich in diesen Ländern
Irland
Über den Anbieter
OnePageCRM
2010 gegründet
Telefon-Support
Chat
Erhältlich in diesen Ländern
Irland
OnePageCRM – Videos und Bilder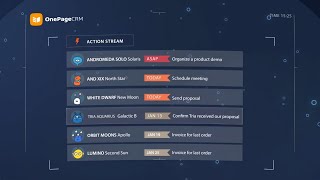 Kosten ähnlicher Produkte wie OnePageCRM vergleichen
OnePageCRM Funktionen
Aktivitäts-Dashboard
Alarmfunktion / Benachrichtigungen
Angebote / Schätzungen
Angebotserstellung
Anpassbare Berichte
Anpassbare Felder
Aufgabenmanagement
Berichterstattung / Analyse
Berichterstattung und Statistik
CRM
Chancenmanagement
Data Enrichment
Daten-Import / -Export
Demografische/firmografische Daten
Dokumentenmanagement
Dokumentenspeicher
Drag-and-Drop
Drittanbieter-Integration
E-Mail Marketing
E-Mail-Management
Erinnerungen
Gebietsmanagement
Gemeinsame Kontakte
KI/Maschinelles Lernen
Kalender-/Erinnerungssystem
Kalenderverwaltung
Kampagnenmanagement
Kontakt-Datenbank
Kontaktmanagement
Kundendatenbank
Kundenmanagement
Lead Segmentierung
Lead-Erfassung
Lead-Qualifizierung
Leadmanagement
Leistungskennzahlen
Marketing-Automatisierung
Mobiler Zugriff
Priorisierung
Prozess-/Workflow-Automatisierung
Prädiktive Analytik
Sales-Pipeline-Management
Segmentierung
Social-Media-Integration
Stapelverarbeitung
Suchen / filtern
Terminplanung
Verfolgung von Interaktionen
Vertrags-/Lizenz-Management
Vertriebsaktivitätsmanagement
Vorlagen-Management
Webbasierte Entwicklung
Workflow-Management
Zugriffskontrollen / Berechtigungen
Zugriffsquellen-Verfolgung
Alternativen für OnePageCRM
Bewertungen über OnePageCRM
Ron M.
USA
Verifizierter Nutzer auf LinkedIn
Verwendete die Software für: 1-5 Monate
Quelle: GetApp
A SalesPerson Crm
Kommentare: I really took 3 weeks off recently and decided to move from the Outlook Desktop world to all online and based around Google Apps. I needed A Crm that focused on follow up and keeping good notes and also keeping track of my calls and actions. I Checked out dozens of other Crms on the free trial basis and most are the same. They keep track of notes and calls, and put your next actions into a to do list or task. They have various levels of success integrating with Google. As soon as I tried OnePage I noticed a key difference. The Action Stream of telling you what to do next front and center. If you are in a business where making calls to contacts, sending emails and building relationships like Real Estate or other small business this is the Crm for you! Is it Perfect? No will go into this in the pros and cons. I chose this over Well Knowns like Insightly, Prosperworks, Contactually, and many more as the Bells and Whistles I wanted were the most well done in One Page.
Vorteile:
Action Stream, Action Stream, Action Stream better than any to do list or task manager I have seen. Simple Interface Skype Caller built in Call Tracker Built in Pleasing to the Eye Descent Customer Support it is possible to get someone on the phone Tagging They are in Ireland ( kinda cool)
Nachteile:
Google Contact Integration by Pie Sync, Does not bring Picture or Address over and slow to sync to Google Contacts, sometimes does not show up for a long time and I always have to check to make sure it made it over, then manually add photo and address if important to me. This alone is very bothersome to me and if I left would be for this. Have to add +1 in front of phone number to work with Skype, not a deal breaker but more time Emails not really connected to Client unless you send from Crm or use the Bcc for one Page Address. Not a deal killer cuz just go to gmail and enter email and get all the emails anyways. If the Google Sync was direct not relying on Pie Sync and brought over Photos and all other Info this would be as close to a 10 out of 10 that there is.. I have to give it overall an 8. Maybe Pie Sync will improve or Zapier will work one day.
Verifizierter Rezensent
Client Relationship Manager in Vietnam
Verifizierter Nutzer auf LinkedIn
Marketing & Werbung, 2-10 Mitarbeiter
Verwendete die Software für: Kostenlose Testversion
Quelle: GetApp
In Betracht gezogene Alternativen:
Easily to Use, Friendly UI, Vertical Management
Kommentare: So with $15/ monthly, it fit with self-user like me (
Vorteile:
+ Pipeline & Goal is visible, you could use easily and custom. It appear front of your eyes. + Like the name, everything show in a page for all (different with other UI as Agile/ Salemate/ Hubspot/ Bitrix...) - kind a classic, I love it after try dozen of 3-column-page of other CRM: messy eyes + CUSTOMER SERVICES: they are a live and help you strongly, friendly also. I love to work with people and OnepageCRM did great for user (I luckily talked with Sarah, Lecetia - both kindness) + Vertical Management as "Status", as you "Category" to work not eye-looking to many column. + Commission rate, we are already to know how we gain after we help our customer solve their problem.
Nachteile:
- Need more UX, friendly click as "Add a Contact/ Deal/ Company" - Should plus "+" icon somewhere for short-cut add new Contact/ Deal/ Company - Add multiple "Contact" to a "Deal" (B2B normally require more than a person in a purchase)
Antwort von OnePageCRM
vor 8 Monaten
Hi there, thanks so much for the positive review. I'm delighted that you enjoy using OnePageCRM. Noted about the UX ! ~Sarah
Richard A.
Director in Neuseeland
Baumaterial, 2-10 Mitarbeiter
Verwendete die Software für: 6-12 Monate
Easy to use and cost effective
Kommentare: Easy to use and cost effective. Great support
Vorteile:
Easy to use and cost effective. Great support
Nachteile:
Email Templates are very difficult to use and needs big upgrade. Should include recent history list so you dont have to search again.
Marketing & Werbung, Selbstständig
Verwendete die Software für: Mehr als 1 Jahr
In Betracht gezogene Alternativen:
Great for small business owners
Kommentare: This is far and away the cleanest way to both keep a client database and to map out good times to interact with or follow up with each of them to push them down the sales pipeline. There are no more unknowns, or questions about when I should call--I just open the app and see who's on my list for today.
Vorteile:
Besides the initial tour around the program, no training was necessary (although provided in free seminars). It's very intuitive to use, and while it's not a quite one-stop-shop like Hubspot, it's pretty darn close. The best part is the underlying philosophy, where once you act on a client you are encouraged to set the next step or goal for them to keep them moving down the sales pipeline. Nobody gets forgotten, no deadlines passed; it's great!
Nachteile:
Importing mass contacts can be a little difficult, mainly due to the likely ubiquitous issue that import data doesn't often neatly match the software you're using (ex, First Name, Last Name vs Last Name, First Name).
Antwort von OnePageCRM
vor 8 Monaten
Hi Rebekah, thank you so much for such a great and positive review. I love hearing how easy you've adapted to the system, and the fact that no deadline passes and nobody gets forgotten is proof that you're using OnePageCRM to its full potential. Noted about the import! ~Sarah
Luxusgüter & Schmuck, 2-10 Mitarbeiter
Verwendete die Software für: Mehr als 2 Jahre
In Betracht gezogene Alternativen:
We Used Many CRM Platform Before Falling in Love w OnePage
Kommentare: Outstanding. I am a CRM fanatic and have used OnePage to build my business for several years now. We went thru many different platforms over our company history, even developing our own CRM software at one point, but we needed cultural acceptance to get our team to buy in. OnePage provided that along with terrific training, ease of use, great customer support, human engagement and a platform that drives sales (as long as you work it every day).
Vorteile:
Ease of use was critical. CRM is as much about cultural acceptance as tech capability. If the team won't use it and won't learn it, it doesn't matter what it can do. Ease of use of OnePage and the training and customer support that come with it are exceptional and provided quick cultural acceptance from our team.
Nachteile:
Some functionality is yet to be developed to match their bigger (more expensive/complex) competitors. But this con was relatively easy to accept. The team at OnePage continues to innovate and develop improvements.
Antwort von OnePageCRM
vor 8 Monaten
Hi Marty, wow what great feedback, thank you! I'm so happy to hear that OnePageCRM is helping you grow your business and that your team is equally as happy with the CRM. We always say that you don't need an IT degree to use a CRM so ease of use is part of our ethos! ~Sarah