Was ist AUTOsist?
Suchst du nach einer einfachen Lösung für die Verwaltung deiner Flotte? Mit AUTOsist kannst du auf einfache Weise Wartung, Inspektionen, Kraftstoff und andere wichtige Aufzeichnungen verfolgen. Das System ist webbasiert und verfügt auch über eine mobile App für iOS und Android, sodass du deine Flotte jederzeit, überall und auf jedem Gerätetyp verwalten kannst. Lege ganz einfach Erinnerungen fest, lade Belege und Dokumente hoch und weise mehrere Nutzer zu. AUTOsist kann mit jeder Art von Flotte verwendet werden, bei der du die Effizienz steigern, Ausfallzeiten reduzieren und Kosten senken möchtest.
Wer verwendet AUTOsist?
Jedes Unternehmen, das eine einfache und kostengünstige Möglichkeit zur Verwaltung der Flottenwartung, zum Einreichen von Inspektionen, zum Erstellen von Arbeitsaufträgen, zum Verwalten von Kraftstoff und andere wichtige Datensätze benötigt.
Wo kann AUTOsist bereitgestellt werden?
Cloud, SaaS, webbasiert, Mac (Desktop), Windows (Desktop), Linux (Desktop), Chromebook (Desktop), Android (mobil), iPhone (mobil), iPad (mobil)
Über den Anbieter
AUTOsist
Ansässig in Mission Viejo, USA
2014 gegründet
Telefon-Support
24/7 Live-Support
Chat
Erhältlich in diesen Ländern
Australien, Kanada, Mexiko, Vereinigte Staaten
Über den Anbieter
AUTOsist
Ansässig in Mission Viejo, USA
2014 gegründet
Telefon-Support
24/7 Live-Support
Chat
Erhältlich in diesen Ländern
Australien, Kanada, Mexiko, Vereinigte Staaten
AUTOsist – Videos und Bilder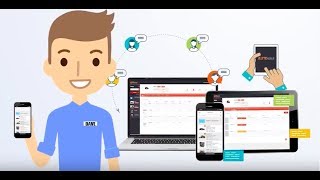 Kosten ähnlicher Produkte wie AUTOsist vergleichen
AUTOsist Funktionen
Arbeitsauftragsverwaltung
Aufgabenmanagement
Berichterstattung / Analyse
Berichterstattung und Statistik
Bestandskontrolle
Chat / Messaging
Drittanbieter-Integration
Fahrzeuginformationen
Für mechanische Ausrüstung
GPS
Garantie-Nachverfolgung
Gerätenachverfolgung
Inspektions-Management
Instandhaltungsmanagement
Inventarverwaltung
Kostennachverfolgung
Kraftstoff-Management
Kraftstoff-Nachverfolgung
Kundendienst-Historie
Mitarbeitermanagement
Mobiler Zugriff
Reparatur-Nachverfolgung
VIN-Suche
Verfolgen von Vermögensanlagen
Verwaltung von Einzelteilen
Vorbeugende Wartung
Vorfall-Berichterstattung
Alternativen für AUTOsist
Bewertungen über AUTOsist
Kelly
President in USA
Verifizierter Nutzer auf LinkedIn
Verwendete die Software für: 1-5 Monate
Autosist is exactly what our company needed to help with our maintenance.
Kommentare: We are able to track our preventative maintenance to make sure trucks are serviced on regular intervals. Being able to search old records is a huge positive. I no longer have to dig through paper records to find a service record.
Vorteile:
When the software is used on a daily basis, it sends us reminders about preventative maintenance. This is extremely important for us on our spare trucks as those are driven by multiple people and no 1 person is responsible for that truck. The way you can use the software to let the shop know of problems with the truck when they are noticed is great. This gives the maintenance shop a heads up that they will have to address it. They don't find out when the truck comes in. Autosist will build inspections to your specs. Their customer service is great. If you have a question, you talk to a person. You don't have to deal with an automated system.
Nachteile:
The only thing I feel Autosist is missing is the ability to track inventory. Other than that, I have no complaints.
Scott
Fleet Manager in USA
Hausmeisterservice, 11-50 Mitarbeiter
Verwendete die Software für: 6-12 Monate
In Betracht gezogene Alternativen:
The most user-friendly fleet management software out there
Kommentare: Autosist has helped me keep accurate and up to date records on the 25 vehicles that we have in our fleet. I like that I can keep all of the records in one location and I never have to worry about saving my work, as its all automatically saved. The design layout makes it easy to select one of the vehicles in our fleet and all of the information is instantly displayed. The software is very easy to use and learn, without sacrificing key features. Whenever I need to recall service records, it is simple to click on the vehicle in question, and all of the information is displayed along with any of the data that I inputted.
Vorteile:
There are many options out there for fleet management software, but I ended up choosing Autosist because it is not unnecessarily complicated like some of the other options out there. It is the most user-friendly option and it is not cluttered with a bunch of features that I have no use for.
Nachteile:
I wish there was a simple way to total the amount spent on repairs & maintenance, per vehicle, and as a total amongst the fleet
Antwort von AUTOsist
letztes Jahr
Hi Scott, thank you so much for your review! We do have a report called the Spend Analysis found in the reports section that will break down how much you spent on each vehicle for all services done. It will give you total spent, monthly spend, and annual spend. We can also build out some custom reports for you if needed - please email us at support@autosist.com
Nathan
Dispatch Manager in USA
Verwendete die Software für: 6-12 Monate
It is an OK app, pretty easy to use.
Kommentare: Quick link to the Vin #
Vorteile:
The layout is pretty great. It's easy to add new vehicles to your fleet and also to edit them as necessary.
Nachteile:
The fuel tracker. It would be easier to just be able to type in the gallons of gas and the odometer reads.
Antwort von AUTOsist
vor 4 Jahren
Hi Nathan, thanks for your review. We do have a quick link to the VIN - it displays no the garage page on the App and under the current odometer field on the web portal.
Paul
Safety Specialist in USA
Öl & Energie, 11-50 Mitarbeiter
Verwendete die Software für: Mehr als 2 Jahre
AUTOsist is exactly what our fleet needed
Kommentare: AUTOsist is great and the customer service is crazy good. I don't know how many companies are as fast and responsive, it amazes me. I contact the team and it's within literally 15 minutes I get a response or that they're looking into it already. We bombard them with all this stuff but it's always no problem, never an issue. They don't waste any of our time and that is very much appreciated.
Vorteile:
I love AUTOsist's tracking ability for our vehicles and equipment, the reminders for regularly scheduled maintenance or inspections, and how everything that is done with, or to a specific piece of equipment, is all together in one place and we can go back and review it at any time. AUTOsist streamlined our inspection and repair process and made it much more efficient. It has made life much much easier for our group to do the inspections, tracking the completion of any findings and closing things out.We can pull up all these reports that show how many work orders we had opened, how many inspections were done and it's a much more standardized, easy system for everybody to follow. Before, nobody understood when something was done, who's supposed to do what and how long it took to fix the problem. AUTOsist really put all of this in line now.
Nachteile:
We really haven't had any cons, anytime we need something, we reach out and the team is quick to reply and help us out.
PAT
Maintenance Supervisor in USA
Umweltdienstleistungen, 11-50 Mitarbeiter
Verwendete die Software für: 6-12 Monate
Satisfied costomere
Vorteile:
AUTOsist was easy to set up, navigate through and manage of course as any it is only as good as the information given. I like that it can be used with any mobile devices. I am a mechanic not a secretary or computer whizz so it freed up a lot of my time.
Nachteile:
I would like to be able to print from AUTOsist instead of opening Excel, I loose what I'm want to print, lets say not lost but not presented or available.