Was ist AgriXP?
AgripXP is designed by farmers and their crop consultants to track field data. This app allows the farmer, the employees and authorized crop advisors to record all field activities. All Data can be freely exported to PDF or Excel for other purposes, no need to request a ransom. AgriXP is now more powerful than ever. Our production costs and crop budget center is the most advanced and the best tool. It shows economic analysis and actual or forecasted profit.
Cost: Free for small farms!
Wer verwendet AgriXP?
AgripXP is designed for field crop farmers, agronomists and independant consultants
AgriXP – Details
AgriXP
2010 gegründet
AgriXP – Details
AgriXP
2010 gegründet
AgriXP – Videos und Bilder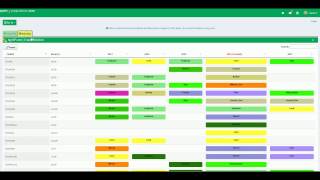 Kosten ähnlicher Produkte wie AgriXP vergleichen
Startpreis
50,00 $/Jahr
Nicht verfügbar
Nicht verfügbar
Nicht verfügbar
AgriXP – Bereitstellung und Support
Training
Live Online
Webinare
Dokumentation
Funktionen von AgriXP
API
Aktivitäts-Dashboard
Aktivitäts-Verfolgung
Aktivitätsmanagement
Anpassbare Berichte
Arbeitsauftragsverwaltung
Arbeitsmanagement
Aufgabenmanagement
Auftragsabwicklung
Berichterstattung / Analyse
Berichterstattung und Statistik
Bestandsverfolgung
Bestell-Management
Buchhaltung
CRM
Compliance Management
Datenerfassung und Übertragung
Dokumentenmanagement
Echtzeit-Aktualisierungen
Echtzeit-Berichterstattung
Echtzeit-Daten
Echtzeitüberwachung
Einkauf & Empfang
Feldkartierung und -planung
Finanzmanagement
Fortschrittsverfolgung
GPS
Geografische Karten
Geolokalisierung
Gerätenachverfolgung
Historische Berichte
Integrierte Buchführung
Inventarverwaltung
Kommunikationsmanagement
Land- und Viehwirtschaft
Lieferanten-Management
Mobile Benachrichtigungen
Pflanzenbau
Preis- / Margen-Management
Preismanagement
Produktion-Nachverfolgung
Produktions-Management
Rechnungsmanagement
Rückverfolgbarkeit
Tierhaltung
Versorgungs-Management
Vertrags-/Lizenz-Management
Warnungen / Eskalation
Werkzeuge zur Zusammenarbeit
Wetteraufzeichnungen
Zusammenfassende Berichte
Überwachung
Santosh S.
Agriculturist in Nepal
Landwirtschaft, 11-50 Mitarbeiter
Verwendete die Software für: 6-12 Monate
Manage your farm records at ease
Kommentare: It is user friendly cloud-based farm management software. Previously, I used to keep my field records manually, but it was quite burdensome and time-consuming. Currently I am using this software to keep my farm data organized, confidential and secure. All of my field's data is only accessible to me and colleagues approved by me. It has made my business much productive and hassle-free.
Vorteile:
The best part of the software is that it allows farmers and farm managers to log all field activities and export those data to excel spreadsheet, PDF for future usage. Moreover, it offers online support and business support via documentation, webinars and live online sessions. I really appreciate the features such as inventory management, crop management, labor management, contract management and weather records.
Nachteile:
The software is not having regular updates, some of the features are outdated. I am little disappointed with weather forecast feature in the app, it is not likely to predict/forecast the weather, last time we had a problem at the time of harvest, the monsoon was early and the app predicted too late.
Sansa F.
Managing Director in Nepal
Lebensmittelproduktion, 51-200 Mitarbeiter
Verwendete die Software für: Mehr als 1 Jahr
AgriXP: an excellent farm management tool
Kommentare: Before using this software, accessing archive information was very time consuming. Now its quiet easy for me to search, collect and share my farm data with colleagues.
Vorteile:
This cloud based platform is simple and user friendly. One can easily manage every operations of farm efficiently. The feature I adore the most is that our whole team can easily access the same page in this software. So each individual can see the stuffs, they need to know to perform their job with ease. It is an excellent tool to keep the farm data organized thus, I highly recommend it to farmers and agribusiness managers.
Nachteile:
Till date I haven't encountered any issues while using this software.
Antwort von AgriXP
letztes Jahr
Thanks a lot, we appreciate your feedback. On June 2020, we added a powerful crop budget center with crop production costs. Get control of your economic analysis with forecasted profit.
Dikshya S.
Graduate Research Assistant in USA
Verifizierter Nutzer auf LinkedIn
Bildungsmanagement, 1.001-5.000 Mitarbeiter
Verwendete die Software für: 6-12 Monate
Good for all users working on agricultural sector
Vorteile:
I am a researcher of horticulture. I found this software very useful to compile allmy research data. Also, it is easy to use.
Nachteile:
It is not easily accessible through all the electronic gadgets like smart phones, iPads.
Anoj A.
Agricultiure researcher in Nepal
Verifizierter Nutzer auf LinkedIn
Forschung, 11-50 Mitarbeiter
Verwendete die Software für: 1-5 Monate
AgriXP to manage the cropping system
Kommentare: As being plant breeder I am mainly using this software for performing multi-location farmers field trials by creating farmers group and recording useful data on it. Farmers get more attracted to this software on economic analysis, weather forecasting, and crop planning which helps us on tracking their activities and connecting them.
Vorteile:
The main prospects of this software is user friendly, It assists farmers to reduce uncertainty. The best part of this software is to develop the cropping pattern of the field, generate its map, and assign the crops which help to locate the proper field with a proper crop. It helps to assist with important dates starting with land preparation to harvesting and threshing. It helps to track all the farm activities and maintain its database which helps on further analysis such as benefit-cost ratio. on taking on about developing the relation of the crop with a climatic situation it is awesome. Creating a community of researcher with farmers and sharing data is also things that make this software more useful and saving the data is more trustworthy.
Nachteile:
Some difficulty I am facing is on tutorials. Detail baseline tutorials are needed to be made so that regular teaching to use the software can be minimized for a researcher like us. Tutorials on different languages help us to recommend the farmers based on their needs. Tutorials should be focused on economic analysis which is the most needed part of this software. Forecast profit by using this software is a pinned point that farmers need to perform but training them regularly is a bit difficult for us. I think popular multinational worldwide recommended varieties of different crops based on their (farmers) location can also be included on this software so that farmers can be familiar with it and words of our (researchers) with this variety will be trustworthy for them.
Antwort von AgriXP
letztes Jahr
Thanks a lot, we appreciate your feedback. On June 2020, we added a powerful crop budget center with crop production costs. Get control of your economic analysis with forecasted profit.
Jagdish B.
researcher and farmer in Nepal
Verifizierter Nutzer auf LinkedIn
Forschung, Selbstständig
Verwendete die Software für: Kostenlose Testversion
A users viewpoint : AgriXP farm logbook
Kommentare: Cost optimization i Would say. Before i had account for every thing but it was really difficult to process and analyze it. But this logbook saved my time. Which I could relocate to do some more innovative stuff in my farm.
Vorteile:
It is a platform which helps to keep track of all the farm activities under a single platform. It allows you to reach up to the data like yield and cost effectiveness along with farming activities as manuring, insecticide application etc. This logbook provides the concurrent situation of your farm in the pictorial forms which makes it easier to understand for everyone and this is one of the feature that makes it stand out fro the other app. the improved interface of the 2019 version in comparison to the 2018 one is the standout feature. Well, with all this everyone would think that it must cost a fortune but that's not the case here its cheaper cost for smaller farms improves its utility over similar products.
Nachteile:
Too many things in a single interface makes it slightly messy and not comprehensive as i would have liked. Specialized tips for the crops would be really handy.
Antwort von AgriXP
letztes Jahr
Thanks