Was ist BlazeMeter?
Eine Open-Source-Testsoftware zum Testen von APIs, Web- und mobilen Anwendungen in jeder Phase des Softwareentwicklungszyklus.
Wer verwendet BlazeMeter?
Für KMUs und Großunternehmen
Wo kann BlazeMeter bereitgestellt werden?
Cloud, SaaS, webbasiert, Mac (Desktop), Windows (Desktop), Windows (On-Premise), Linux (On-Premise), Android (mobil), iPhone (mobil), iPad (mobil)
Über den Anbieter
BlazeMeter
Ansässig in Palo Alto, USA
Telefon-Support
Chat
Über den Anbieter
BlazeMeter
Ansässig in Palo Alto, USA
Telefon-Support
Chat
BlazeMeter – Videos und Bilder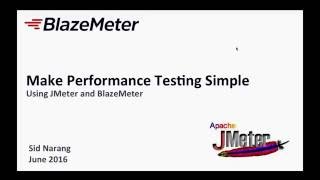 Kosten ähnlicher Produkte wie BlazeMeter vergleichen
BlazeMeter Funktionen
Anforderungsbasiertes Testen
Parametrisierte Tests
Sicherheit testen
Test-Management
Testskript-Bewertungen
hierarchische Ansicht
Alternativen für BlazeMeter
Bewertungen über BlazeMeter
Ruwani
Performance Test Engineer in Sri Lanka
Verifizierter Nutzer auf LinkedIn
Informationstechnologie & -dienste, 1.001-5.000 Mitarbeiter
Verwendete die Software für: Mehr als 1 Jahr
'Spread your executions without boundaries'
Kommentare: Easy to work with it and highly recommended for any performance tester.
Vorteile:
User interface is not complex. Easy to understand and work flow is very simple. Comes with many useful testing features. Using jmeter we can record and run test scripts with simple steps. And it comes with various listeners types, status report types and assertion types which are very useful when creating test scripts (Jmeter). I can simply import existing projects (Jmeter project files) into 'blazemeter'. Also reporing and graph features are very accurate. By using cloud services, it gives more weight to my executions. Because of that i can reduce unnecessary cost and time. Thread counts and user counts are highly customizable.
Nachteile:
No cons to say. Perfect application for my performance testings.
uzair
Senior Performance Tester in Pakistan
Informationstechnologie & -dienste, 201-500 Mitarbeiter
Verwendete die Software für: Mehr als 2 Jahre
Review regarding Load testing and Script Recording
Kommentare: Overall Blazemeter is recommended for everyone!it is best tool regarding load and performance testing and also good not excellent for script recording as well as it is best to present stats from Blazemeter.
Vorteile:
As it is best tool for script recording! i always use this extension in my browser for script recording which gives me best opportunity of recording. When i convert it to jmx and import in JMeter it is very ease to use those all calls. As i also use for performance stats in graphical form it is best to show stats in graphical form.
Nachteile:
As sometimes it becomes complex during recording in my extension! It is difficult to use steps at the time of recording.there should be some more easy feature for recording and tell about steps name like when i performed recording in JMeter like any boxes you can say for recording and each box has its name. it becomes complex when calls of two modules record in same step.
Arpit
Team Lead in Indien
Informationstechnologie & -dienste, 201-500 Mitarbeiter
Verwendete die Software für: 6-12 Monate
It is amazing the best lies with the ease of usability
Kommentare: Better performance test and their statistics. They have amazing reporting feature.
Vorteile:
The reporting is the best element in it. For performance tests reporting is most difficult. Blazemeter provides variety of reports with all useful elements
Nachteile:
The least liked element is customer support. We sometimes have to wait for days to get the resolution or help
Robin
Testing Team Lead in Indien
Verwendete die Software für: 6-12 Monate
It was very easy for a beginner like me to figure out and get started as its UI is very intuitive
Vorteile:
Its is great cause I create and debug my scripts locally (using jmeter) and then upload and use BlazeMeter when I need serious power (or to look share nice looking graphs with clients). As an added bonus, I can even run tests locally on my own JMeter instance and have BlazeMeter show me the nice graphs! (I'm not sure why more jmeter users aren't taking advantage of this).
Nachteile:
I was originally using JMeter on my local machine which was fine for very small loads, but I once I needed to test a few thousand virtual users I wasn't able to scale.
Verwendete die Software für: Nicht angeboten
Quelle: GetApp
Good service, tested 4k users, went smoothly
Kommentare: Overall I've been quite satisfied with BlazeMeter. I signed up for the Pro plan earlier this month as I wanted to test with 4k users on our deal of the day site which was crashing at bad times i.e. whenever we would put up a deal :( I shopped around quite a bit and settled on Blazemeter as it was the only tool that I got to work correctly for my site login process (I'm creating a few hundred random new logins on my dev server per test). I really like that I can develop my scripts locally and then upload them to BlazeMeter when I need to test with 4k users. Blazemeter provided a good visualization of all the data I normally get from JMeter, I also got some graphs which show me exactly where the site's breaking point is - pretty helpful. It was a simple process, and very worth the $500 (I ran over 15 load tests).
Vorteile:
--JMeter is the best, most popular testing tool on the planet. No proprietary BS or hardware. -- Absurdly attentive customer support when I was having JMeter issues. -- Fairly priced at $500/month. Other options would have cost 4 times more.
Nachteile:
-- You are billed per test, not per minute, i.e. a 10 minute test costs as much as 1 hour one. -- Not the best price if you are only going to run one test a year.