Was ist Baking It?
We're a cake business software platform offering comprehensive references for cake tins, serving charts, portion sizes, cake cutting guides, sugar paste, ribbon quantities and for designing and sketching cakes in 3D as well as managing the orders and quotes. Instead of using multitudes of generic software, bakers can now do everything needed to run a successful business using our baking specific platform. We solve real-world problems enabling you to focus on doing what you love, bake.
Wer verwendet Baking It?
We are suitable for Baking Businesses of all sizes. We support all units and cups and have comprehensive lists of ingredients, supplies and recipe conversions to get you started. Used by over 40,000..
Wo kann Baking It bereitgestellt werden?
Cloud, SaaS, webbasiert
Über den Anbieter
BAKING IT
2011 gegründet
Chat
Erhältlich in diesen Ländern
Vereinigtes Königreich
Über den Anbieter
BAKING IT
2011 gegründet
Chat
Erhältlich in diesen Ländern
Vereinigtes Königreich
Baking It – Videos und Bilder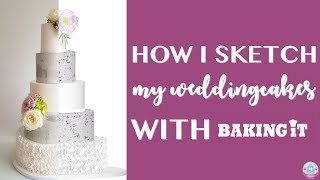 Kosten ähnlicher Produkte wie Baking It vergleichen
Baking It Funktionen
Arbeitskostenrechner
Inventarverwaltung
Kundenmanagement
Rezept-Management
Alternativen für Baking It
Bewertungen über Baking It
Verifizierter Rezensent
Owner in USA
Verifizierter Nutzer auf LinkedIn
Lebensmittelproduktion, 2-10 Mitarbeiter
Verwendete die Software für: 1-5 Monate
Wow so easy to design cakes and cost them!
Vorteile:
The ease of designing cakes makes life at the bakery so much easier day to day! Also the ability to accurately price the cakes makes sure that we are not losing money for our business!
Nachteile:
Have not really seen anything that I would change
Antwort von BAKING IT
vor 3 Jahren
Thanks for a lovely review. It's heartening for us to see that we are able to help in some way in running your bakery :-)
Sarah H.
Cake Artist in Trinidad und Tobago
Essen & Trinken, Selbstständig
Verwendete die Software für: Mehr als 2 Jahre
Love it!
Kommentare: Overall, I really love the program and I'm happy to renew my membership every year. I think the golden ticket is the customer service- the people who run this program are wonderful. They go above and beyond to help you solve problems. It feels like you're talking to people like you and not some faceless company.
Vorteile:
This program helped me get my business organized. Before using this program I didn't have a log of my inventory or a proper list of ingredient costs (it was all kept in a spreadsheet not in alphabetical order) so you can imagine that was a pain. I love how with Bakingit, you can input your prices and products and it will automatically calculate your costs. It's helped me understand how badly I was under charging before. I also love how my quotes and contact information is kept neatly and organized.
Nachteile:
There's not much that I don't like. Sometimes you'd experience a bug or two (like a quote would somehow get corrupted and therefore can't be emailed out or even edited) That does not happen often though. Sometimes minor features don't seem to work smoothly like the search in the contacts section. With regards to the 3D cake designer, I think the concept is fantastic, but it needs a bit more tweaking to be perfect.
Fay M.
Owner in UK
Verifizierter Nutzer auf LinkedIn
Lebensmittelproduktion, 2-10 Mitarbeiter
Verwendete die Software für: 6-12 Monate
Decent software but poor customer service
Kommentare: I have no issue with the software, it simply wasn't for me and my business. What I do have an issue with is Baking Its auto renewal subscription practices. I stopped using the software and stupidly didn't realise it was automatically set to renew. They give you no warning when it is due to renew and so the first I heard about it was when I received a receipt. I contacted them straight away to explain I no longer used the software and didn't want to renew for another year but they basically referred me to their terms and conditions citing no refunds under any circumstances. When I complained they stopped bothering to reply at all. It may be legal but in my view that is sharp practice and certainly underhand. So I now have entire year's subscription which is as much use as a chocolate teapot to me. Despite the fact the software is decent, it is for this reason I would not recommend using it. If you do decide to use it just be very careful of your settings because you won't get much in the way of customer care from them if you do make a mistake!
Vorteile:
The software seemed good but more complex than I really needed so I stopped using it after a few weeks and went back to my own system
Nachteile:
It was quite complex to input materials and a laborious process requiring a lot of time
Antwort von BAKING IT
vor 2 Jahren
Thanks for your review. We try to be fully transparent to our users before they sign up and even had our terms reviewed by government trading standards for fairness. However we have taken your feedback on board and taken remedial action with respect to annual subscription reminders. We now also send a trial expiring reminder to our trial customers.
Katrina P.
Owner/Cake Artist in USA
Essen & Trinken, Selbstständig
Verwendete die Software für: Mehr als 2 Jahre
Great product with stellar customer service
Kommentare: Overall, I have had a great experience with this software. It has helped me to streamline my business. I am able to put quotes together very easily and communicate with my customers using the email templates. The customer service is excellent! Any issues I have experienced have been resolved quickly.
Vorteile:
The software is very easy to use. There are detailed tutorials to guide you through setup and show you how to use the software. Everything is all in one place and the design of the software makes it easy to keep up with recipes, inventory, pricing, invoicing and profits. The cake designer is really cool and helps me save a lot of time when putting quotes together. This software definitely covers everything a baker needs to run a bakery business from home or in a store front.
Nachteile:
The software comes with a calendar and task manager to help you stay on track with your orders, appointments and tasks. It would be helpful if there is a way to integrate it with our Google calendar. When I am on the go, it would make life a little easier if I didn't have to login to see my bakery schedule. Minor challenge. It does not take away from all the great things this software has to offer.
Rodinne D.
Owner bakery in Niederlande
Bankwesen, Selbstständig
Verwendete die Software für: Mehr als 1 Jahr
Professional & Valuable♡
Kommentare: Het programma past bij de professionalisering van mijn bedrijf. Zowel de klanten als ik hebben meer duidelijkheid. Ze weten hoe ik hun ideeën heb geïnterpreteerd en wat ze kunnen verwachten. Dit programma blijf ik zeker
gebruiken. The program is in line with the professionalization of my company. Both the customers and I have more clarity. They know how I have interpreted their ideas and what to expect. I will certainly continue to use this program.
Vorteile:
In het begin was het erg zoeken. Maar nu gaat het erg goed. Bij elk gebruik van het programma leer ik meer. Ik vind het fijn dat ik veel ontwerpen kan maken en dat ik ze allemaal kan opslaan! Klanten vinden het erg fijn dat ik hun ontwerp visueel maak. In the beginning I was clicking a lot....searching!.But now it is going very well. I learn more with every use of the program. I like that I can make a lot of designs and that I can save them all! Customers love that I visualize their design.
Nachteile:
Wat ik lastig vind is dat ik niet alle stijlen kan ontwerpen, zoals ik wil. De opties in het programma staan vast en dus niet aan te passen. Ik moet dan creatief zijn en dan de klant tekstueel meer duidelijkheid geven. What I find difficult is that I cannot design all styles as I want. The options in the program are fixed and cannot be changed. I then have to be creative and then provide the customer with more textual clarity.
Antwort von BAKING IT
vor 2 Jahren
Thanks so much for a lovely review. With regards to expanding the cake designer we have few options on how to do it. 1. You can import any 2d image and add it to the cake as ribbon, lace, 2d decoration, as wedding cake topper. It makes it infinitely expandable. 2. When you are done with the design on the designer you can use our sketcher software to further sketch on it by hand to finish the design precisely to how you wanted.