Was ist Directus?
Directus ist eine kopflose CMS-/API-Lösung, die benutzerdefinierte SQL-Datenbankarchitekturen verwaltet. Dabei handelt es sich um ein einfaches, schlankes Framework, das für Projekte mit mehreren Kunden bzw. Projekte, die vollständige Kontrolle über die Datenbank voraussetzen, ein optimales Content-Management ermöglicht. Zudem ist die Lösung kostenlos und Open-Source-basiert.
Wer verwendet Directus?
Entwickler und Entwicklungsagenturen, die benutzerdefinierte Architekturanwendungen für verschiedene Clients einrichten, z. B. webbasierte, native, tragbare oder andere datengestützte Projekte wie Kioske oder IoT-Geräte.
Wo kann Directus bereitgestellt werden?
Cloud, SaaS, webbasiert, Mac (Desktop), Windows (Desktop), Linux (Desktop), Windows (On-Premise), Linux (On-Premise), Chromebook (Desktop)
Über den Anbieter
Monospace Inc
2011 gegründet
Telefon-Support
24/7 Live-Support
Chat
Erhältlich in diesen Ländern
Vereinigte Staaten
Über den Anbieter
Monospace Inc
2011 gegründet
Telefon-Support
24/7 Live-Support
Chat
Erhältlich in diesen Ländern
Vereinigte Staaten
Directus – Videos und Bilder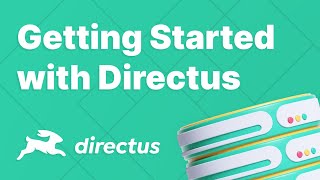 Kosten ähnlicher Produkte wie Directus vergleichen
Directus Funktionen
API
Decoupled Frontend und Backend
Dokumentenmanagement
Elektronische Formulare
Mobiler Zugriff
Multichannel-Marketing
Optionen zur Inhaltsveröffentlichung
Textbearbeitung
Versionskontrolle
Volltextsuche
Werkzeuge zur Zusammenarbeit
Workflow-Management
Zugriffskontrollen / Berechtigungen
Alternativen für Directus
Bewertungen über Directus
Alejandro B.
Software Engineer in Mexiko
Verifizierter Nutzer auf LinkedIn
Informationstechnologie & -dienste, Selbstständig
Verwendete die Software für: 1-5 Monate
In Betracht gezogene Alternativen:
Excellent headless CMS
Kommentare: I have a very difficult multi-platform usecase involving languages from R/Python, reproducible data slicing, on the fly dataset creation all the way to front-end react, pregenerated app (gatsby) in a single build command. Directus is my sole source of truth, what I use to back this whole thing. This allows me to use the same translations and metadata for everything no matter if I am in R or Javascript consuming graphql, either on production client code or in static pregeneration stage in gatsby. There are other headless apis that can do this, but I cannot self host them and I need to be able to very quickly generate large datasets on the database as I research and tear them down in the same base as the CMS for the app. That is, I need this to run on my computer first. This is where directus knocked it out of the park for me. Also, docker setup is touch and go. Nothing needed. It is just great.
Vorteile:
This is Free and Open Source Software at its best. Directus has a great, well tended community, excellent developers, many options and lots of friendly answers to real questions. I have not found any other headless API I can self host in amazon or wherever I want. This makes for a local development cycle, short time to market, very easy to prototybe setup for example for react/gatsby apps.
Nachteile:
The app where you manage the database still needs a bit more documentation. It does not lack features, but some features lack propper documentation. I hope to help on this in the future!
Jens K.
Director Product and Technology in Deutschland
Verifizierter Nutzer auf LinkedIn
Unternehmensberatung, 11-50 Mitarbeiter
Verwendete die Software für: Mehr als 1 Jahr
In Betracht gezogene Alternativen:
Best headless CMS on the market - powered by Open-Source
Kommentare: I loved the previous versions, but especially the new V9 really excites me. I never experienced any smoother experience setting up any content management system (including the old guys like WordPress or Drupal). From a product and/or IT lead perspective, it brings you so much power for so many use cases - without a huge price tag or complexity.
Vorteile:
It is free, if you are able to host it yourself! It is completely white-label, which makes your employees love it even more. It is perfectly customizable. In case you miss something, you can easily jump on the train and add it for your project - or all Directus users (contributing in the open-source community). If you want it fully managed, there is a cloud-version at a fair price (cheap compared to others) too.
Nachteile:
Potential con for some people: The PHP version got more or less deprecated. There might be one version again, but focus is definitely with NodeJS. If you want to host it yourself and are not able to run Node or Docker, you might run into problems. File management could be better and more customizable (in terms of conditional rules how uploads get processed per collection and field).
Davide L.
Front-end developer in Italien
Design, 11-50 Mitarbeiter
Verwendete die Software für: 1-5 Monate
Fantastic concept, medium user experience
Kommentare: Until now the experience is good: I like the idea and it works for the project that we started with Directus. We still need to resolve some issues, like how to properly manage pages and SEO data or how to overcome the lack of the repeater field, but it's working well. The experience with the support was fantastic. [SENSITIVE CONTENT HIDDEN] was kind and friendly, in spite of my incompetence. I appreciate the enthusiasm and the open source spirit. Sometimes I experienced some limits for the reasons mentioned early, but I'm happy.
Vorteile:
I love the concept behind Directus: the idea to freely create a database in an easy way, organizing the content as you need or as you imagined it. I come from Kirby CM and Craft CMS and doing websites in which the custom design is the key, it's important to us to shape our content as we want. It's easy to install, the Slack support is friendly and helpful. In the search for the perfect headless CMS solution, it was my choice, also because it's open source and at the moment the pricing of others options is over budget for our clients. We were ok paying a fee for a license, but not a perpetual subscription. Moreover, a key point in the decision to adopt it is the self-hosted solution: we wanted to avoid every possible lock-in. Finally, the stack: working in a communication agency, we are not software engineers: PHP + Vue.js it's a perfect combination. React and node.js onthe server was a switch too big to take another leap.
Nachteile:
Above all, the bugs: being open source and free it's normal, but it is frustrating in the measure we decided to use it for clients works. Second: the lack of documentation for the interfaces or for the detailed use of the JS SDK. Moreover, sometimes I felt overwhelmed by the technical details of the interface. I don't have competence in relational databases and to me too much things doesn't have a meaning. But I'm mainly a front-end developer that try to be "independent", so I think that it's normal. Finally: the lack of a good repeater. At the moment it's impossible to use a file field in it, or to repeat a group of field. For us it's almost a strict requirement for clients projects.
Antwort von Monospace Inc
letztes Jahr
Hi Davide, thank you very much for your review of Directus 8. Over the past year, we've worked nonstop on bug fixes and improvements to our open-source platform. Now on Directus 9 (a major release since your review, and now in node.js), we'd love the opportunity for you to take another look. Our open-source platform is far more stable now, thanks to the full API rewrite, and also includes the Repeater interface you were looking for. Hopefully you'll consider checking out the latest release of Directus and updating your review to reflect this improved version. :)
Computer-Software, Selbstständig
Verwendete die Software für: Mehr als 2 Jahre
In Betracht gezogene Alternativen:
One of the greats
Vorteile:
I'll start with the flexibility, you can create and edit every table in real-time and in an easy-to-use GUI. Best part is this can be clamped onto any SQL database and it will just start working then you can setup the table existing into the software.
Nachteile:
Well I mean it's not quite and intuitive as something like WordPress but point people in the correct direction and they soon get the hang of it
Brian M.
Senior Software Engineer in USA
Unterhaltungselektronik, 5.001-10.000 Mitarbeiter
Verwendete die Software für: 6-12 Monate
In Betracht gezogene Alternativen:
Great product that is still young
Kommentare: We had departments using many different CMS's. They ranged from extremely expensive to open source projects. While Directus is not perfect, it has proven to be better than all the others. We have actively tried to improve the product, and we find that the others in the community do the same.
Also, and this is a HUGE value, the response to questions and issues within the Directus-Slack channel is amazing! Actually, the communication and support from this organization is impeccable. Friendly, helpful, understanding. Just out of a sense of loyalty to such good people, I will want to stay with them.
Vorteile:
The interface is very friendly, and as the product matures, the installation is becoming better.
Nachteile:
This is not an enterprise-level application, yet. It has a number of tiny gotchas that one has to learn about. One can still do most anything they desire.