Was ist Flipdish?
Bietet ein branchenführendes, nutzerfreundliches Online-Bestellsystem für einzelne Restaurants, Filialketten, Schnellrestaurants, Feinkostläden, Cafés, Convenience Stores und Franchise-Unternehmen.
Wer verwendet Flipdish?
Restaurants, Schnellrestaurants, Feinkostläden, Convenience Stores und Cafés, die Online-Abhol- oder Lieferservice anbieten möchten.
Wo kann Flipdish bereitgestellt werden?
Cloud, SaaS, webbasiert, Android (mobil), iPhone (mobil), iPad (mobil)
Über den Anbieter
Flipdish
2015 gegründet
Telefon-Support
Chat
Sprachen
Englisch, Französisch, Portugiesisch, Spanisch
Über den Anbieter
Flipdish
2015 gegründet
Telefon-Support
Chat
Sprachen
Englisch, Französisch, Portugiesisch, Spanisch
Flipdish – Videos und Bilder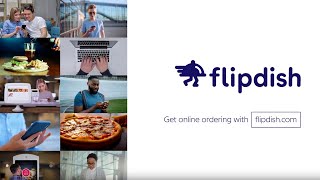 Kosten ähnlicher Produkte wie Flipdish vergleichen
Flipdish Funktionen
Abrechnung & Rechnungsstellung
Alarmfunktion / Benachrichtigungen
Auftragsmanagement
Auftragsverfolgung
Berichterstattung / Analyse
Berichterstattung und Statistik
Drittanbieter-Integration
Einkauf & Empfang
Kundenkonten
Küchen- / Menü-Management
Menüerstellung
Mobiler Zugriff
Online-Bestellung
Online-Zahlungen
Reservierung-Management
Routing
SMS-Marketing
Verkaufsberichte
Verkaufspunkt POS
Website-Personalisierung
Alternativen für Flipdish
Bewertungen über Flipdish
Luca D.
Store Manager in Irland
Verifizierter Nutzer auf LinkedIn
Verwendete die Software für: Mehr als 1 Jahr
Second to none customer experience. Amazing app functionality and fantastic user dashboard for data.
Kommentare: There are many benefits to this software that all add up. A huge benefit is having customers create their own orders and thus eliminating human error of missing items over the phone or incorrect special requests. The orders come in quickly, in an easy to read format reducing the time of taking an order over the phone from minutes to seconds. As a result we can also use codes for discounts and promotions, deliver them straight to the customers phone and even give special vouchers for free meals. This app now allows you to advertise to your customers without leaving the business to deliver leaflets, and without worrying will Facebook show all my page followers my post. The benefit of allowing card payments is also one to note as it reduces cash in store which in tern can speed up customer service as the payment process in store is removed and the customer simply walks in and walks out.
Vorteile:
What I love most about this software is a draw between two of its functionalities. As an app for users, its extremely easy to use interface can be priceless attracting new customers who may be weary of this type of technology. Everything about it's order process instills confidence that the order has been sent and the process went smoothly. The second functionality is the data dashboard for us as owners. To put it simply it removes all guess work behind the typical question of what drives our sales. It's presented as both easy to read graphs and also in a downloadable format for those who wish to run excel sheets. You'll soon find out your truly most profitable items, events, delivery locations, even hour of the day.
Nachteile:
Having been with Flipdish very early on, I've never once had an instance where I thought to myself "I don't like this".
Antwort von Flipdish
vor 4 Jahren
Hi Luca, Good to hear all is going well. Thanks for the feedback.Kind Regards, Conor, CEO @ Flipdish
Ruth D.
Accounts in Irland
Verwendete die Software für: Mehr als 2 Jahre
I find Flipdish to be a great company with excellent customer service
Vorteile:
The software is very user friendly and easy to navigate. I like that I can reconcile the daily reports to our shop sales for the accounts. The software allows me to have a good overview of the sales per our stores on a daily basis which is important for my accounts reconciliations. The reports also help to look at key trends in the order history. The reports show individual shop sales separately which is very useful. If I have any problems or queries with the software, the customer service team are excellent and always respond back to my queries promptly. The customer service follow through is excellent and the team are always friendly and helpful.
Nachteile:
I generally don't have any major issues with using the software. Overall, I find it to be very user friendly and good to use. What I like least about the software is the large size of the excel export files on the back office. The CSV export file can be quite large with a lot of columns and data that I don't use. This can sometimes be cumbersome to filter and sort to get the information out that I may need for reconciliation purposes. This is the only negative that I have on the usability of the software and the export reports.
Antwort von Flipdish
vor 4 Jahren
Hi Ruth, Thank you for taking the time to leave such a positive review of Flipdish. It's terrific to read how powerful you find the reporting functionality to be for Bombay Pantry, allowing you to view sales by stores and key trends in order history. Thanks for sharing your feedback, it is constructive feedback like this which helps us to continue to improve for our customers. We are planning many updates to our reporting this year which we think will continue to add value for you. If there's anything I can do to make your experience even better, please do not hesitate to get in touch. Best wishes, Heather Customer Success @ Flipdish
Pawel W.
Manager in Irland
Gastgewerbe, 11-50 Mitarbeiter
Verwendete die Software für: Mehr als 1 Jahr
Good to build loyal customers.
Kommentare: I generally liked the app and the idea behind it. The main problem is how to convince people to download yet another app in to their phone....
Vorteile:
Good for building customer's loyalty to the business. If you actually convince customer to download the app...it makes a good tool then. Easy push notifications.
Nachteile:
Not enough help given in terms of encouraging new downloads. A bit delayed software updates. They need to work a bit more on location services.
Mark T.
president in Kanada
Essen & Trinken, 11-50 Mitarbeiter
Verwendete die Software für: 6-12 Monate
Great Product to ween away from Third Party Services
Vorteile:
What I love about this product is its user friendly portal and customer insights. The tools Flipdish offers allows companies to understand customers analytics. Flipdish staff very knowledgeable on various promotions/campaigns a restauranteur can offer. The customer retention as well as the push notifications for customers is an ingenious way of converting customers back from third-party services. And lastly, but most importantly, partnering with flipdish allows a restaurant access to one of the most important parts of any business: Customer data Yes - you read that part correctly. You have access to your customer data for your own marketing No longer do you need to depend on third party services (uber, doordash, etc) who "claim" to extend your reach to new customers.
Nachteile:
There is nothing I can say that is negative about this company, nor its services
Antwort von Flipdish
vor 2 Jahren
Hi Mark, thank you for your 5 star review! It's awesome to hear you're finding Flipdish a great product to ween away from third party services - we've helped so many of our customers all over the world do this. Our knowledgeable staff are certainly a key part to helping you realise that goal. We look forward to continued success together. Regards, James, Co-Founder @ Flipdish
Annamaria F.
Manager in Irland
Gastgewerbe, 2-10 Mitarbeiter
Verwendete die Software für: Mehr als 2 Jahre
APP online ordering
Kommentare: Professional. Would like more feedback on the current negotiations of fees and charges. Tablet version of the terminal would be more ideal!
Vorteile:
Its a stand alone APP linked to website online ordering. Customer friendly and operational friendly. Once its plugged in and broadband working it runs smoothly. Allowed make changes by emailing or calling customer care. Up to date technology for customer and user satisfaction.
Nachteile:
Unable to make changes through portal access. Unable to upload images from back office. Integration is all at a cost. Commission rates should be more competitive.