Was ist CASEpeer?
Für Rechtsprofis, die auf Köperverletzung spezialisiert sind – leistungsstarke Fallmanagementsoftware. Von der Nachverfolgung der Leads bis zur Lösung des Kundenvertrauens wird die Anwaltskanzlei bei jedem Schritt unterstützt. Die robusten Funktionen von CASEpeer helfen Rechtsprofis und Personal dabei, alle ihre Fälle meistern zu können. Zu den Funktionen gehören organisierte Fälle, Annahmemanagement, Kampagnenverfolgung, Vergleichstools, Reduzierung von Pfandrechten, Rechtsstreitigkeiten, integrierte Kalender, Aufgabenmanagement, Briefgenerierung, anpassbare Fallpläne, Dokumentenmanagement und leistungsstarke Berichte.
Wer verwendet CASEpeer?
Anwaltskanzleien, die auf Personenschäden spezialisiert sind und eine für sie entwickelte Lösung benötigen. Die robusten Funktionen wurden unter Berücksichtigung der Kundschaft entwickelt.
Wo kann CASEpeer bereitgestellt werden?
Cloud, SaaS, webbasiert, Mac (Desktop), Windows (Desktop), Linux (Desktop), Chromebook (Desktop), iPhone (mobil), iPad (mobil)
Über den Anbieter
CASEpeer
Ansässig in Newport Beach, USA
2015 gegründet
Telefon-Support
Chat
Erhältlich in diesen Ländern
Vereinigte Staaten
Über den Anbieter
CASEpeer
Ansässig in Newport Beach, USA
2015 gegründet
Telefon-Support
Chat
Erhältlich in diesen Ländern
Vereinigte Staaten
CASEpeer – Videos und Bilder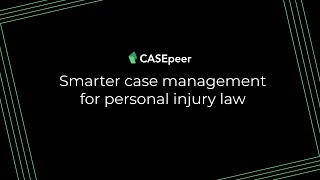 Kosten ähnlicher Produkte wie CASEpeer vergleichen
CASEpeer Funktionen
Abrechnung & Rechnungsstellung
Aufgabenmanagement
Berichterstattung und Statistik
CRM
Dokumentenerstellung
Dokumentenmanagement
E-Mail-Management
Fall-Aufzeichnungen
Fall-Management
Kalenderverwaltung
Kostenverfolgung
Kundenmanagement
Kundenportal
Rechtsfall-Management
Treuhand-Buchhaltung
Workflow-Management
Zeit & Kosten Verfolgung
Zeitverfolgung
Alternativen für CASEpeer
Bewertungen über CASEpeer
Alex M.
Managing Partner in USA
Verifizierter Nutzer auf LinkedIn
Verwendete die Software für: Mehr als 2 Jahre
BEST case management software - if you havent used it, youre missing out
Kommentare: saves you time and money makes you more productive
Vorteile:
very easy to use, very interactive, has all the necessary features such as tasks, notes, accounting for the trust account. navigation is so simple. I can find out whats going on with a case in seconds! Great Calendar system, set reminders and tasks and make life simple. Great for litigation deadlines. Customer service is excellent too, they address issues every time.
Nachteile:
i can only think of one - when the tasks are assigned, there isnt a box to check off, you have to delete each task one by one. They arent the cheapest but they are the best of the best and ive used several (other than these twoi cant think of any other ones)
Marlo Y.
Accounting in USA
Rechtsberatung, 51-200 Mitarbeiter
Verwendete die Software für: Mehr als 2 Jahre
Fantastic platform! Easy to use, looks great, makes my job a lot easier!
Kommentare: Excellent software from top to bottom. Since we started using Casepeer, it keeps getting better. I used to work in the settlement and disbursement areas. While the older versions felt a bit clunky, many of our suggestions have been implemented successfully. With the newest version, settling liens with healthcare providers and generating crucial documents have never been more effortless. I now primarily work with the accounting functions, which greatly helps me manage case costs, settlements, and trust accounts. At our firm, we are very diligent in noting and documenting just about everything that goes on with a case. Casepeer automatically documents every modification and change to a file which allows us to trace a case's history back to the beginning. The great search functionality and extensive data points within the software means we are be able to pick up a case where we left off and know exactly what's going on. Being able to task and direct notes to other colleagues also helps make sure priority items do not fall through the cracks. Overall, working with Casepeer is like having an additional teammate, optimizing our productivity and making case management much easier.
Vorteile:
The software looks great, navigating the site is very intuitive. It also keeps track of all the important data points, which is vital to our firm as accuracy is key. The developers are also always open to suggestions and improvements, so the program is always evolving and getting better.
Nachteile:
There are some useful features that are still in development, such as the ability to have more control over the trust account. Otherwise, the software works really well.
Anwaltskanzlei, 2-10 Mitarbeiter
Verwendete die Software für: 6-12 Monate
CasePeer is too rigid to be a viable option
Kommentare: Imagine you're shopping for a home and you come upon a new construction with great curb appeal, modern amenities, and even comes fully furnished -- there's just one catch: you can't add or remove a single thing. You feel motivated to 'make it work,' but soon discover what you're really in for. Upon touring the kitchen, you notice the cupboards are brimming with tupperware, but there are no serving platters for hosting parties. Normally you'd remove some of the plastic containers and add your own dishware, but it's not possible here. When you ask the developer about it, they explain how the tupperware can be laid out and used as serving trays, and while this is technically true, it would always be a poor solution and a compromise that one shouldn't have to make. That's kind of what it's like working with CasePeer. We recently abandoned our attempt at migration after putting in several months of trying to 'make it work' and encountering the full ramifications of overly simplistic software so rigid that nothing can be changed, combined with a developer that's equally uninterested in listening to the needs of a personal injury firm. Specifically, CasePeer has no ability to handle PIP subrogation or third-party/workers' comp subrogation, its available insurance types are limited to UM, UIM, and Umbrella, and the list of case types is set in stone, overflowing with clutter that's irrelevant to most personal injury firms, while lacking in crucial PI options.
Vorteile:
CasePeer has many good ideas for personal injury software, especially when it comes to tracking medical bills and record requests, but the software is too simplistic and too rigid in its current incarnation.
Nachteile:
The backend of CasePeer is too simplistic and rigid. Everything is set in stone. Nothing can be changed. It needs a more robust backend database married to the pleasing and useful frontend.
Anwaltskanzlei, 2-10 Mitarbeiter
Verwendete die Software für: Mehr als 1 Jahr
Efficient & Intuitive
Kommentare: After reviewing several other platforms, we're glad we went with CASEpeer. Our firm is more efficient because we use it, and our attorneys have a greater sense of control over their cases because of it. Case management can be maddening, but CASEpeer was obviously designed from the ground-up to make the process as efficient and easy as possible. The user interface is intuitive and easy to learn, which makes training new staff easy. It's been dependable - we haven't had technical glitches, and the integration process was actually more smooth than we expected. We've had no shortage of questions, and the customer service response time has always been impressive.
Vorteile:
I don't have reservations about recommending CASEpeer to colleagues; it's been a great fit for us. It's not a bare-bones software; the more time you spend in it, the more you realize it has tools built in to make some of the mundane work a lot easier.
Nachteile:
I'd like to be able to export an entire file/client at the push of a button. My understanding is they're working on it, and it's a feature that will be available in the future.
Ashley D.
Case Manager - Admin Assistant in USA
Anwaltskanzlei, 11-50 Mitarbeiter
Verwendete die Software für: Mehr als 1 Jahr
OBSESSED with CasePeer
Kommentare: Simply the best. I will never use anything else!
Vorteile:
I like that you can leave detailed notes that stand out. You can indent, bold, space things out, its just so easy and clear to see/read what you need. I also like that you can search the client's file for any prior note made. The critical case note feature, the treatment tracking, provider history, being able to track the insurance history. I have used other software, and nothing on this Earth can touch CasePeer. I always tell new hires at my firm I would make a great product rep because I LOVE everything about it. Obsessed. I look forward to the new emails with changes/updates and additions to what we already rely on. Its just fantastic and there is no better way to run a firm than with CasePeer. You can easily run and read reports and ensure your clients are being managed easily at a glance.
Nachteile:
I wish CasePeer could integrate with Box or DropBox so the file is all on one page. I worked with a similar build through Sales Force but it could never touch what Case Peer is doing. (this may be an option that we just did not choose)