Was ist Karbon?
Karbon ist eine Arbeitsmanagementplattform für Wirtschaftsprüfungsgesellschaften und professionelle Dienstleistungsunternehmen. Die Lösung bietet eine wahrhaft kollaborative Plattform, um Workflows zu verwalten, mit Teams zu kommunizieren und herausragende Kundenarbeit zu liefern.
Durch die Kombination von E-Mail, Diskussionen, Aufgaben und leistungsstarken Arbeitsabläufen richtet Karbon dein Team auf einen einzigen Ort der Kommunikation und Zusammenarbeit aus und erhöht so die Kapazität zur Einhaltung von Zeit und Budget.
Wer verwendet Karbon?
Karbon ist ideal für die Verwaltung von funktionalen Teams und Abteilungen in großen Unternehmen oder in kundenorientierten Dienstleistungsunternehmen. Die Lösung umfasst Buchhaltung, Finanzen, Back-Office-Support und mehr.
Wo kann Karbon bereitgestellt werden?
Cloud, SaaS, webbasiert, Android (mobil), iPhone (mobil), iPad (mobil)
Über den Anbieter
Karbon
Ansässig in Sausalito, USA
2014 gegründet
24/7 Live-Support
Chat
Über den Anbieter
Karbon
Ansässig in Sausalito, USA
2014 gegründet
24/7 Live-Support
Chat
Karbon – Videos und Bilder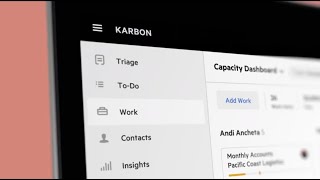 Kosten ähnlicher Produkte wie Karbon vergleichen
Karbon Funktionen
Aktivitäts-Dashboard
Alarmfunktion / Benachrichtigungen
Anpassbare Vorlagen
Aufgaben importieren
Aufgaben-Fortschrittsverfolgung
Aufgaben-Tagging
Aufgabenbearbeitung / -aktualisierung
Aufgabenmanagement
Aufgabenplanung
Automatisierung von Geschäftsprozessen
Bearbeiten in Echtzeit
Berichterstattung / Analyse
Berichterstattung / Projektverfolgung
Berichterstattung und Statistik
Brainstorming
Budgetmanagement
CRM
Compliance-Verfolgung
Content-Management
Dokumentenmanagement
Drag-and-Drop
E-Mails in Aufgaben umwandeln
Erstellen von Unteraufgaben
Etikettierung
Filesharing
Finanzmanagement
Fortschrittsverfolgung in Prozent
Fälligkeits-Tracking
Für Buchhalter
Integration in die Buchhaltung
Kanban-Tafel
Kommentare / Notizen
Kommunikationsmanagement
Kontaktmanagement
Kontrolle des Genehmigungsprozesses
Kundenmanagement
Kundenportal
Mitarbeitermanagement
Mobiler Zugriff
Projektmanagement
Projektplanung/Terminierung
Ressourcenmanagement
Statusverfolgung
Werkzeuge zur Zusammenarbeit
Wiederkehrende Aufgaben
Workflow-Konfiguration
Workflow-Management
Zeit & Kosten Verfolgung
Zeitverfolgung
Zugriffskontrollen / Berechtigungen
Mariel
Verifizierter Nutzer auf LinkedIn
Verwendete die Software für: 1-5 Monate
Quelle: GetApp
The Superman-Batman-Crocodile Dundee-Indiana Jones-Dog Whisperer of Team Communication and Project Mgmt Tool
Kommentare: Have you ever wanted ONE SPOT to check email, delegate task, manage projects and customers? Karbon is IT. NOthing else compares to this robust, all inclusive system. Forget Twist and Slack, and your gmail or outlook, zendesk and all the rest. This program, while made for the accounting industry, is the perfect solution for any industry, and even a single individual could use it, but it shines with many users. No more multiple things to check and manage, it's all in one place. From Triage, you empty your inbox for email and @ tags from within the system and assign emails to other team members, create work from emails, and all correspondence tracks back to both contacts and pieces of work, so nothing is ever lost or hard to search. This is the most intelligent productivity solution available; I've tried many to disappointing results and now will stay with Karbon and not continue to look further. You can see work for the whole business, for yourself, and separately for your team. You can assign work to others, you can even assign tasks to clients and people outside your team, so they have their own checklist, which has comments and attachments - no more 10k emails! You can break down work into sections with different checklists and assign each task it's own team member and due date. You can drag and drop tasks to different dates. You can have templates for work to make creating work easy. You can make client tasks in these templates and also schedule repeating work. I can't go on, there are too many things that are amazing about this program. Do yourself a favor and try it out. I put it off for 8 months and after 2 days was hooked. 5 months later, it just keeps getting better and easier as we get more proficient using the program to its full potential. AMAZING! Nothing less than Amazing. Nothing slips through the cracks with Karbon.
Vorteile:
Everything about Karbon.
Nachteile:
They have both of these on their Fall 2017 roadmap: 1) time clock for job/client/employee time tracking (which is the only other external program we now use and can't wait to only use Karbon for everything); 2) Canned Responses (template emails plug & play). Coming soon, and I can deal with these cons because of everything else has saved so much time.
Alissa
CEO in Kanada
Verifizierter Nutzer auf LinkedIn
Buchhaltung, 2-10 Mitarbeiter
Verwendete die Software für: 1-5 Monate
Quelle: GetApp
In Betracht gezogene Alternativen:
KarbonApp for the Growing Firm
Kommentare: Wonderful and I can't wait to continue to gain further best practice and utilize all the components around capacity planning etc.
Vorteile:
We implemented Karbon only a short time ago and I am already seeing significant impact on my time through the ease of delegation of specific tasks and the ownership of those tasks to be able to check provide oversite. My staff has had a similar response and although it has been a learning curve we all see the potential and benefits.
Nachteile:
There are a few items around being able to apply templates after work is created (currently you cannot do this only at creation). It also takes the server five minutes or so to show a contact that you add which is a pain when setting up new client work. We had asked to have contact emails imported and although they were provided for some reason they did not get imported (that combined with the delay was a bit of a pain). A few other items are more about learning how to get the best use out of all so I would argue are not dislikes but more learning curves as it changes the way you work significantly with the implementation of triage. Overall the team at Karbon have been great in answering any questions and give a lot of opportunity to show you best practice even when you choose the self implementation option. I do hope they create more integrations with Xero Accounting Software as they do with QBO.
Buchhaltung, 2-10 Mitarbeiter
Verwendete die Software für: 1-5 Monate
Quelle: SoftwareAdvice
Not worth the money - there are lots of other options
Kommentare: I hope it's improved since I tried using it. I know Karbon has a lot of positive reviews, and it has always confused me because I liked a lot of the other project management applications we looked at better than it. But who knows - maybe my brain just doesn't work right for this particular piece of software.
Vorteile:
It's a good-looking, flashy app. I liked being able to assign emails to coworkers and clients and my own tasks. Full disclosure: we used this for about three months at my company and then abandoned it. It just was not helpful to us.
Nachteile:
My list of complaints about Karbon is long. Mostly, I feel like they hint at features that only technically exist. For example, Karbon integrates with QuickBooks Online, but I cannot understand why. It doesn't pull in relevant company information from QBO - not even company addresses. Those have to be manually entered. And yes, you can read your emails in Karbon, but you lose a lot of Gmail functionality when you make the switch: you can't sort emails into folders, save contacts into segmented lists, etc. Emails aren't even marked as read in Gmail! And, Karbon doesn't sync your contacts from Gmail. It brings in everyone you've emailed with. This is not helpful and extremely messy. There is no Google Calendar sync, which is what I use to sync my iCalendar and send my times and dates to all of my devices. So I just found Karbon really frustrating, especially at the price point - I feel like a lot was promised that wasn't delivered.
Andrew
Owner in USA
Verifizierter Nutzer auf LinkedIn
Buchhaltung, 2-10 Mitarbeiter
Verwendete die Software für: Mehr als 2 Jahre
In Betracht gezogene Alternativen:
Better but not Best
Kommentare: Karbon support has always been great. Higher ups are not accessible. While they always solicit feedback, it never seems to get heard. They seem to be chasing markets and customers right now and not focusing on their existing clients and how they can help them be more productive.
Vorteile:
Karbon has revolutionized Workflow for accountants. Truly taken it to a new level. It does so many things so well that it is hard to not take those features for granted until you compare it to other similar software. Here are some exceptional features While not perfect, the email integration is great Creating and managing projects is relatively easy and painless Client task management is excellent and extremely useful Automations is work is great team collaboration is very good especially at the task level Mostly great utilization of screen realestate.
Nachteile:
Todo list is frustrating for me. Being a Franklin Covey person, i want more control over my todo list. I cant export my todo list either which would help mitigate this issue. Not enough control over tasks. Task list can be overwhelming and thus not useful No proactive feedback about assigned tasks or notes. IF I assign someone a task, email or note, I want to know when they have done the work and if they have not done the work. I want automatic feedback on this. I want more shortcut icons. Some steps are really "clicky" I wish there was much better app integration. This is very limited. On a task list, if a task does not apply to a client I want to mark it NA. Not delete it or mark it complete with a comment. I need more flexibility on labeling clients. For example I want a job to be flagged as extended and not just have a temporary status of completed.
Lisa
Project Manager in USA
Verifizierter Nutzer auf LinkedIn
Buchhaltung, 11-50 Mitarbeiter
Verwendete die Software für: Mehr als 1 Jahr
Quelle: GetApp
In Betracht gezogene Alternativen:
Communication reduces staff frustration and is the key to excellent customer service!
Kommentare: Exceptional. Karbon continually makes improvements to their products. They look for suggestions from the users and are happy to accommodate finding a solution for a specialized request.
Vorteile:
Our staff enjoys the Triage function and visibility of communication most about Karbon. With having a team approach to most of our client work, it's important for everyone to know details from client interactions. This has helped us to be more efficient, batching questions and keeping us from contacting the client repeatedly for the same thing. It has essentially helped us provide better customer service while making our team more efficient.
Nachteile:
I would like to have more options of labeling clients, helping to narrow down a specific group of clients to target for an email message or reporting purposes. Filter work by work title instead of work type.